What are innovative employee perks? 5 benefits that make you stand out!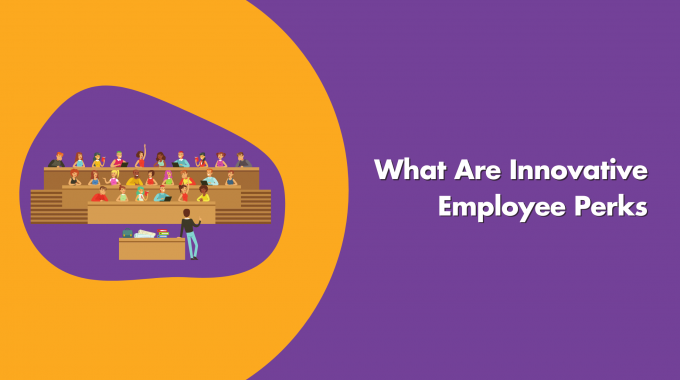 How can you ensure that the employee benefits you choose are standing out to potential employees and providing genuine value for your business?
The best employee benefits will be advantageous for both employer and staff members. Developing an innovative and comprehensive employee benefits scheme is a win-win for any business!
So which are the best employee benefits that will make your business stand out in the current climate of 2021?
This article will take a look at five innovative employee benefits, which have risen in popularity post-covid and offer some of the most rewarding and enticing perks for your employees.
What are employee benefits and how can they be good for your business?
Employee benefits are adaptable schemes that an employer can offer their members either as a free perk, low-cost, paid insurances, or alongside job offers. They are flexible and can be adjusted to suit any company to fit with your ethos and company values!
Whilst each business will have different benefit policies and cover, all UK employees are entitled to:
Workplace pension
Income protection
Holiday allowance
Implementing an employee benefits plan throughout your workforce will:
Improve workplace morale
Reduce stress
Boost productivity
Promote a health company ethos
Reduce staff turnover
Improve retention
41% of UK workers feel satisfied with their benefits (CIPD UK Working Lives), so there is still a huge chunk of employees not feeling cared for or covered by the company they work for.
As the world has changed alongside Covid, 2021 provides employers with the perfect opportunity to refresh and reset their employee benefits plans, implement new strategies, putting employees back on track to focus on their wellbeing! Here are five innovative benefits that can help you care for your employees.
Health cash plans
Health cash plans provide financial support to employees to cover the costs of everyday healthcare needs. Offering Health Cash plans shows your support of your staff's routine health needs, making it an effective benefit to show your care and drive for looking after your employee's wellbeing.
Health cash plans can include cover for dentistry, optical, physiotherapy, appointments/consultations, osteopathy, acupuncture, chiropractor, counselling, and prescriptions. However, they can be tailored to fit with your company and the needs of your staff, providing flexibility for you to pick and choose which products to include. This ensures genuine results and no wasted costs!
Easier to implement than a business health insurance plan, health cash plans are a low-cost and affordable option for employers looking to support the health and wellbeing of their workforce.
Group Life Insurance
Group Life Insurance is a policy that provides a tax-free lump sum to an employee's dependants in the event of that covered employee passing away. It is also known as a Death in Service benefit, but employees do not have to be physically at work if that pass away just actively under employment.
This is another popular benefit that gives employers flexibility with how they structure their Group Life cover e.g., providing for every employee or for certain categories of staff as a reward system and benefit levels.
Group Life Insurance provides a financial safety net for an employee's family, ensuring peace of mind and financial wellbeing for staff. It is an easy way for you to show that you are genuinely invested in your employees, fulfilling your duty of care, as well as promoting a positive work environment that will attract and retain top employees!
Flexible working
Covid-19 has meant a huge rise in popularity for flexible working options with 64% of employees saying they are reluctant to return to the office post-covid (Unispace). The main drivers for this are the commute, lack of work-life balance, and ineffective workspace.
A prioritisation of wellbeing in our personal lives rather than leading a work-centric life has taken over, as covid and working from home has meant work and home lives have become increasingly blurred. Employers must also adapt their perspectives on how and where their staff can achieve top engagement in their work.
To promote flexible working benefits, you can:
Give staff the control over how/where they work
Implement a hybrid mixture of working from home and in the office
Provide equipment to enable those working from home can do so
Educate staff on how to communicate via online platforms
By implementing flexible working into your benefits scheme, it gives your employees a feeling of control over their work and home lives. It also improves financial wellbeing (79% say they are better off working remotely) through reduced commute or money spent on lunch. They will be able to
By implementing flexible working into your benefits scheme, it gives your employees a feeling of control over their work and home lives. It also improves financial wellbeing (79% say they are better off working remotely) through reduced commute or money spent on lunch. They will be able to balance how they spend their time, whether that's with family, reduced working hours, or even being able to go for a run at lunch time!
Employee education options
Offering employee education and personal development avenues are a fantastic way to invest in the skill and talent of your existing employees, increasing productivity levels whilst promoting from within your workforce! With 44% of employees saying their job fails to offer prospects for career advancement (CIPD), opportunities to develop skills and learn is clearly becoming a popular option for many employees.
There are many different ways to implement this into your workplace, often broken down into 4 main areas:
Formal learning g., external training courses, qualifications, conferences, seminars
Work-based learning g., shadowing colleagues, providing staff with more duties, offering special projects
Self-directed learning g., learning/reading academic and specific industry-focussed texts, online libraries/software
Professional Activities g., mentorship programmes, networking events, one-to-one coaching
Providing these low-cost perks will help your company stay up to date with industry trends whilst improving retention through a boosted internal hiring process.
Healthy living benefits
Any business is only as successful as their employees, so ensuring that your staff are happy and healthy is essential. Employers can offer healthy living benefits to their employees to help take care of both their physical and mental health. This will in-turn lead to a more productive team working in a healthy work environment.
Ways that employers can implement this ethos into their benefits:
Discounted gym memberships
Healthy snacks provided in office
Employee Assistance Programmes
Cycle-to-work schemes
Counselling sessions
Fitness classes e.g., team yoga
Private Health Insurance
Employees will feel supported and cared for, wanting to work for a company that they believe prioritises their health and wellbeing!
At Hooray Health & Protection, we can help you fully understand the importance of a healthy workforce and how developing a comprehensive employee benefits plan means a win-win for you, your company, and your staff!
How Hooray can help with your employee benefits
If you need help with finding the employee benefits best fitted for you, our team of insurance experts at Hooray Health & Protection would be happy to help.
We take the time and care to listen to the specific needs of our customers, to find them the benefits that are best suited to their business, at the lowest available prices. Our team has had extensive experience working with the various providers in the UK to provide businesses with the best employee benefits on the market.
If you're interested in hiring Hooray to help improve your employee benefits package, or even if you're just looking for some advice or a quote, please visit our website for any information you need. Call us on 01273 222805 or email us at [email protected] – where we always do right by our clients.