What Workers Want 2021: FREE employee benefits report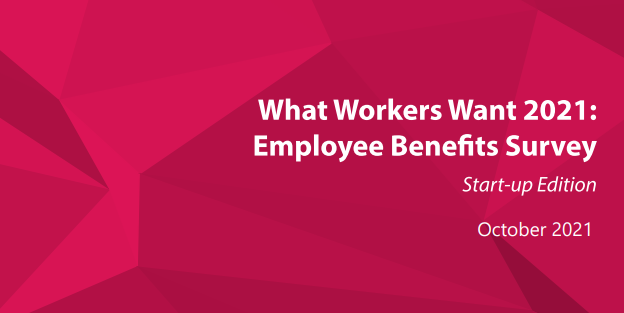 We recently surveyed 641 start-up employees on the issue of employee benefits. It's been quite the eye-opener!
You can read the FREE 27-page report on this link where you'll discover answers to the following big questions:
Are start-up employees happy with the benefits they receive?
What benefits do workers most desire?
How can start-ups bolster their team's mental health?
How much are start-ups paying for Group Life, Group Income & Critical Illness cover?
And a whole lot more!
The results of our survey challenge the perception that employee benefits are predominantly the domain of large or more established businesses. For example, nine out of ten (93%) of start-up workers said they received employee benefits. It shows that new-fangled businesses are taking the issue seriously – no doubt understanding the role benefits can play in attracting the best talent in the absence of hefty pay packages and big brand reputation.
We're delighted to also present expert commentary from our industry friends:
Digital recruiters, Xcede, reflect on their own experiences as recruiters & employers
Flexible benefits provider, Thanks Ben, discuss the importance of choice and how to deliver it
Mental health boosters, Unmind, reveal how tech can aid start-ups in promoting and developing good mental health
Group protection providers, Canada Life, reveal trends from its start-up customer base
Whether you're a start or SME, you'll be sure to get essential intel into the world of benefits and what workers want.
Read the full report here (no download required).