Corporate Medical Insurance: A Buyer's Guide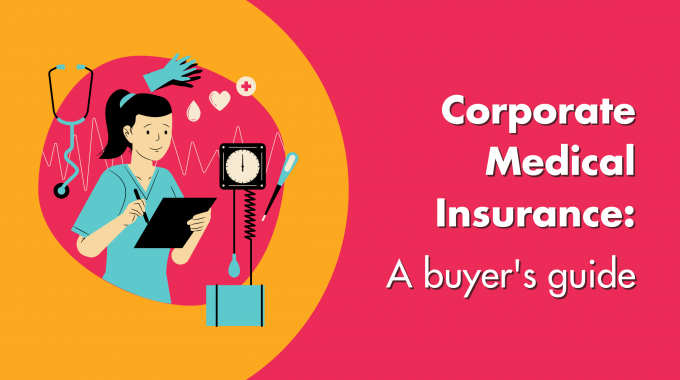 Many companies invest in a corporate medical insurance policy to look after the health and wellbeing of their workforce. According to the ONS, more than 140 million working days were lost in 2018 due to sickness or injury in the UK.
However, you can reduce absenteeism at your company by ensuring your hard-working team has the support it needs – when it needs it.
In this guide, we explain:
Why offering corporate medical insurance is great for you business and team
How corporate medical insurance works
What you can choose to include in a health insurance package
Why offer corporate medical insurance?
There are three main reasons to offer corporate medical insurance.
To attract and retain the best talent
To maintain a happy and healthy workforce
To support employees back to work
There's no doubt that access to free, or discounted, healthcare is a major incentive for prospective employees. It demonstrates that your business cares about the health and wellbeing of its employees. Who wouldn't be attracted to such a workplace culture?
But it also offers peace of mind. In the event of a health problem, it's nice to know that you're likely to be taken care of. A survey by Glassdoor revealed that health insurance is considered the most important perk for employees.
It's not just employees who benefit. A carefully tailored health insurance is good for the company too. By offering 'on-tap' healthcare and wellbeing support, staff sick days are likely to be reduced. For example, if someone suffering from back pain has access to a physio, they can receive swift treatment and avoid a longer-term debilitating struggle and a lengthy absence from work.
Not just that, employees love working for businesses that look after them, which makes them happier and more productive.
How does business medical insurance work?
Corporate private health insurance providers usually offer a range of packages based on the number of employees you wish to cover. These packages can usually be tailored to your own business needs.
Policies vary in the range of healthcare options and benefits they provide (we'll cover these in the next section). For example, some policies may even go so far as to cover the employee's family too.
The cost of insurance premiums: An insurance premium is the amount charged by the insurance provider in order to access health cover. The premium per person is usually lower the more people you have included in the scheme. So, even if the employee has to pay part of the premium, it still works out as a major saving compared to what they would have to pay outside of the business.
If your business is implementing an employee health insurance policy for the first time, then the insurer will need to assess the likelihood of your employees making a claim. This is known as 'Insurance Underwriting'. This will include analysis of the demographics of your workforce and any particular health risks associated with your industry and/or workplace.
Will you need to pay 'excess'?: Your insurance policy may include 'excess'. This means employees may need to pay some money towards the cost of any healthcare they claim. For example, if the excess is £100 then that means the employee must pay the first £100 of treatment before the insurance kicks-in to cover the rest.
What are your options for business medical insurance?
Business owners can provide a wide variety of health and wellbeing support to their employees. But there are two key factors that will influence what corporate medical cover you choose to provide – and how you provide it:
Your budget: The amount you can afford to invest in your insurance policy will dictate whether the insurance plan is fully comprehensive or mid-level and will influence how much cover you provide.
Your employee's needs: It is worth considering what health issues are most likely to arise in your workplace and impact your business. What kind of support is likely to be most useful to your employees?
For example, if most of your employees work at a computer, then issues surrounding eye health may be particularly important. In which case, easy access to opticians and other eye health specialists will come in handy.
Your corporate medical insurance policy may include:
Medical consultations: If an employee is experiencing a particular set of symptoms, then fast access to a health specialist can quickly pinpoint the problem. Most insurance policies offer 24-hour GP access via video call.
Specialist support: You may have access to a choice of consultants or specialists.
Tests and scans: If a medical issue requires further investigation then an employee can get quick access to relevant tests.
Surgery: If an operation is required then this too can be covered.
Hospital stays: Covers the amount of time someone may need to stay in hospital. For example, post-op.
Therapies: Physiotherapy, osteopathy, sports massages, and much more can be offered.
Mental health treatments: Psychotherapy, counseling, CBT and other mind related treatments can help reduce stress and tackle issues such as anxiety, depression and other maladies of the mind.
Alternative health therapies: Such as acupuncture.
Specific disease cover: For example, cancer treatment.
Acute conditions: These are medical issues that will improve with treatment.
These treatments are commonly excluded:
Chronic health conditions: long-lasting health problems that don't get better with time
Emergency care: i.e. due to an accident
Alcohol or drug rehab
Pregnancy and childbirth
Kidney dialysis
Fertility treatment
It is worth re-emphasising how important it is to carefully check the terms of an insurance policy so that it covers all the needs of the business. The ideal insurance package is out there, but it's your responsibility to piece it together. So, don't be led down the preferred path of one particular insurer.
More advice is available
You're now equipped with a good understanding of how business health insurance basics. But of course, there's no substitute for one-to-one advice.
At Hooray Health & Protection we offer impartial advice on health insurance. We are not tied to any insurance provider, so we won't guide you in the direction of any particular policy. We're here for one reason: to help you get what YOU want.
You can talk to one of our friendly team by using the chat function on the right. Alternatively, you can take a look at insurance quotes here. We're always happy to help!