The Best Private Healthcare Providers in the UK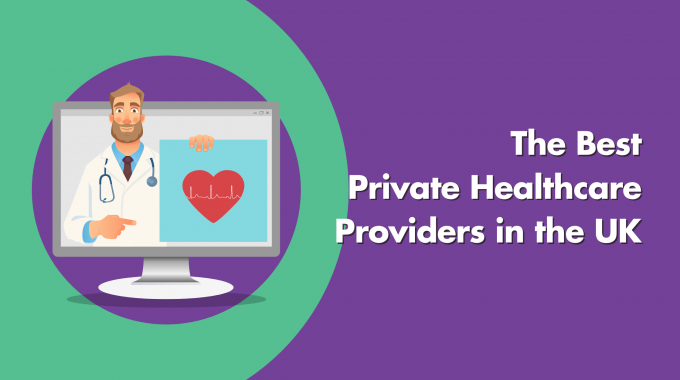 The landscape of the UK's health insurance industry is constantly evolving, with providers perpetually expanding their policy offerings and new companies forming every year.
With the hundreds of different plans and providers on the market, researching the basic offerings of all the insurers can often be an overwhelming task. Though you can find many different market comparison sites online, most of them don't allow you to easily search for the various providers without filling out all of the information that is necessary for a quote.
According to research from the Association of British Insurers in 2016, there were 340 health insurers based in the UK and 563 in Europe. In 2021, those figures are bound to be exponentially greater.
This article will take a look at 10 of the best health insurance providers in the UK. Each section will give a brief description of the company, an overview of what is covered by their main products and some additional information about their achievements and accolades.
These sections will not go in to great detail on the individual insurers, but will instead aim to serve as a simple and digestible resource to compare the various policies that are offered by the most prominent insurance providers in the country.
Allianz
Allianz is a German multinational insurance company that is one of the biggest providers worldwide. Their plans are focused on international medical insurance, provided in the UK and many other countries worldwide.
Allianz can provide customers with three separate tiers of insurance plans. These plans are simply referred to as Care Pro, Care Plus and Care.
These plans can encompass:
In-patient & day-patient cover
Optional out-patient cover
Emergency treatments
Medical evacuations
Private hospital rooms
Expat Assistance Program
Travel security services
The company has also done substantial work in supporting environmental initiatives, reducing their carbon emissions, through the pursuit of low carbon investments and sustainable working solutions for the future.
In 2019, Allianz won an award for "Business Sustainability/Corporate Social Responsibility Initiative of the Year" at the British Insurance Awards, for their efforts and achievements in this field.
Aviva
Aviva is a multinational insurance provider based in London. Providing various forms of insurance to over 33 million customers worldwide, most predominantly in the European and Asian markets.
It's main health insurance products consist of three different plans. These plans are referred to as Cancer Pledge, Expert Select and Wellbeing services.
The cover that is offered by these plans includes:
Out-patient cover
Acute conditions
Access to 100s of hospitals in the UK
Cancer care cover
Hospital charges & specialist fees
In 2020, Aviva paid out over £30 billion in benefits and claims, while also investing in over £11 billion in green assets.
Aviva has been working with the British Red Cross, in an award-winning partnership since 2016. This charitable collaboration mainly involves helping with disaster relief, as well as providing strategic expertise and assistance.
AXA
AXA is a French multinational insurance company, who are one of the biggest health insurers in the UK. They primarily operate in Western Europe, North America and also in the India Pacific region.
Their core cover extends to:
Full in-patient & day patient cover
Optional outpatient cover
Access to over 250 hospitals
Fast Track Appointment service
Access to specialist cancer drugs
Unlimited GP consultations held online or by telephone
Second Opinion Service
Access to free online Health Centres
AXA created the Health Tech & You Awards in 2014 to recognise the many achievements and innovations that occur every year within the health industry. It was named Health Insurance Provider of the year at the 2018 Moneyfacts Consumer Awards.
They have committed £250 million to 650 research products, through the AXA Research fund and also run a number of events every year to support various charities.
Bupa
Bupa is a healthcare group and insurance provider based in the UK, with over 80,000 employees and 31 million customers internationally. They are specialists in support and insurance for mental health conditions, but also offer extensive health insurance options with products such as Bupa Global.
Their primary health insurance cover includes:
In-patient & day-patient cover
Optional out-patient cover
Option to choose your own private doctor
Private rooms in hospitals
Mental health & wellbeing therapies
Private dental care after six months
Specialist cancer treatment
Private physiotherapy & other treatments
Bupa has more comprehensive mental health coverage than any other health insurance provider in the UK, offering extensive options for treatment and support for depression, anxiety and addiction, among many other conditions.
Bupa was also ranked as the 5th best employer in the UK by LinkedIn.
Exeter
The Exeter is a Devon based health insurance provider that is structured as a friendly society, rather than a conventional company. This is the term that is used to describe a mutual insurance association.
The Exeter's main health insurance product, Health+ includes:
In-patient & day-patient treatment
Optional outpatient cover
Unlimited cancer cover
NHS cash benefit
Private ambulances
Home nursing
Parental accommodation
The Exeter's insurance products have won a series of awards over the last few years. These products include income protection, private medical insurance and individual life insurance, among many others.
Benchmarking their products against competitors allows The Exeter to continually ensure that their customers are getting the best prices available on the health insurance market.
Freedom
Freedom is an award winning private health insurance company in the UK that was founded in 2003. They are specialists in providing affordable and flexible health insurance.
There are three primary insurance plans that each offer varying levels of cover. These include Freedom Elite, Freedom Essentials & Freedom Worldwide.
Freedom Elite covers:
In-patient and day-patient cover
Cancer cover
Pregnancy complications
NHS cash benefit
Private ambulances
Maternity cash benefit
MRI, CT and PET scans
Home nursing
Dental surgery
Freedom Essentials offers a fixed cash benefit, cancer cash benefit, as well as optional out-patient cover. Freedom Worldwide is focused on international medical insurance, but offers many of the same options.
Freedom also offers customers a 6% discount for annual payments on all plans, as well as a 2-year fixed premium policy that ensures that the cost of cover will not increase.
General & Medical
General & Medical Insurance is a UK health insurer and wholly owned subsidiary of the General & Medical Securities Group. They provide numerous health insurance policies for individuals, families and businesses to customers all over the world.
They have four main insurance plans. Essentials, Everyday, Lifestyle & Elite.
These plans can include:
In-patient cover
Out-patient cover
Cancer treatments
Health & wellbeing services
NHS cash benefit
Stress helpline
General & Medical are the preferred health insurance provider for the Association of Surgeons of Great Britain and Ireland.
They also provide a wide range of healthcare plans and accident cover products for businesses and professionals in the UK's sports industry.
Saga
Saga is an insurance firm based in Kent, with over 2.7 million customers. Their products are focused on the over 50s health insurance market, but they also offer various forms of travel insurance.
Saga offers four different health plans: Super, Secure, Saver Plus and Support, all with varying levels of cover and additional premiums.
The main aspects of their cover include:
In-patient & day-patient cover
Optional out-patient cover
Saga GP Service that allows you to contact a doctor 24/7
Access to a network of private hospitals
Recuperative care following treatments
NHS cash benefit
Dental injuries benefit
External prosthesis benefit
Cancer Care Team support
They are also the creators and owners of Saga Magazine, which is a bestselling monthly subscription magazine published in the UK.
Vitality
Vitality is a private health insurance firm that is based in London, with sites in Bournemouth and Stockport. They are a subsidiary of Discovery Limited, who are a South African financial services group.
Their core health cover includes:
In-patient & day-patient cover
Cancer cover
Acute conditions
Private hospital stays
Mental health support
Menopause support
Full cover promise
Advice from medical professionals through Vitality Care
Access to online GP consultations & a 24/7 helpline with Vitality GP
Vitality have won multiple industry awards over the course of their history, including The British Insurance Award 2020 & Customer Cover Awards 2019, along with many others.
WPA
Western Provident Association is a not-for-profit health insurance provider in the UK, who are based in Somerset. They are also the owners of WPA Protocol, a subsidiary company who specialise in corporate healthcare trusts.
WPA's health insurance coverage includes:
In-patient & day-patient cover
Out-patient cover
Cancer care
NHS hospital cash benefit
24/7 access to private GP helpline
Employee Assistance Program
Private ambulance transport
Nursing at home
WPA have settled a total of £0.8 billion in claims over the last 10 years and they have also managed to maintain an impressive average customer service rating of 4.7 out of 5 on Trustpilot.
How to find the most suitable provider
These are just 10 of the most prominent providers, but as mentioned previously, there are hundreds of insurers who operate in the UK, all offering different products and policies.
It is possible to research for yourself, but with the industry expertise of an insurance broker, you can find the provider that is best for you, without the stress of scouring the internet for the desired information.
If you're interested in enlisting the aid of an insurance broker to find the right private healthcare plan, Hooray Health & Protection can help.
Our team of industry experts ensures to do everything they can to make insurance easy for customers and are happy to answer any queries you may have about private health insurance. To find out how you can get in contact with us, please visit our website.