The complete HR checklist for buying Employee Assistance Programmes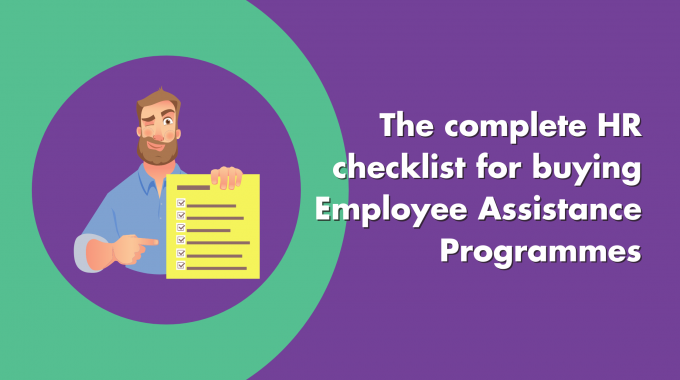 "Leave your problems at the office door!"
If only it were that simple. Thankfully, businesses – and their HR departments – are becoming increasingly aware of how an individual's mental and emotional wellbeing can affect their work.
Thanks to Employee Assistance Programmes, HR teams have a means of helping their employees deal with personal trauma, heightened stress and rising anxiety.
The loss of a loved one, a relationship break-up or unresolved childhood trauma are some of the more obvious life experiences which can trigger psychological problems. Other causes may seem somewhat trivial in comparison, but can be equally debilitating.
On average, workers suffering from stress, depression, or anxiety, miss 23.8 days of work over the course of a year.
In this checklist, we reveal the key things to consider when buying an Employee Assistance Programme.
Have you reviewed your needs?
Every workplace will have its own unique set of requirements when considering an Employee Assistance Programme. Among the key factors are: available budget, the nature of your industry and the demographics of your workforce. However, the most important thing you can do is:
Ask your staff.
What would they like to see in a wellbeing programme? Some members of staff may be reluctant to have this conversation. So, it's important to provide a means for them to leave feedback anonymously. Be sure to ask seeking questions which really dig into what issues are likely to affect them on a psychological and emotional level – and which reveal their current mood and likely needs.
Click here for examples of health and wellbeing survey questions.
What health and wellbeing issues does it cover?
EAP's can offer a range of support services. You'll want to include services which best reflect the needs of your employees (see above). For example, an Employee Assistance Programme may include support for dealing with:
Stress, anxiety and depression
Debt and financial worries
Bereavement
Bullying and harassment
Feelings of isolation
Family and children
Domestic violence
Gambling addiction
General health and lifestyle issues
The broader the range of support on offer, the more likely it is that employees will get the support they need.
Can it be interwoven into the workplace culture?
While it's useful to have tools in place to support employees, the wider workplace culture also needs to support wellbeing. So, when investing in an EAP take the opportunity to understand how your company is contributing to the happiness and wellbeing of your team.
Simple measures – like team bonding days or social events – can build a sense of community, giving employees the chance to talk about a range of issues in a relaxed setting.
When weighing up your EAP options, it's worth thinking through whether it can inspire – or be integrated into – the workplace culture.
Does it offer a wellbeing assessment?
An EAP can offer various types of employee assessment. General wellbeing, mental health and emotional resilience are all areas which can be surveyed. Such assessments will reveal areas of concern to each employee and provide actionable steps which they can take to better look after themselves. For instance, the assessment may recommend one-to-one counselling or specific exercises to improve mental resilience.
Does it offer one-to-one counselling?
Self-help has its limits. Not everyone is able to solve problems by themselves. That's why it's important to check whether a EAP service includes access to one-to-one support from qualified professionals. When the going gets tough, an intervention like this can make a vital difference.
Remember, issues like bereavement and family separation often need the support of qualified professionals.
Can it offer proactive support?
It's a mistake to consider wellbeing as a reactive process. The best kind of support helps people avoid going down the slippery slope of despair in the first place. Empowering employees with information and advice which keeps them feeling happy and capable of dealing with a variety of challenges, in and out of the workplace, is a huge benefit to the business and staff members alike.
Steve Thomson Head of Partnerships at LifeWorks by Morneau Shepell says:
"Traditionally, employee wellbeing support has been reactive, typically offered through an (EAP) only. While effective, this solution will only reach 5-10% of your people at any one time and will likely serve employees who are at crisis point, not only due to lack of promotion but also because of the stigma that comes with mental health issues.
By supporting 100% of your people 100% of the time you can build a more resilient workforce that's not just proactive about maintaining their mental, physical, financial and social wellbeing but is also more engaged, loyal and productive"
Does it provide on-tap 24/7 assistance?
It's best to make support services available wherever the team member is and whenever they need it most. That's why staff portals are of limited help: they are only accessible at work and when employees are most likely in a rush.
Online or mobile app-based Employee Assistance Programmes make help available on the employee's terms. This is vital if they're going to improve their sense of wellbeing and make the kind of changes which will improve their outlook for the better.
Can employees get support in a variety of ways?
Assistance can be provided in a number of ways. One-to-one support can be provided via online video calls, in-person appointments or old-fashioned phone call. Meanwhile, online and app-based information hubs can offer self-directed support, through practical exercises and expert advice in audio and visual formats.
Will it provide short-term solutions and long-term support?
There are times when you might need a quick fix for a problem. But other issues may require longer term support in order to reach a successful outcome. Often, a combination of the two approaches is required.
Breathing exercises are an example of a quick-fix which temporarily lowers anxiety and makes you better able – in the short-term – to deal with a challenging situation, such as presenting to an audience.
However, you may be constantly having to deal with these outbreaks of anxiety, which result in days off of work. In which case, longer-term counselling may be required to tackle the root causes.
Make sure your EAP combines options for short-term solutions and long-term support.
Are the tools easy to use?
Let's be honest, few people have the time to read long studies into different techniques for improving mental wellbeing. The best form of self-help advice is easy-to-digest. And the best tips are easy-to-action.
So, ensure your Employee Assistance Programme makes the process of self-help as user-friendly as possible. It's another example where digital platforms and apps can be particularly useful.
Is the advice backed by professionals?
While some bigger companies might try to establish their own EAPs, one of the main benefits of outsourcing is that you can offer a professionally-backed employee support programme. The best EAP's have been designed by experts in psychology, counselling and other related fields.
When an Employee Assistance Programme is supported by professionals, you can be confident that the knowledge being acquired by your staff is the latest evidence-based advice. In other words, your people are getting the best possible support and not just a few wellbeing buzzwords!
Can you measure the success of the programme?
It's important that you can record the success – or otherwise – of your programme. Digitally-enables EAP services often provide ways for staff to give feedback. What do they like about the programme? What do they find difficult? What else would they like to see?
Equipped with these insights, you can constantly improve the support you offer your staff and help them perform at their best.
Get ready to empower your team!
The mood and general wellbeing of your employees has a huge impact on productivity – and therefore the success of the business. By choosing the right Employee Assistance Programme you can have all the tools in place to support your staff's emotional needs, build their mental resilience and make them happier, healthier and more dynamic in the workplace – and beyond!