A-Z guide to employee benefit schemes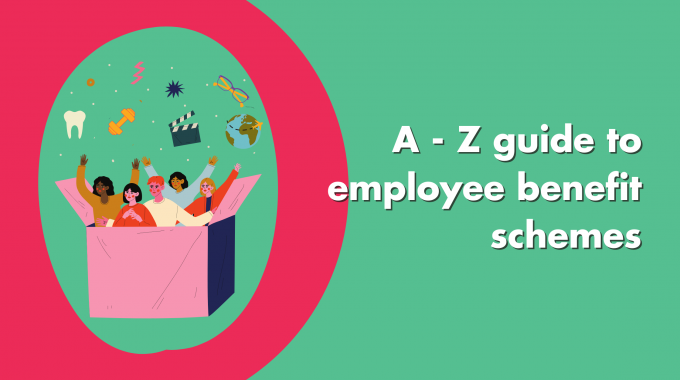 From innovative Apps to valuable Vouchers, this A-Z guide to employee benefit schemes will inspire you to create a perfectly balanced benefits package for your business.
All good business owners want to establish a happy, productive and loyal team – and a staff benefits scheme will help you do just that.
Here are your options (plus a few key considerations):
Apps
Employee benefit schemes are increasingly being offered via mobile apps. Discounts and wellbeing services can be easily accessed in this way (assuming you have a smartphone!) Check out this useful list of benefit schemes and related apps.
Bonuses
A tried and tested way of rewarding your employees for their performance and/or loyalty. Bonuses can be offered according to individual or team performance. The reward can be provided in the form of cash or freebies. Learn more about employee bonus schemes.
Car parking
Reduce (or completely eradicate) the financial burden of vehicle parking for your team. It can be offered as a discount or full cover with deals being arranged with car parking providers for a set period of time.
Consultation
Before launching an employee benefits scheme, it's worth asking your team what they want. Be aware though, sometimes what a person wants is not what they most need. And of course, the scheme needs to provide a business benefit too. The final judgement is yours.
Corporate discount
As a business owner you can negotiate corporate discounts with other businesses. For example: gyms, shops and restaurants may lower their rates for you. The more people you can point in the direction of their business, the greater the discount.
Demographics
The age, gender and general social background of your workers is an important factor when planning employee benefit schemes. For example, if your staff are mainly in their late teens or early twenties, then childcare-related benefits may not offer the most appeal.
Dental cover
Dental cover is often added as a bolt-on to a wider healthcare insurance package. An employer can choose to contribute to costs or cover them completely, as well as choose what treatments to include/exclude.
Eyecare
As above. Eye health insurance is particularly useful for desk-based workers and in other workplaces where close-focus is the norm and eyestrain is prevalent.
Feedback
Ask your staff what they think of the employee benefits scheme. Is there anything they'd like to add or take away? It's worth reviewing your scheme every year.
Flexible benefits
Provide a pick n' mix of benefits to your employees. In essence, you offer a menu of options and let them choose what they want. You may even provide the chance for them to change their mind over time. Flexible benefit schemes can be offered via apps or online platforms.
Flexible working
Another attractive option is to give employees more control over when they do their work and where. There is a growing expectation for remote working opportunities due to the global pandemic and the trend is likely to continue into the foreseeable future. Learn more about managing a remote workforce.
Gym membership
Offering discounted gym memberships has become increasingly popular. The business benefits from a fitter and healthier workforce (presuming they don't do themselves a mischief on the bench press). Learn more from Gov.uk.
Health insurance
A wide range of health support can be provided in a business health insurance policy. Private health insurance will speed up treatment for staff, and can even include family cover. Find out more about corporate medical insurance here.
Holiday trading
Under a holiday trading scheme, employees can buy or sell holiday time. They can buy holiday days if they wish to extend their holiday, or sell it, if they wish to increase their take-home pay. Either way, the business owner gets to set the parameters.
Holidays
While you MUST offer statutory holiday time, you can provide even more to create an attractive employee benefits scheme. This is an enticing option for potential employees and a great way of retaining staff too.
Lunch
Free lunch is simple perk which can be offered in a number of ways, including via an app or vouchers, or served in a staff canteen. You can even vouchers as a way of promoting healthy eating habits.
Online platforms
As with apps, there are various online employee benefit platforms which can be accessed via desktop computer as well as smartphone. See 'Apps' for more detail.
Parental leave
All parents – or parents-to-be – will be attracted by the option of extended parental leave. Great for staff morale and helping hard-working parents avoid burnout.
Pension schemes
This is essentially a long-term savings plan. The longer an employee works for your business, the more the pension accumulates. The more generous it is, the more staff will want to stay on. A staple of employee benefit schemes. Find out more about pension schemes.
Personal development
Ever thought of offering your employees the chance to study and develop their skills during work-time? They can develop soft skills (such as public speaking) or hard skills related to their role or the business more widely (such as computer programming).
Salary sacrifice
Employees can choose to sacrifice part of their salary in return for specific benefits. This may benefit both the business owner (because it lowers employers National Insurance) and the employee (because it lowers their tax liability). More advice here.
Sick pay
Business owners can choose to be more generous with sick pay. Instead of just meeting statutory requirements (the minimum amount businesses must offer), you can choose to offer Occupational Sick Pay (which lasts longer) or even a Sick Pay Insurance Plan.
Travel expenses
Train tickets, bus journeys and car mileage all adds up. For that reason paying staff travel expenses will be warmly welcomed by your team. Find out the tax implications from GOV.UK.
Wellbeing
Aside from the usual health insurance policies, you can also provide extra wellbeing perks as part of employee benefit schemes. This may include: physiotherapy, acupuncture, counselling, meditation, yoga and much more besides. Consider the needs of your workers based on the nature of the workplace and demographic factors.
Voluntary benefits
A form of benefit offered by employers but is paid completely, or mostly, by employees through payroll. Basically, the team member sacrifices a small amount of take-home pay in order to purchase goods or services at a discounted price through the company's links to a third-party supplier. The bigger the workforce, the lower the cost per person to implement the scheme. Learn more.
Vouchers & discounts
There are endless voucher and/or discount deals you can offer exclusively to your employees. Whether it's related to leisure, such as cinema tickets or restaurant bookings, or shopping, for clothing or everyday essentials – there's an employee discount scheme which can be tailored to your workforce.
Need help with your employee benefit scheme?
Hooray Health & Protection specialises in helping small business owners find the best insurance deals which fit the needs of the business. Unlike regular brokers, we don't have a preferred insurer we want to direct you towards. Instead, we listen to you and make sure you get what you want, at the best possible price.
Contact one of our friendly team today and tell us what you're looking for.