Working remotely: how to support your employees during COVID-19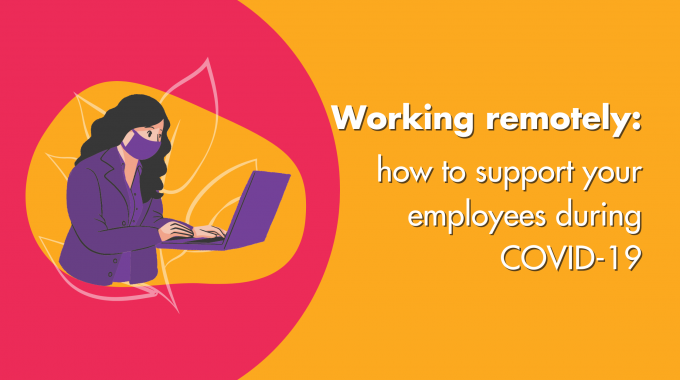 COVID-19 has really done a number on 2020.
It's cancelled our holidays.
It's isolated us from our families.
But while not being able to go into the office might initially have seemed like a blessing, its disguise was revealed with the realisation that working from home comes with its own set of problems.
We believe that every problem has a solution, however, so here are some ways you can support your employees even when they are far from the office.
Be consistent but flexible simultaneously
At the moment, no one needs anything else confusing them, so keep working life as consistent as possible. That means keeping up with 1-2-1s and team meetings, trusting employees' decisions and maintaining a consistent workload and culture where possible.
Although consistency is vital, there are going to be times when it won't be effective to keep things the same as they were before. In these moments, it will also be really important to adapt to employees' needs.
Health- and childcare, for example, are currently large contributors to employee stress, so might see people requiring a little more flexibility. If people need to work different hours, that might be something you can to adapt to. If people feel safer working from home permanently, that might be something to consider individually.
Find new ways to connect
Being away from the office for so long has meant that some teams find it harder to stay connected. Not only is there a lack of face to face meetings, but some new employees still haven't even met their colleagues!
If you told us a year ago that the majority of new starters would be onboarded remotely, we probably would have been quite confused.
But, the reality of Zoom meetings replacing traditional ones is that people just cannot pay attention in back to back meetings anymore, so we all need to look for new ways to engage with each other.
Rather than rigid, hour-long catch-up sessions, hold a drop in for a bit of spontaneity. That way, people won't feel pressured into spending their time in a meeting if they don't need it. There are other ways to communicate than video call, so swap project calls for a group chat where people can multitask!
Also, don't give up on the fun things just because you can't do them face-to-face. Holding a weekly keep fit webinar will help everyone unwind and connect on a personal level, which will help make the less exciting meetings a little more fun.
Remote benefits
A study by the National Office for Statistics found that working from home is causing anxiety in more than 1 in 5 people. What's more, a quarter of people believe these feelings to stem mostly from concerns about health and wellbeing.
To combat employees' anxiety, you can continue to use your current benefits, such as health and life insurance. Many of the services offered can be adapted to suit remote workers, such as virtual GP or telephone counselling consultations.
The premise of these adaptations is simple – just call up a doctor or therapist, using video if you need, and have a virtual consultation with them. The doctor can then organise prescriptions and treatments, so no contact is needed with them whatsoever.
By offering the same benefits in a virtual capacity you can not only attract and retain the best talent, but also critically reduce the strain on the NHS! There are remote benefits to suit any team – you just need to figure out which will be most useful for your company.
Keep supporting your employees in lockdown and beyond
Although lockdown won't be forever, the effects of COVID-19 will undoubtedly remain for years to come. While the world adapts, protect your employees' lives from home by supporting them with their changing needs but keeping work and team dynamics as consistent as you can.
Boost morale and improve work-life balance with benefits that can be adapted for the virtual world. Support our NHS and your staff simultaneously with remote healthcare, income protection and life insurance packages!