12 ways to save money on small business health insurance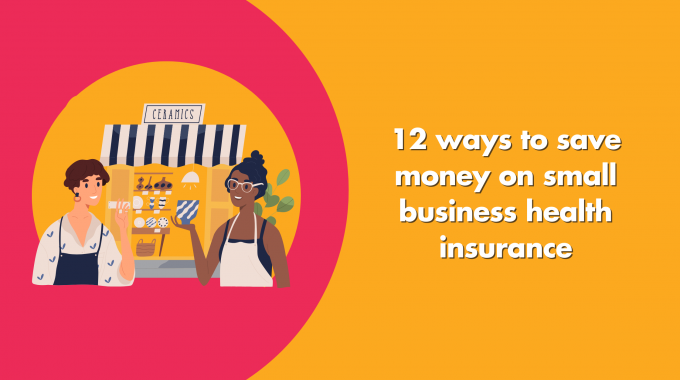 Everyone knows that health insurance premiums in the UK can be expensive. And they have a horrible habit of rising further at the point of renewal. But it doesn't have to be the case! As a health insurance broker, we can usually find creative ways to keep our customers' premiums low.
But we don't like to keep our expertise to ourselves. So, in this blog post, we share 12 tips and techniques that you can use to keep your premiums low.
If you're a small business owner, currently in need of quotes and advice tailored to your business, then contact our friendly team via the chatbox or call 01273 222805. We specialise in helping businesses just like yours get the best health insurance deals.
---
1. Raise the excess to lower the premium
What's the excess I hear you ask? When you take out a Group Health Insurance policy, you will usually have to agree an excess – the amount you pay towards a treatment before the actual insurance policy kicks in to cover the rest.
Some companies choose to have zero excess so that the insurer pays out on all claims in full. However, this will raise the cost of the premium (the initial cost of paying for the insurance policy). On the other hand, if you raise the excess, it will lower the premium.
Here's an example:
IT Recruitment Ltd decides it will pay £2,000 in the event of a claim. So if the treatment costs £5,000, then IT Recruitment Ltd will pay the first £2,000 and the insurance will cover the rest.
The excess can be set as a yearly lump sum or as a fixed amount per claim.
This begs the question: is it a good idea to raise the excess to reduce the initial premium? If you were to make zero claims in a year (or very few), then great. However, if you make multiple claims then it may end up raising your overall spend – though if the excess is set as a yearly lump sum, you will know what the maximum could be.
The best thing to do is to get straightforward advice from a broker like Hooray who will advise in your best interest without charging for the privilege.
---
2. Select the 'Six-Week Rule'
Here's something not a lot of people know. You can reduce your premium by choosing the 'Six-Week Rule'. This means an employee will only be treated privately if they are not seen by the NHS within six weeks.
It's a clever way of making a saving because one of the reasons many employees want health insurance, is to avoid being stuck on a waiting list. Quicker treatment means better health outcomes and, from a purely business perspective, less staff sick days. If the NHS can you see you now, great, but if not the insurance kicks in and you can get seen privately.
Opting for the 6-week rule can reduce the company premium by up to 25%. Not bad, eh?
---
3. Add "eligibility criteria"
Another way of bringing the cost down is by adding a qualification period. For example, you can arrange it so that employees must serve a minimum of one-year at your company before becoming eligible for coverage. As well as reducing costs, this further incentivises loyalty too.
Alternatively, a company can choose to make health insurance available only to full-time employees, or perhaps only cover senior employees.
Clearly, the issue of who's eligible and who's not, must be handled sensitively. Nobody likes to miss out!
---
4. Pay annually
Some insurers offer a discount for annual payments, as opposed to paying monthly. So, it's always worth checking before taking out a policy. A very simple but effective way of further lowering your premium.
---
5. Play the market
There are two common mistakes that small businesses make when it comes to health insurance.
Firstly, business owners too often go direct to an insurance provider and are so impressed by just how perfect the policy sounds that they accept the first quote given to them.
The other common mistake is to let an insurance scheme roll onto the next year at renewal, without looking elsewhere for a better deal.
These things happen because people are time-poor and insurance is so painfully complicated. "Just get it done!" is often the mindset. It's understandable. But it's also a costly error. You can save a lot of money by gathering a range of quotes – whether you're a first-time buyer or at the renewal stage.
It's best to use a broker like us for this reason – we can do all the legwork on your behalf, delivering the most competitive quotes from across the whole market.
---
6. Employ a broker
Yes, it may seem rather self-serving, but a good health insurance broker can save you huge amounts of money. At Hooray, we don't even charge you for our services – instead we pick up a finder's fee from the insurance company.
For example, we helped Designer Group get a major refund from one of their insurers when we noticed they were being overcharged. But so often, we save money by helping businesses get more competitive quotes than they would if they went it alone.
In short: if you want to save money on health insurance, get in touch with our friendly team of advisors.
---
7. Consider a Health Cash Plan
Many businesses are not aware of this cheaper alternative to health insurance. A Business Health Cash Plan works much like a typical health insurance scheme, except it covers everyday health needs, such as physiotherapy, eyecare and dentistry instead of more serious ailments.
If you're struggling to afford business health insurance – consider giving this a try instead.
Learn more about Health Cash Plans.
---
8. Reduce your level of cover
Virtually every health insurance provider offers different tiers of coverage. The more features included, the higher the cost will be. Sometimes business owners forget about this when it comes to renewal – and are alarmed by the price hike. While you can switch to another provider, another option is to switch to a lower level of coverage with the current provider.
If you're struggling to afford the current health insurance premium, have you considered whether a lower level of coverage might be a suitable option? Just be wary that the cheapest option doesn't necessarily provide the best value – be sure that it fulfils the needs of the business and its employees.
---
9. Pull separate policies together
This tip is mainly aimed at larger businesses, but it's worth mentioning nonetheless. After all, today's start-up could be tomorrow's corporate giant!
Many bigger businesses have separate insurance policies for different businesses units. It's usually because each division is managed separately, and this extends to employee benefits and insurance policies.
The problem is that separate insurance policies creates double the paperwork, and a significant increase in premiums compared to managing everything under one policy. Even an international company with employees across different parts of the world can bring them together under one international health insurance scheme.
So, if your company has separate health policies, it's time to bring them together!
---
10. Reduce the added extras on your policy
Sometimes insurance policies come with a stack of added extras. Perhaps they'll throw in an Employee Assistance Programme, a digital platform, or exclusive gym discounts. But ultimately, these will add to the cost of the insurance policy. It may be possible to negotiate a lower price by scrapping these add-ons. However, this is best discussed with a broker, as these can add real value to an insurance policy.
Nonetheless, it's another option worth contemplating if you're trying to bring down the cost of a business health insurance scheme.
---
11. Choose a smaller number of hospitals
Here's another negotiating trick which could help lower the premium. One of the wonderful benefits of private health insurance is that it usually offers access to a large number of private hospitals all over the country. But what if you restricted access to fewer hospitals? Well, it would certainly reduce the premium. It may not be negotiable in every case, but it's worth raising the possibility.
---
12. Take advantage of freebies
If your insurance product offers some added-value freebies, be sure to take advantage. Okay, it might not bring down the cost of the premium but discounted gym memberships or free virtual services can offer tangible value for employees. Make sure your staff are well-aware of the full range of freebies/discounts on offer.
Ok, this might not save the business money, but it can save all your employees individually. And make them realise more keenly just what a wonderfully generous employer you are! Otherwise, such bonuses go unused, unloved and unappreciated.
---
Are you ready to save money on health insurance?
We well understand that most small businesses and start-ups lack the huge financial resources of corporate businesses. As a broker, we go above and beyond to ensure that health insurance schemes and other employee benefits are within your financial grasp. That means negotiating hard with insurance companies and uncovering deals not publicly available.
If you'd like one-to-one assistance and the latest, most competitive FREE quotes then get in touch. We're always happy to help.
Further reading:
7 myths about Business Health Insurance DEBUNKED
The best Business Health Insurance providers the UK