Success Story #3: Designer Group rebuilds its employee insurance scheme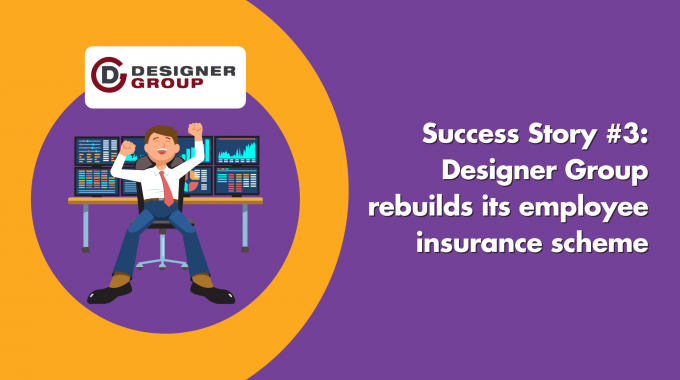 There is a typical bugbear for companies who have invested in employee insurance: it's so infuriatingly unwieldy to use. The sheer complexity of managing it makes them wonder if it was worth buying in the first place!
These were among the problems encountered by the good people at Designer Group. They had a range of employee benefits which were creating a variety of administrative headaches for the team.
This case study reveals the full story of how they went from paying over the odds for a life of complication, to gaining a great value deal and a new-found confidence in handling their employee insurance.
Designer Group: a builder of dreams
It's very hard to summarise what Designer Group does, but let's try… Designer Group are a leading innovative and sustainable provider of mechanical and electrical engineering solutions. They take projects from first concept all the way through to design and construction.
The company is currently working on a project to develop 130,000 sq. ft of new retail space at Waterloo Station. Previous projects have included creating a solar-powered brewery for East African Breweries Limited in Kenya, and building and installing a new 3D body scanning centre at St Thomas' Hospital in London.
In summary, they do big and important work!
Encountering costly insurance providers
As HR Director for its UK offices, Kerry Noblett is responsible for driving the company's people management strategy. Among her important duties is to ensure the UK team has access to a benefits scheme which provides them with real value, is easy to implement and reflects Designer Group's commitment to its people.
There was just one problem.
While the company was already offering a range of benefits to its teams, they were purchased across different insurance providers and were proving to be a nightmare to manage.
There were four key things they wanted to do:
Review their current private healthcare scheme
Ensure they were getting a good deal
Add more benefits to the scheme, including: income protection, critical illness cover and life insurance
Make it easier to manage!
"We were in the process of reviewing our whole benefits offering for our staff to make it a more attractive package going forward, supporting our talent attraction and retention strategy," said Kerry. "Our current flexible benefits platform provider recommended we contacted Hooray to support, we have never looked back since making that decision."
One of the first issues that needed addressing was the complexity – and poor levels of customer service – provided under their current insurance schemes.
"Our insurances were with different providers. It was never clear what deals we had in place and my team always dreaded having to make calls to the providers. We were always placed on hold for a long time, we never seemed to get a straight answer, so it was always one of those tasks the team avoided where possible."
Hooray discovers less expensive deals
Kerry contacted Hooray Health & Protection to see if we could help simplify their benefit schemes and get a better deal. We carried out a full assessment of their current policies and soon realised they were indeed getting poor value and, not just that, were being overcharged!
"We received a significant refund from our previous provider, due to us unknowingly overpaying for services," said Kerry. "This was credit to Charlie and his team for persevering and managing this with the provider. Needless to say, I was definitely in the good books with our Finance Director, once I made him aware of the refund!"
As well as providing a better insurance deal, Hooray worked with Kerry and her team to implement it across the business. As experts in this field, we were able to explain in simple terms all the important terms and conditions. This helped ensure that everyone understood the full coverage provided under these new products – and gave them support documents for future reference.
The result: better value & easier-to-implement benefit schemes
Not only did Designer Group's HR department get a refund, and save money on their benefits package, they also eradicated the complexity that came with it.
The company now had a cost-effective and attractive employee benefits scheme which was easy to manage. The benefits offered to employees included:
"My team are always very complimentary about Charlie and his team. They are always extremely responsive and happy to help with any queries they might have in relation to our staff. There was also a lot of content provided around the insurances which has helped upskill the team and feel confident in advising staff around the schemes."
"I would recommend Hooray to anyone wanting an easier life. Managing insurances has always been notoriously difficult in the past, with lots of complex wording and jargon, leaving you wondering whether you really have got the best deal for your employees. Hooray takes all the hassle out of the process, allowing a stress-free set up or transition to a new provider.
"The team are always on hand to answer any questions you may have in relation to the policies, whilst always ensuring we have the most competitive deals in place."
Time to take the stress away?
We take great pride in easing the stress, strain and cost of insurance for start-ups and SMEs. We were delighted the team at Designer Group got the outcome they needed!
Do you also need help making sense of employee insurance schemes? Whether you want to launch a new benefits scheme or review an existing one, we can help. Contact our friendly team and we'll be happy to field your questions. Kickstart the conversation using the chatbot on the right or call 01273 222805