Employee benefits stats: trends, costs, and opportunities in 2022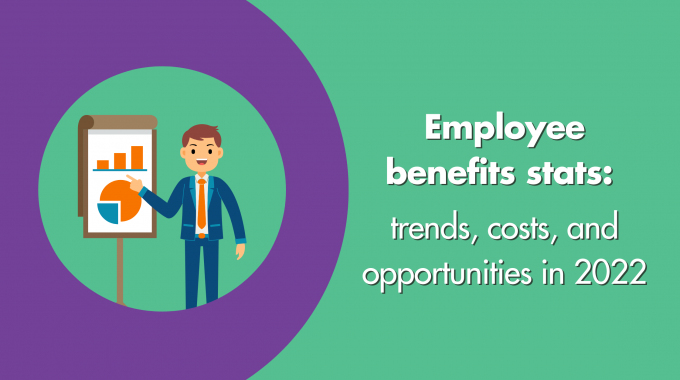 The world of work has undergone massive upheaval over the last two years. The pandemic, global lockdowns and now the cost of living and energy crises… Well, no one said business was easy!
Employees' expectations are also changing. More and more people are making career choices based on the amount of support they are receiving outside of the wage packet.
In this resource, we've compiled results from the latest business surveys, employee surveys, and market price points – to offer a neat summary for business owners.
Note: All sources are fully referenced at the bottom of the page.
Examining workplace trends and employee demand
Our round-up of employee benefits stats begins with the broader picture. What is it that UK employees really want from employee benefits and how are current circumstances shifting staff priorities?
Recruitment challenges
Job vacancies at the turn of the year hit 1,247,000 – EdenRed [1]
Almost a third of UK workers are thinking about moving to a new job this year – Slack [2]
77% of UK employers are having difficulty filling jobs – ManPower Group [10]
69% of global companies report a talent shortage – ManPower Group
The remote workplace
36% of working adults are now working from home at least once a week – EdenRed [1]
73% of organisations expect employees to always be at the workplace – ManPower Group [10]
19% of organisations expect employees to adopt a hybrid way of working, and only 6% expect fully remote working – ManPower Group [10]
The demand for remote working arrangements are nothing new. A 2019 LinkedIn survey found that 82% of workers wanted to work from home at least once a week, while more than half (57%) wanted to work from home at least three days a week – LinkedIn/Finances Online [11].
Financial wellbeing 
Financial wellbeing is considered one of the issues most neglected right now. The current rise in the cost of living is putting more and more pressure on everyone, making it an important point of focus right now.
65% of employees now stress the importance of financial wellbeing to help combat the rising cost of living, housing, travel, childcare, and inflation – CiPD [3]
Almost half (45%) of UK adults lack the confidence to manage their day-to-day finances and 35% feel worried when thinking about their financial situation – MaPs [12]
Only 11% of companies actively focus on financial wellbeing, compared with 57% which focus on mental wellbeing – CiPD [13]
Staff health & wellbeing trends in the UK
Below we've listed some of the health issues affecting employees and businesses in the UK.
More than 800,000 people experienced work-related stress, anxiety, or depression in 2021 – EdenRed [1]
1 in 4 UK employees report having a physical health condition – PHE [14]
1 in 3 employees with a long term health condition have not discussed it with their employer – PHE [15]
131 million days are lost due to sickness every year. Top 3 causes are: minor illness (34.3m days), musculoskeletal problems (28.2m days), and stress, depression and anxiety (14.3m days) – PHE [15]
Most popular employee benefits:
Last year we asked start-up employees to list their top three most-desired benefits [4]:
57% of employees chose Business Health Insurance as their top benefit Protection
45% of employees chose Group Life Insurance as their top benefit
41% of employees chose Extra Holiday Entitlement as their top benefit
35% of employees chose Generous Pension Schemes as their top benefit
28% of employees chose Retail & Leisure Discounts as their top benefit
24% of employees chose Wellbeing Perks as their top benefit
22% of employees chose Free/Discounted Gym Memberships as their top benefit
But what of general life priorities? When it came to this question, Engage Health Group discovered that 9 in 10 employees place 'health' as their top life priority (including personal and family health) [5].
But there's also a growing demand for mental health support. 46% of employees want better mental health and wellbeing support (EdenRed [1]). Meanwhile, 57% of start-up employees said having access to mental health services would most effectively support mental wellbeing, according to our own research.
Are staff happy with their benefits?
64% say their employer needs to do more to support a better work/life balance – EdenRed [1]
Only 18% of employees believe their employer is understanding their needs, suggesting a lack of monitoring from the employer – EdenRed [1]
88% of start-up employees felt their benefits are aiding their sense of wellbeing – Hooray [4]
77% of start-up employees said they were happy with their employee benefits – Hooray [4]
1 in 3 employees feel health and wellbeing is not a business priority and not promoted by management – Engage [5]
These employee benefits stats highlight the wide range of needs that businesses must cater for. Will you be up to the challenge of adapting to their demands?
What benefits are businesses providing?
Knowing what your employees want is the first step toward establishing the best possible benefit scheme. But, have businesses been listening? Below we've listed the latest employee benefits stats which reveal what's being offered and whether the recipients are happy.
The positives:
93% of start-up employees (surprisingly!) said they were receiving employee benefits – showing how new businesses are recognising the importance of employee benefits to the – Hooray [4]
45% of employees said they were offered enhanced pension contributions – Engage [5]
45% of employees also said they were offered flexible working options – Engage [5]
78% of employees reported they were being consulted about their employee benefits -Hooray [4]
88% of employees said their benefits aided their sense of wellbeing – Hooray [4]
The negatives:
Only 18% of employers have a financial wellbeing policy in place (though 78% say they offer Employee Assistance Programmes, and 41% are offering free financial education, guidance, or advice) – CiPD [3]
1 in 3 employees said their employer was not interested in their mental and physical wellbeing – up to 44% when discussing financial wellbeing – Engage [5]
1 in 3 employees are saying they haven't been provided with sufficient support for their mental, physical, and financial wellbeing – Engage [5]
The rising awareness of the cost-of-living crisis and how employers are reacting:
According to EdenRed [1]:
Over 50% of employers said challenging this crisis is either their first or second priority
Just over 55% of employers say they are going to review pay/salaries
42% of employers say they will reassess their current employee benefits offerings
12% of employers will be introducing new policies/support targeting financial wellbeing
What impact do employee benefits have on business?
Everyone knows the basics of how investing in the right employee benefits helps your business – boosting retention and recruitment levels, reducing absenteeism levels, improving productivity and boosting all-round team spirit.
However, are these just time-worn statements that are bounced around the health insurance and employee benefits market by those pushing a sale? Do employee benefits actually provide genuine business value?
8 in 10 employees agreed that the right employee benefits offerings were a very important factor when deciding on joining a new company – Engage [5]
Only 2% of start-up employees said having a comprehensive employee benefits scheme wasn't an important aspect of making a business attractive – Hooray [4]
88% of start-up employees feel their employee benefits are aiding their wellbeing due to the wide range of options on offer – Hooray [4]
8 in 10 employees said being able to work flexibly would significantly boost their work/life balance – Hooray [4]
55% would consider moving elsewhere for a more competitive benefits package. Nine out of 10 employees take the benefits package into account when considering a new job and more than a third (37%) would move roles to access specific benefits not offered by their current employer  – Boundless [7]
Need help piecing together your employee benefits scheme? Contact the award-winning brokers at Hooray Health & Protection. Simply call us on 01273 222805 or use the chatbox for FREE quotes and advice.
How much do employee benefits cost?
The average cost of employee benefits:
According to research by Boundless [7]:
Just over a quarter (26%) of UK organisations have a monthly benefits budget of between £101-£150 per employee
A further quarter allocate £151-£200
Just under a quarter (23%) allocate more than £201 per employee.
Group protection insurance costs
Our 2021 survey revealed average costs for new-to-market businesses according to insurance providers Canada Life:
Group life insurance premium – £1,316
(39% offered a payout of 4x the employee's salary)
Group critical illness premium – £2,020
(58% offered a payout of 75% of an employee's salary)
Group income protection premium – £3,042
(45% opted to pay a flat amount rather than a multiple of an employee's salary)
Health insurance costs
According to data gather NimbleFins [6], the typical cost of small business health insurance on a per-employee basis is around £45 a month or £540/year. Remember, this price varies wildly depending on age group, medical history and number of people included in the scheme, among other factors,
Employee Assistance Programmes (EAPS) & benefits platforms costs
The EAPA [8] has revealed that the price of an Employee Assistance Programme can vary from:
£3.50 per employee, each year for a company of 2000 staff, to
£8 per employee, each year for a company with 500 employees
According to data collected by TechRound [9], an employee benefits platform can start from around £4/month per employee.
---
Need one-to-one assistance?
While it's great to learn about general trends and price points, there's nothing quite like personalised assistance. At Hooray Health & Protection, we offer FREE one-to-one advice and quotes for small businesses looking to introduce or review an employee benefits scheme. Give us a call on 01273 222805 or email [email protected]
References: