7 myths about Business Health Insurance DEBUNKED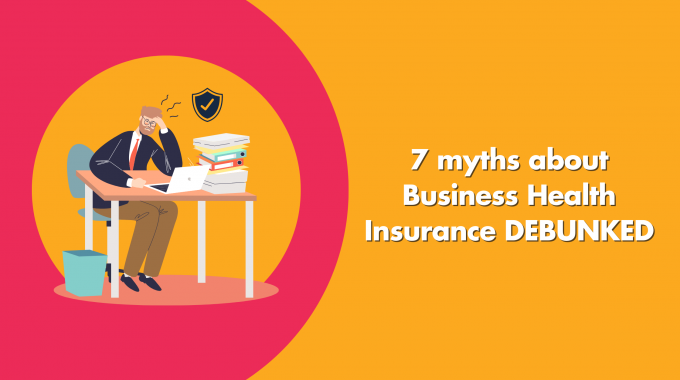 More and more people are asking about Group Health Insurance right now, and yet many misconceptions and myths remain:
"They never payout!"
"Premiums are crazily expensive!"
"It's designed for big corporations, not small businesses!"
In this blog post, we unpick the seven most common misconceptions – and explain the truth behind them.
Are you looking for advice on setting up or reviewing a Business Health Insurance policy? Contact us at [email protected] or use the chatbox for FREE one-to-one advice and support.
MYTH #1: "Business Health insurance is only for large corporations!"
Business Health Insurance is no longer just for big business and global corporations – the little guys have options too! Most of the big insurers now offer some form of Small Business Health Insurance which is our bread and butter here at Hooray.
There is no minimum number of employees needed to qualify for company health insurance – we can source schemes covering a limited company director alone.
We would argue that Health Insurance can provide a more robust benefit for SMEs. Small businesses feel the direct impact of sickness absences more as they have fewer resources and staff to cover roles. Losing one key member of a close-knit team can really hit company performance. But access to faster treatments and consultations will, at the very least, shorten absences – or maybe even stop them in the first place.
Further reading: Healthcare Options for Small Business Owners.
MYTH #2: "The policy is way too expensive!"
Many organisations assume only large multinationals can afford coverage. The truth is that many insurers are flexible in the type of cover they provide, with schemes adapted to a wide range of budgets and business types.
There are also various techniques you can use to bring down the premium (cost of coverage). For example, you might choose to add or raise the 'excess'. The excess is the amount you are willing to pay for treatment before the insurance policy kicks in and covers the costs. You can set it at zero or up to £5,000. The higher the excess, the lower the premium.
It's a difficult balance to strike but as a broker, we can advise on what's going to work best for your business – based on your budget and personnel profile.
SMEs will benefit from group pricing (the more people on the scheme, the lower the premium per person) and save money claiming premiums as a business expense. HMRC outlines that Business Health insurance is an allowable business expense – in other words, your company should receive tax relief on premiums, making this product appealing to many employers.
As with all insurance, there is no one-size quick fix, and any policy can be tailored to a specific business need. You don't need to be paying for unnecessary services and policies, just the ones you want!
Further reading: 7 Best UK Business Health Insurance Providers.
MYTH #3: "Arranging a Business Health Insurance policy is hard work!"
Although arranging a policy can seem daunting and overwhelming, it doesn't have to be – use a broker and you'll get all the help you need. Here at Hooray, we can't stress this enough, endlessly searching Google and trying to compare the market can create greater confusion than it provides clarity.
But speaking to a friendly and independent broker can have all your questions answered in a matter of minutes and, in our case, won't cost you a penny.
Using a broker to set up your policy is a step-by-step process:
We begin by running a business fact-find to understand the needs of your business and its employees. Every business is unique and so an insurance policy must be adapted accordingly.
After establishing your requirements, we complete a full market review including a comparison of insurers' pricing, service scores, claims and pay-out rating.
We then supply you with a report, allowing time for any alterations or requests.
Every step of the way, you get to ask as many questions as you like!
MYTH #4: "It's not preventative, it only covers the cost of treatment!"
Business Health Insurance can provide cover for a wide range of services and illnesses, not just treatments. Aside from standard inpatient and outpatient treatment, you may also receive:
Cancer cover
Health screening
Physiotherapy
Mental health support services
Wellbeing apps
Employee Assistance Programmes
Discounted gym membership
Virtual GP
Second medical opinions
However, it is important that customers are aware of what isn't included in the cover such as chronic illnesses and pre-existing conditions (unless taking out a medical history disregarded policy).
MYTH #5: "The premium goes up every year and there's nothing you can do about it!"
Not necessarily. For example, you may be able to get a 'no-claims bonus' at renewal if you haven't made a claim that year. But also, if the average age of employees has gone down that will also turn things in your favour.
However, insurance premiums do tend to go up due to general inflation and medical inflation (the latter related to advancements in healthcare which inevitably makes things more expensive).
An insurance broker like Hooray can help you at renewal by checking out other policy providers and re-negotiating policy terms to help lower the cost. If need be we can look at less 'feature rich' schemes or consider whether adding/increasing the excess (see Myth #2) is viable.
In other words, while increased premiums are likely, they are not always inevitable and as a broker, we can negotiate on your behalf and talk through your options. Either way, we're confident we can significantly reduce the premium you would otherwise end up paying.
MYTH #6: "They'll always reject your claims!"
That's right, you think you can make a claim through the policy, but the insurer will always find something in the small print to trip you up. This is a common complaint of every insurance scheme from travel to home insurance – is it worth the paper it's written on?
At Hooray, we'll only recommend insurers with a strong reputation for paying out on claims and not being obstructive about it. But even if you have a claim rejected, you can always call on us to check if it's right. As independent experts we can tell you for sure – and if we think you've got a case we will take it up with the insurer.
In our experience, most insurers are pretty good as they are looking to establish a strong reputation both with their business customers and also with the brokers working on the customer's behalf. When these relationships break down, their business model fails – so it's in their best interests!
MYTH #7: "I already have another insurance product, so I don't need it!"
Well maybe you do, perhaps you don't. Each insurance product serves a different purpose for your business, whether that's Business Critical Illness Cover, Health Cash Plans, or Employee Income Protection they each work in their own way to achieve different results.
For example, Group Critical Illness provides cover only for specific life-changing conditions with a lump sum payment. On the other hand, Business Health covers a huge range of acute conditions providing a wide choice of treatments/support services. And a Health Cash Plan (often overlooked!) gives everyday health support – physiotherapy and acupuncture for example – which is more preventative in nature.
Ultimately, it comes down to what your business can afford – and what's required on a practical level. Retaining and attracting the best talent is always a business priority. Right now, many businesses are finding that difficult due to general workplace trends.
According to research by the World Economic Forum, a quarter (25%) of employees have quit or plan to leave their business. Loyalty seems to be harder to come by! However, a well-thought-through benefits scheme can help. Our own study found that two-thirds (63%) of start-up employees considered employee benefits as "very important" for their choice of workplace.
We always advise speaking to your staff and finding out what benefits they would most like.
---
Have all your questions answered
Every insurance product has much to offer, and the right direction to go in is the one that fits best with your specific business needs. Figuring out what those are can be tough, but we can help!
At Hooray Health & Protection, we help businesses understand the health insurance and employee benefits market. We provide expert advice on the best options out there, keeping things simple and easy to understand.
Call us on 01273 222805 or click on the bottom right chatbox for FREE advice and support.