What is Private Health Insurance?
Private health insurance provides access to private healthcare, helping you skip NHS waiting lists to get the care you need straight away. 
It goes without saying, we will all experience times in our lives where we get sick or injured and will need medical assistance.
Fortunately in the UK we have the NHS, which is a fantastic resource available when needed, however when it comes to booking in for non-emergency surgery or treatment, there can be a lengthy waiting time.

How much Private Health Insurance do I need?
Private medical insurance plans will differ depending on the insurer you choose or policy you review but we tend to find most insurers will cover, as a basic:
Inpatient treatment

Day-patient treatment

Surgery 

Drugs and dressings

Radiotherapy & chemotherapy
These will be the core covers we review as a starting point when assessing your healthcare needs.
At Hooray Health & Protection, we discuss your budget requirements and what your key health worries are that we can look to protect.
One of the biggest requests for add-ons we have, which a number of insurers will not cover as standard, are psychiatric and mental health illnesses.
It is worth highlighting any concerns you may have with a protection expert as they aren't there to judge, but can advise you on which insurer will be best suited to your needs.
Private Health Insurance has a number of added extras such as reduced excess, enhanced cancer cover, dental, optical, physiotherapy, out patient consultations, psychiatric and many more which can be added, removed or enhanced.
It's this reason we never advise buying from a price comparison site, as this will not provide every option available and you might end up paying for cover not required.

How much does Private Health Insurance cost?
Private Health Insurance is one of the most advanced insurance markets in the UK and fortunately there have been a number of studies on the average cost.
Below, we have market research conducted by moneysavingexpert on the price for a healthy, non smoking 35 year old:

Above is quoted on a zero excess for claim, unlimited outpatient care and full cancer treatment.
We also have a case study, again from moneysavingexpert, for the average cost for a healthy, non smoking 70 year-old which is on the same basis as above: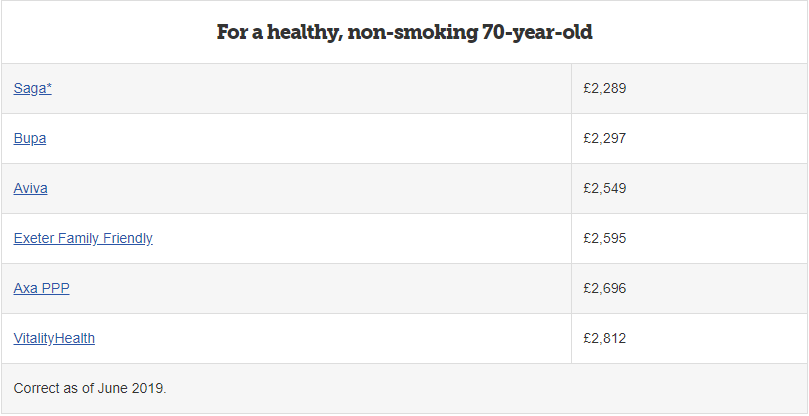 If you are a smoker (or have been in the past) it's is always best to discuss with a protection expert, as certain insurers will take a more relaxed approach than others.
When choosing how you pay your policy, insurers will also look to provide a discount if you pay the premium up front, rather than monthly.
It reduces the risk of cancellation for the insurers but can help you receive an additional 5% off the policy if you have the funds to pay.
Hooray Health & Protection Top Tip: Health Insurance premiums will usually increase every year as you get older. Make sure you have a broker who reviews your policy annually, as any large increases to a policy should prompt your broker to go to the market for a review, to help with premium negotiation.
Will insurers pay my claim?
Our extensive experience in the marketplace confirms that unfortunately there are no statistics on claim pay out rates.
If we look at the financial ombudsman website, we can see what the most common private health insurance complaints are in relation to.
Looking at the list, it seems as though the majority of declined claims haven't actually been due to insurers. Most of the declined claims seem to have come from mis-advice from the brokers that initially sold the product.
Always ensure you see a protection expert who can advise you on what is actually covered, as well as what isn't.
Hooray Health & Protection have great relationships with insurers and have two directors with an extensive private health insurance background to ensure our compliance is 100%.

What terms and conditions should I look out for?
If reviewing a new or existing policy, it is vital to review what is excluded before deciding what option to proceed with.
Every insurance has exclusions and private medical insurance is no different, we will have a look at the most common three we encounter issues with:
Pre-existing medical conditions
Where you are receiving treatment, or are aware of certain symptoms before taking a policy out can cause a decline at the claims stage.
We hear clients being informed they can choose to have their medical history-disregarded but this is only for corporate clients with a minimum number of lives.
Don't be wrongly persuaded by deals that sound too good to be true and always consult with a protection expert.
Chronic Conditions
Are not usually covered by private health policies as they are designed to treat acute conditions.
Acute conditions tend to have happened unexpectedly (such as a heart attack etc.) and need short term treatment, but are curable.
Chronic conditions are long term conditions (such as asthma etc.) which can be managed, but unlikely to be curable.
When taking out the policy you need to understand the difference between acute and chronic conditions and ensure you aren't taking the policy to protect yourself against chronic conditions.
Experimental Treatment
Treatment which hasn't been approved, such as new and unapproved drugs, will unlikely be covered under the policy.
If for example, there was a new cancer drug trial but required funding for treatment, but it hasn't been approved by the 'National Institute for Health and Care Excellence', then the insurer will not be able to pay out for this.
Insurers can consider these as a gesture of goodwill and any Hooray Health & Protection clients will benefit from us negotiating and liaising with the insurer on your behalf.
If you would like to review all of the terms and conditions in your policy, or simply have a question about taking out a new policy, feel free to call us today to discuss if it'll be the right fit for you.

Why use Hooray Health and Protection for Private Health Insurance?
Hooray Health and Protection are experts in the private health insurance sector, with the team gaining vast experience working at insurers and intermediaries under our belt.
We help to ensure that you have the right level of cover for what your needs are, and you can rest assured that you have a friendly voice to guide you through the complicated process.
Our background at insurers will also help to make sure that the cover that you take out is at the right price, saving you money in the long term.