Success story #4: Hooray helps Unmind launch employee benefits scheme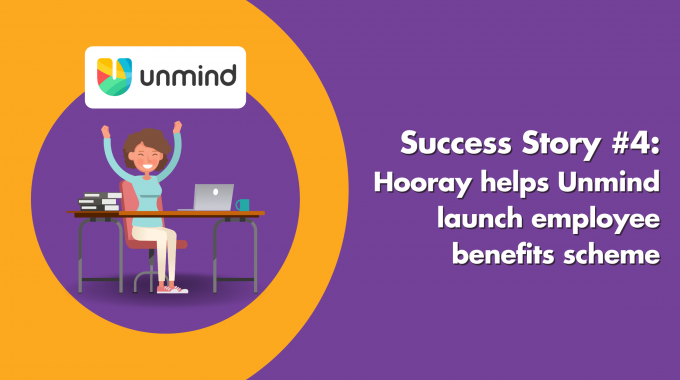 Learn how Hooray helped mental health tech scale-up, Unmind, set up its first benefit scheme for employees.
Most companies want to do right by their employees. But they are often discouraged by the daunting nature of the health insurance industry. We make it our job to unravel the complexity and provide straightforward guidance.
We spoke to Hazel Silvester, People Operations Executive at Unmind, who reflected on her experience of working with Hooray to bring affordable and highly desired benefits to the company's growing team.
Unmind: a company built to improve mental wellbeing
Unmind is a workplace mental health platform with a bold ambition: to improve the mental wellbeing of 10 million people in organisations around the world.
Progress has been rapid. Since launching in 2016, Unmind has developed a roster of big-name corporate clients, including: John Lewis, Samsung and Marks & Spencer.
The company provides a range of digital tools and resources to safeguard and improve mental wellbeing in the workplace, including:
Interactive courses
Practical exercises
Sleep stories and soundscapes
Guided workouts
Healthy recipes
Mental health & wellbeing assessments
Access to helplines
And a whole lot more.
Mental health is determined by a range of factors. So while the team, of course, benefits from using their own tech, the company understood there were other aspects of wellbeing that needed to be safeguarded too.
The challenge: starting from scratch
"We were starting our benefits journey from the beginning," said Hazel. "As a small start-up we wanted to ensure we were providing benefits that were in line with our culture. Our mantra throughout was looking at benefits that enabled our Unminders to be 'happy, healthy and fulfilled."
"We wanted to take a look at all the options available to us and make an informed decision. Our priority based on input from Unminders was health insurance."
It was a formidable undertaking for a company making its first foray into the world of employee benefits. So many providers offer so much choice: different price points, varying inclusions and exclusions, and so much jargon to untangle.
The solution: Unmind calls in the experts
The insurance industry is confusing for anybody who hasn't worked within the industry for years and studied it extensively. However, for a health insurance broker like Hooray, it's second nature.
Rather than sift through countless policies and self-help guides, Unmind followed the classic business mantra: do what you do best and outsource the rest. We were only too happy to help.
"Hooray really took the time to understand Unmind – who we were, and what we were trying to achieve; this shone through," said Hazel. "The advice we received was detailed, thorough and honest; it always helped us to make the right choices."
Once we'd understood and established the company's needs, we worked on their behalf to negotiate employee benefits designed to support a happy, healthy and fulfilled team.
We negotiated the following policies on their behalf:
With Group Health Insurance (AKA Business Health Insurance) Unmind's employees are able to gain access to private healthcare. As it's arranged on behalf of the whole team, it comes at a lower per-person premium than if purchased individually.
The Group Life policy provides the team with reassurance that should the worst happen, their loved ones are taken care of financially.
Hooray also offered advice on International Employee Benefits and how best to arrange them for staff working overseas either temporarily or permanently.
Need advice from an expert employee benefits broker? Contact our friendly team via  [email protected] or call 01273 222805.
The outcome: happy HR and delighted teams
"Our teams were so thrilled when we announced our benefits," said Hazel. "They felt heard and supported. They have access to amazing healthcare, and a great life insurance policy.
"Our focus on their wellbeing meant we ended up with a healthcare policy that really matched our needs and culture – and provided lots of perks for our team to enjoy!"
Hazel also told us about one team member who described Unmind as "one of the most forward-thinking companies" around, thanks to the newly installed employee benefits scheme and how it supported the wider company culture.
In the end, Hazel was surprised by how simple the process turned out.
"Hooray were so fantastic throughout the entire process. They made getting set up a dream, and they continue to provide excellent service both to us as the benefit administrators and to all of our team here at Unmind.
"Charlie and his team go above and beyond on a regular basis, and we really value our partnership with them. Benefits are a huge undertaking, especially if you are a small company getting set up for the first time; and Hooray really does make a huge difference in that process. Whenever I spoke to Charlie, I felt reassured that we were in safe hands.
"Hooray is always available to support us, and we have no doubt that we are getting the best customer service around. I'm very grateful!"
Are you a start-up or small business seeking to launch or review an employee benefits scheme? Get a free no-obligation consultation by calling 01273 222805. Alternatively, message us via the chatbox on the right.