How to choose an employee benefits enrolment platform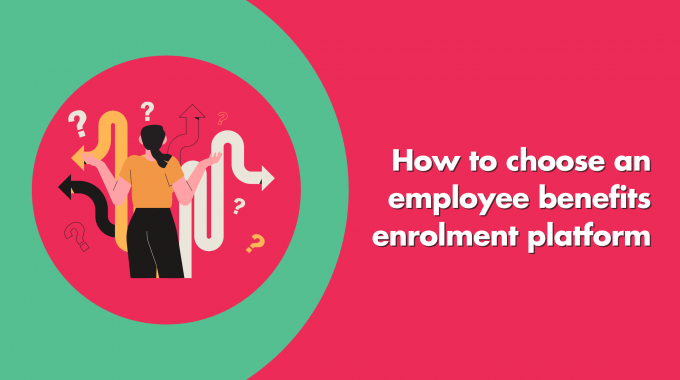 It seems every business big and small right now is investing in some kind of employee benefits enrolment platform. Whether it's cereal favourite Weetabix setting up perks within EdenRed or a small charity like the Helen Bamber Foundation using Reward Gateway, there's a platform for every organisation.
But what's best suited to your company?
This article provides an introduction to employee benefits enrolment platforms, the key features to look out for, and the top providers currently leading the way.
Need one-to-one advice on enrolment platforms and employee benefits in general? Our friendly team of experts can help FREE of charge. Either click on the bottom right chatbox or contact us at [email protected] .
What are employee benefits enrolment platforms?
Employee benefits enrolment platforms are essentially digital spaces providing staff access to benefits via a mobile or desktop platform. These platforms are well-received by HR and employees alike, as they streamline complex HR administration processes whilst giving a sense of control to employees in how they access their benefits.
Housing all employee benefits, your staff members can research, select, and enrol themselves into the benefits that suit their specific needs and priorities.
Setting up and managing a benefits plan, especially with a diverse workforce, can be a difficult task. With employees now able to pick and choose the benefits they want through digital platforms, you can address different interests, life circumstances, health needs, and priorities.
An online benefits platform can be as simple or as advanced as a company needs – as the next section demonstrates.
Typical features to expect
Digital enrolment platforms are popular for many reasons – one being how adaptable the features can be! Services on these enrolment platforms vary depending on your chosen provider and the product selected.
For example, Thanks Ben offer's their most basic package at £2 per employee but, for enterprise-level clients, has a custom pricing model depending on just how advanced their requirements are.
The following are typical services and features you can expect to find on employee benefits enrolment platforms:
Staff discounts and special deals
Health and wellbeing support
Health insurance scheme management
Employee recognition schemes
Pension schemes and management tools
Employee Assistance Programmes
Holiday entitlement and management
Staff surveys
HR communication tools
Payroll integration
4 major benefits of an employee benefits platform
The whole process of implementing a successful employee benefits plan can feel overwhelming at the best of times. Setting up an employee benefits enrolment platform provides a streamlined solution with staff feeling more in control and everything neatly tied up.
Once it's set up, it's easy to add (or even take away!) different insurance policies and tools.
Here are a few more reasons to invest:
Improves employee engagement:
Enrolment platforms allow staff to easily access their benefits via personal devices, making the selection process on their terms. Having access to customisable employee benefits gives employees a choice when deciding which benefits will individually work best for them – they feel more a part of the decision-making process rather than a mere recipient!
Reduced administration burden:
By lightening the burden on the HR department, they can direct energy towards their many other responsibilities – such as staff training and development. Digital platforms save valuable man-hours as well as money, all whilst providing a simpler and more efficient way of implementing employee benefits to your teams.
Raised awareness amongst employees:
With a simple means of choosing their benefits, employees also gain access to knowledge and general know-how of the employee benefits market. Staff can understand in more detail which benefits are available to them and how they can best be used.
Cost-effective:
Although initially seeming like a pay-out, employee benefits platforms will work out as a cost-effective investment long-term. You will only be paying for the policies that your staff are selecting – within budget limits set by the company. Though of course, you may also offer voluntary benefits schemes – i.e. benefits paid for by the employee (read more about voluntary benefits schemes here).  Either way, this will be way more effective than offering a blanket health insurance scheme!
UK employee benefits platform providers
There are many employee benefits enrolment platforms to choose from in the UK market, and here at Hooray, we've worked with most of them. Below is a brief breakdown of the platforms we have worked alongside for our clients:
A very flexible employee benefits platform, Thanks Ben enables staff to set their own benefits budgets as well as select those benefits that matter the most to them. Thanks Ben are aimed at small to mid-range businesses, meaning their knowledge of the SME market is vast. Also includes payroll integration and a variety of enterprise features.
Established in 2006, with almost 2000 business customers, Reward Gateway are a sturdy option for employee benefits platforms. Often targeting larger businesses, they are great for complex needs where large organisations must cater for a wide range of staff priorities.
Serving more than 10,000 businesses with 35 years-plus experience, Edenred is certainly a tempting option. They specialise in delivering high-value perks, expense management, incentives, and rewards. Edenred is also known for its ability to help businesses build more connected teams.
Used by over 7,500 businesses, the Perkbox platform brings together wellbeing, staff benefits, and recognition all under one umbrella. They also provide top HR integration features, enabling companies to boost their communications capability. Perkbox is proud to be the first truly global employee benefits and rewards platform.
Formerly known as Fair Care, this digital platform was launched in 2005 primarily specialising in salary sacrifice. Since then, it has grown massively into providing a wide range of employee benefits with detailed packages designed for specific business needs. They also offer wider HR functions and services.
Who will you choose?
It's impossible to recommend one platform as it will depend on your business need. Each one has a variety of packages to choose from. But as an employee benefits broker, we can help match your business to the appropriate platform and provide quotes directly to you.
At Hooray Health & Protection, we help businesses understand the various ways they can implement employee benefits schemes and provide expert advice on the best options in the market. We always recognise the importance of finding the perfect blend of benefits to give to your teams, ensuring they are happy, healthy and ready to drive your business forward.
Call us on 01273 222805 or click on the bottom right chatbox.