Employee Benefits in the UK: A Business Owners Guide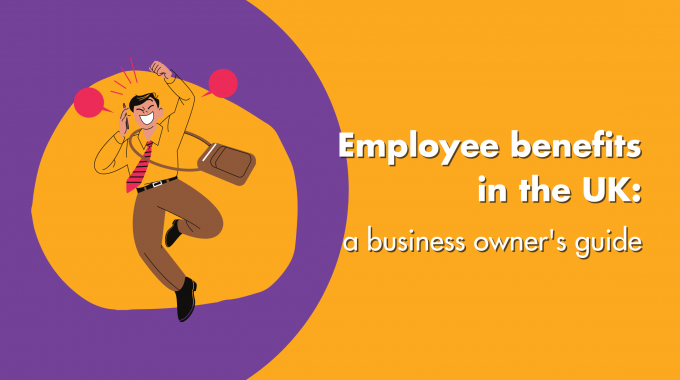 Offering an attractive selection of employee benefits is a great idea for any business owner that wants to lead a happy, healthy and productive workforce. Only 41% of workers feel satisfied with their benefits, according to the CIPD so there's clearly room for improvement.
But where to start?
First off, you need to understand what options are available when piecing together your package of perks and rewards.
In this guide, we'll take you through the employee benefits which you can offer to your hard-working team members.
Healthcare insurance
Both employer and employee stand to benefit from a carefully considered healthcare package. Here are the main options:
Sick Pay
'Statutory Sick Pay' kicks in after the first four days off work and lasts up to 28 weeks. But employers can choose to go above and beyond by offering Occupational Sick Pay (OSP) which lasts a longer period of time. Or they can offer a Sick Pay Insurance plan which provides short-term financial help for up to one year of sickness.
Income Protection
For longer-term ailments, you can pay part of an employee's salary each month. It can be activated once Statutory Sick Pay or Occupational Sick Pay has come to an end. Group Income Protection can last for a period of time set by the employer, or until the individual goes back to work or retires.
Dental and Eyecare Insurance
Businesses can choose to cover the dental or eyecare needs of its employees. Again, limits and exceptions can be set as required. Schemes can also be extended to family members.
Health Check Ups
Health screenings are a useful benefit to offer employees because they can flag up potential health problems before they occur.
Critical Illness Insurance
This covers employees in the event they are diagnosed with a pre-defined illness and survive for a minimum period of time. Typical illnesses include: cancer, heart attack, MS and other life-limiting health issues.
Health Cash Plan
Designed to cover routine health treatments and services, rather than unforeseen needs. 'Health cash plans' can include: dentistry, eye care, physiotherapy, massages and more.
Private Medical Insurance (PMI)
You can choose to cover a range of medical treatments carried out in private healthcare settings to allow employees to skip the NHS waiting list, supporting them back to work sooner.
Death in Service Insurance
In the tragic event that a member of your team passes away, Death In Service Insurance ensures that the employee's family is compensated. With only a third of Brits having life insurance, it can offer peace of mind to have the company looking after their needs.
With Group Life Insurance you can choose to pay out anywhere between two and 15 times the employees salary should the worst happen.
Pension schemes
Workplace pension schemes are among the mandatory employee benefits in the UK. It's applicable to employees who are between the age of 22 and the state pension age. A generous pension scheme can be highly sought after by prospective employees – and also a way of generating loyalty from your current team.
Here are some of the pension schemes you should consider:
Money Purchase Schemes
Employees can choose to have money placed into a fund which is then invested on their behalf. When they retire this money is then used to buy an annuity which gives them an income for life.
The individual takes the risk if the investment fails.
Final Salary Schemes  
The most common pension. The employee is paid a percentage of their final salary when they retire. It's based on their basic salary (so excludes bonuses) and, of course, is a strong inducement for continued loyalty to the company.
The financial risk lies with the employer, so if there's any shortfall in the pension, the business will have to plug the gap.
Stakeholder Schemes
Do you employ five or more people? If you do, and you haven't provided an occupational pension, then you must enrol them on a stakeholder scheme. You are not required to contribute to the scheme, but you must provide basic guidance on what it is and how it works.
A percentage of the employees earnings is deducted from their pay via your payroll system.
Group Personal Pension Scheme (GPP)
In this type of scheme you pool together individual pensions from different employees. They are collected through your payroll and then given to the pension provider.
The employer is only required to contribute if they want to use the Group Pension Scheme instead of a stakeholder scheme. In which case, you have make a minimum contribution of 3% per staff member.
Other attractive employee benefits to consider
Cash bonuses
In performance-driven working environments cash bonuses can be a great way of motivating and rewarding staff. Particularly useful for business lacking the pay budgets of bigger employers.
Holidays
All businesses must offer employees at least 28 days' holiday per year. But you can provide an extra incentive for potential employees by offering more time off. You might also choose to reward loyalty by increasing the amount of holiday based on length of service. A boon for staff retention!
Parental leave
Every employee has a right to maternity leave, regardless of how long they've been working for you. However, in order to receive statutory pay, an employee must have worked for at least 26 weeks and earned on average at least £120 a week.
Statutory Maternity Pay is paid for up to 39 weeks and is broken down thus:
For the first 6 weeks, you pay your employee 90% of their average weekly earnings (before tax)
For the following 33 weeks, you pay £151.20 or 90% of their average weekly earnings (whichever is lower).
Meanwhile, a father may choose to take one or two weeks off of work. While they are off they may receive 90% of their earnings or £151.20, whichever is lower. 
But of course, as an employer you may choose to be more generous in either case.
Flexible benefits
Rather than offering set benefits for employees, you can give them a menu to choose from. Whether it's extra days off work, childcare vouchers, free gym memberships, extra pension provisions – you can offer a choice they can tailor to their own needs.
Voluntary benefits
Employees can choose to join a discount scheme. These can include partnerships with retailers, gym memberships and healthcare and other types up services. Often, employees will need to agree to small deductions from their pay in order to take advantage of the offers.
Cycle-to-work schemes
A scheme where employers loan bikes to employees tax-free.
Travel expenses
The expense of travelling to and from work can accumulate for employees, so paying it for them can be an attractive perk.
A smart benefits scheme rewards everyone
As you can see, there are many ways that you can tailor your company's benefits package. Consider this your opportunity to build a workplace culture which attracts and retains the best talent.
Need help in evaluating your options? Contact one of our friendly advisors for straight-forward honest advice.