How do voluntary benefits work? And why should I offer them?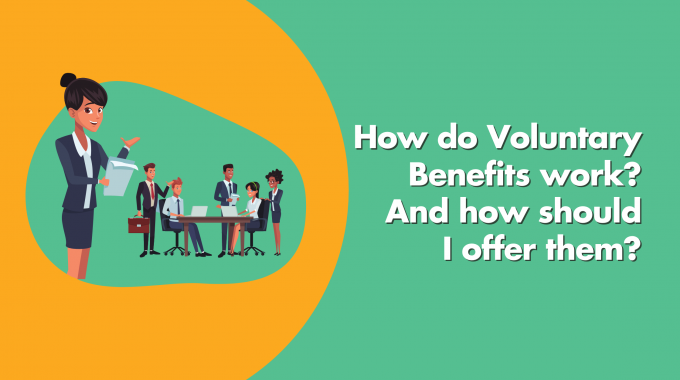 Voluntary benefits have fast become one of the most popular ways of offering employee benefits. Back in 2018, only 36% of employers predicted that voluntary benefits would become a core part of their rewards strategy. Today it's risen to a whopping 94%!
So, why so popular all of a sudden?
Increased awareness of this form of delivering benefits has played a part. But today's shifting workplace culture and rising competition for talent, has also likely played a role.
In this article, we'll explain – in the simplest possible terms – what voluntary benefits are, how they work and the hard-nosed business case for introducing them.
What are voluntary benefits?
A voluntary benefit scheme is a way of delivering benefits which gives the employee flexibility and choice. As a business owner, you can provide your team member with a list of benefits to choose from. They select the ones they want and then, crucially, pay for the value of the benefit themselves through payroll.
"Sounds a bit like a flexible benefit plan?"
Yes, but the key difference is that while voluntary benefits are paid for by the employee, flexible benefits can be paid by the employer. In fact, a flexible benefits plan can include a mix of employer-paid and employee-paid benefits.
Read our guide to flexible benefit plans here.
If you'd like to find out more about voluntary benefit schemes, contact one of our advisors today. We're always happy to talk you through your options.
What are some example of voluntary benefits?
Almost any benefit can be offered to employees under a voluntary scheme. They include:
Dental and/or optical cover
Miscellaneous insurance:
Homeowners insurance
Pet insurance
Travel insurance
Identify theft protection
Car insurance
Personal support services:
Access to mental health services, such as counselling and psychotherapy
Physical wellbeing services such as physiotherapy and osteopathy
Miscellaneous perks:
Free parking
Travel to work expenses
Cycle-to-work scheme
Gym membership
Discounts for retail or hospitality services
Extra parental leave
Pension schemes
In short: if you can think of the perk, it can be offered as a voluntary benefit.
How do voluntary benefits work?
The principles are very similar to a flexible benefits plan. First, the employer sets up the plan and decides on the range of choice open to employees.
This is an important decision. Offering an endless array of benefits only makes it harder and more costly to administer. So, it needs to be targeted. The question is: what do your employees want? Rather than second-guessing the answer, make sure to ask them. Get them to fill in a simple survey (preferably with an exhaustive list of options) and then collect the results.
From this you can piece together a list of benefits for your employees to choose from.
Voluntary benefits are great for employees because it means they only choose the benefits they need. Plus, whatever they select will be at a discounted rate – compared to what they would pay as an individual outside of the business.
The more employees involved in the scheme, the greater the discount is per person.
For example, if an employee was to purchase private health insurance outside of the workplace, it would cost a lot of money. But if it's purchased from within the business, it can be considerably cheaper.
There are many bespoke employee benefit platforms which help smooth the process of delivering benefits. They are digital platforms which you can use to administer your employee benefit programme – giving employees a simple way of opting in or out of benefits at their own leisure via desktop computer or mobile app.
Contact Hooray Health & Protection and we'll help you work out which benefit platform providers will work best for your business.
Why offer voluntary benefits?
If you look after your employees, you will gain their trust and loyalty. Offering a personalised system of benefits, reasonably priced, will make them feel valued.
Today, it's harder to provide a fixed set of benefits which are relevant to most of the workforce. Everyone wants or needs different things. A single twenty-something will have different needs to a thirty-something mother of three.
This issue was outlined by Chris Bruce, co-founder of Thomson's Online Benefits:
"There are five generations in the workplace, compared to only three or four a decade ago. With this widening age range comes an increase in the variety of employees' needs, and as a result more demand for personalization.
"Depending on employee preference, geography or generational differences, it becomes vital for employers to offer a range of voluntary benefits to their workforce."
Providing a wide choice of benefits without breaking the bank is a challenge many businesses face. But setting up a system of voluntary benefits makes it affordable. After all, it's paid for by the employee. The only cost for the business is in setting up the system and partnering with a benefits platform provider.
Every business owner wants a team of people who will recommend their company as both a place to work and a place to do business with. Happy employees make great advocates for your business – an authentic means of marketing.
Help employees help themselves
A voluntary benefits plan can make a real difference to your people. Whether it's helping with everyday expenses via retail discount schemes, or providing an affordable deal on health insurance; there are perks to suit every member of your team.
At Hooray Health & Protection, we work with a wide range of employee benefits providers – and specialise in matching businesses with the best benefit schemes and insurance deals. If you'd like to implement a benefits scheme for your business with minimum time and fuss; contact our helpful team today.