11 ways to help employees combat the cost-of-living crisis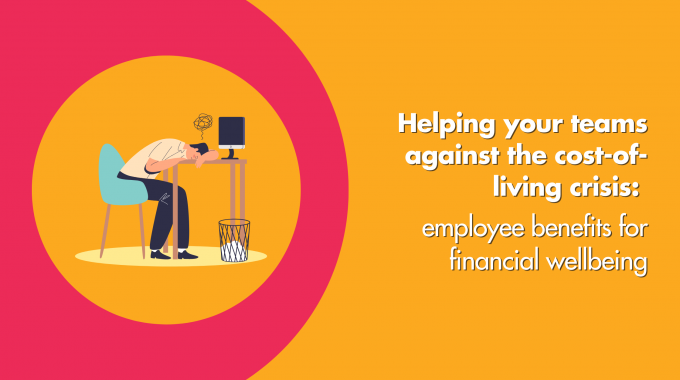 Financial pressures are coming from every direction. But what can employers do about it? In this blog post, we look specifically at those employee benefits which are designed to assist employees' financial health.
The Money and Pensions Service provide a useful definition of financial wellbeing:
"Knowing that you can pay the bills today, can deal with the unexpected, and are on track for a healthy financial future. In short: feeling confident and empowered about your money."
If your staff are worried about their ability to pay the bills and put food on the table, it may also impact them in the workplace.
Looking for employee benefits to help support your staff's health and financial wellbeing? Our friendly team of experts can help. Email [email protected] or use the chatbox in the bottom right.
Feeling the squeeze
UK inflation rate rose by 7.0% in the year leading up to March 2022. That means everything's costing more. Even worse, salaries are unable to keep up.
"More people are exhibiting signs of physical and mental health problems as a result of the cost-of-living squeeze," said Kris Ambler, Workforce Lead at BACP. "Employers need to create an ecosystem of support. A business's health and resilience are linked to the wellbeing of its people."
The financial stress caused by the rise in everyday prices has had a huge impact on staff's physical and mental wellbeing. Research from the British Association for Counselling and Psychotherapy 2022 revealed:
44% of employees are anxious/nervous about being able to pay bills
16% said they are losing sleep due to money worries
22% said they have started cutting back on activities helping their mental health e.g., gym memberships or art classes
Implementing a pay rise to match the rising costs seems the obvious and most simple solution, but for most businesses, this is not a realistic option.
Can employee benefits be the answer?
5 insurance schemes which support financial wellbeing
There are many employee benefits in the health market targeting different aspects of staff wellbeing and business success. Our breakdown below focuses primarily on the benefits that help alleviate financial worries and ensure peace of mind for your staff.
Supports employees with a monthly payment should they fall sick or become injured. While statutory sick pay is available for up to 28 weeks, this policy can effectively top it up or be designed to kick in when those 28 weeks come to an end. This benefit shows you genuinely care for your staff's financial wellbeing, providing peace of mind during an even more difficult time.
Provides a tax-free lump sum to a team member if they fall critically ill, or in some cases become physically disabled. This payment provides financial support for the usual costs of living but also for the inevitable extra care and support required.
Pays out a lump sum to your employee's loved ones, in the sad event of their passing. It's particularly pertinent for employees with families who depend on their salary. Life Insurance assures your staff that, if anything happens to them, their loved ones are financially protected.
Dental and Optical Cover:
Dental and/or optical cover can be purchased individually or included as an "added extra" in a wider health insurance policy. It enables employees to claim back on the cost of dental treatments/eye tests, check-ups, and procedures. The insurance covers both routine and emergency procedures, giving staff the financial peace of mind that they won't be caught out paying a huge sum.
Assists with everyday health costs and can include dental, optical, physiotherapy, acupuncture, counselling, online GP services and more. They differ from regular health insurance policies in that they cover only everyday health needs, rather than serious operations and the like. They are growing in popularity with staff due to the practical support they offer while being a lower-cost option for businesses who can't afford a Business Health Insurance plan.
6 workplace perks which support financial health
EAPs assist staff with a wide range of personal problems impacting their work. They provide a wide range of services which includes financial advice and debt counselling. Other services include legal assistance, medical advice, one-to-one counselling, Cognitive Behavioural Therapy and much more.
The programmes give employees an easy-to-use toolkit for managing their health and wellbeing when that might not seem possible due to external issues.
Employee discount schemes:
Many workplaces set up discount schemes for their employees. Discount schemes often include the following: gym memberships, fashion, grocery shopping, restaurants, holidays and more. Schemes are usually provided within apps or online benefits platforms which have a host of other features included.
These discounts can make a huge difference in cutting down weekly living costs and making employees feel more in control of their finances and spending.
Learn more about employee benefits platforms here.
Discover the 7 best discount scheme providers today.
Financial education programmes and webinars:
Group financial education sessions can give your staff the power to better control their finances. These programmes teach employees the ins and outs of budgeting and/or types of insurance available to them.
Such programmes can help employees make their money go further and provide peace of mind that they're doing all they can.
Lunch perks:
Providing free on-site lunches, drinks and snacks can help staff with their food costs and boost wellbeing; ensuring everyone has the fuel to be at their best in the workplace and beyond.
Travel costs/commuting:
Offering reduced costs/full cover on train tickets, bus journeys, car mileage, or via the cycle-to-work scheme ensures staff are not financially penalised for attending the workplace.
Signpost free support services:
There are many great services which provide free advice and financial support, yet are often overlooked. As an employer, you can point them in the right direction via a weekly newsletter or posters. For example, the government-run Money and Pensions Service provides free and confidential money and debt advice.
Help is on hand!
We're sure that this blog post will provide you with plenty of inspiration to help employees tackle any financial issues they are dealing with. While you can't solve every problem they face, just being there and providing the support that YOU can afford, will go a long way.
At Hooray Health & Protection we help you find the right employee benefits that fit with the specific needs of your business and staff. We recognise the importance of providing the perfect blend of perks to give to your staff, ensuring your staff are protected in every way possible.
Call us on 01273 222805 or click on the bottom right chatbox for straightforward advice and the most competitive quotes for FREE.