Find the latest Critical Illness Cover quotes for your business!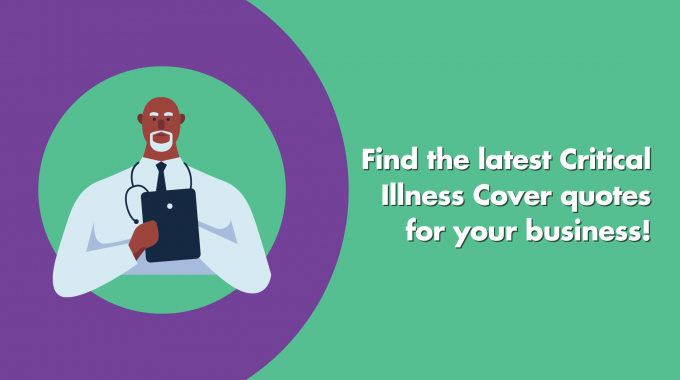 At Hooray Health & Protection, we love helping businesses find the best quotes on a range of employee benefits, including Critical Illness Cover.  Many small businesses have come to us after being turned down by one of the big providers and we can happily say, we're usually able to find a suitable policy.
In this blog post, we detail how Critical Illness Cover quotes are calculated and provide examples from three insurance providers currently operating in the market.  You'll also learn about some of the added extras that can be included within a policy.
Group Critical Illness insurance prices can fluctuate significantly depending on the insurance provider, level of cover selected and the number of employees included in the scheme – among other factors. So, if you'd like an accurate quote for your business, your best bet is to click on the Get Quotes button above and we'll provide a range of price points tailored to you.
Critical Illness explained
Group Critical Illness Cover provides staff with a tax-free lump sum in the event of them falling critically ill. The definition of 'critically ill' will vary according to the policy but will usually include 10-15 conditions and encompass health problems such as cancer, heart attacks and strokes. Providing this cover reassures your employees that they will be able to afford the care they require and have money to assist with general living costs.
It's reassuring for employees to know that their employer has them protected should the worst happen – and this makes it an important tool for employee retention. It also signals to potential employees that you're an employer who cares, thereby assisting in the recruitment of new staff.
Looking for one-to-one advice on Group Critical Illness cover and other employee benefits? Our friendly team of experts can help FREE of charge. Either contact us at [email protected] or click on the bottom right chatbox.
Key factors influencing Group Critical Illness Cover quotes
Group Critical Illness Cover quotes vary according to a range of factors. As with many employee benefits, there is no such thing as a blanket quote.
However, this isn't necessarily a bad thing!
Due to the cost of Group Critical being based on the exact details of your staff and business, the result will be tailored to suit your specific employee and business needs.
Factors impacting your quote:
The average age of employees
Number of employees
Location
Occupation
Any long-term absentees
Employee's previous claims history
Level of cover chosen
Further reading: Which conditions are insured by Group Critical Illness Cover?
Top 3 UK Group Critical Illness providers
Below we've outlined the offerings of three major Group Critical Illness providers. While businesses are free to negotiate quotes directly with insurers, it's recommended to gather a variety of quotes from an independent broker like Hooray – FREE of charge. We have no commercial interest in siphoning you towards one particular provider, we will always consider Critical Illness Cover quotes from across the whole market and deliver those that best fit your needs.
Remember: insurers will also have a varied list of inclusions/exclusions and special add-ons which make straightforward price comparisons difficult. Nonetheless, it's always useful to be clued up on what providers are offering, so here's an overview:
Offering protection policies and health and wellbeing services to 1.6 million employees and their loved ones, Unum remains one of the leading employee benefits providers in the market. Unum offers expert health and wellbeing services as well as financial protection through the workplace.
Unum's cover options include:
Base: 13 critical illnesses inc. heart attack, stroke, cancer, dementia
Extra: all base conditions plus an additional 26 extra illnesses inc. brain tumour, rheumatoid arthritis, terminal illnesses, and total permanent disability.
Funding options:
Standard: employer-funded plus a minimum of 3 employees
Flexible: funded either by the employer or with employees – available for policies covering 150/more employees
Voluntary: employee-funded with premiums collected by the employer – available for policies covering 150/more employees
What makes Unum truly stand out is its additional health and wellbeing services. Below we've listed the top three that can be added to your Group Critical Illness Cover.
[email protected]: an easy-to-use app accessing all services and support inc. GPs, mental health support, physiotherapy, EAPs
Employee Assistance Programmes: access to confidential 24/7 helpline, financial/business legal support, wellbeing content
Unum Cancer Pathway: quick and easy access to personalised cancer support
Aviva has been around the health insurance market for more than 320 years, now with over 15.5 million UK people protected with them and £30.6 billion paid out in benefits and claims to customers in 2020. For Group Critical cover, children can be automatically added as well as employee partners.
Aviva's cover options include:
Standard cover: 15 critical illnesses and operations inc. cancer, heart attack, stroke, major organ transplant
Extended cover: all standard illnesses, plus 26 other critical illnesses/operations inc. aorta graft surgery, blindness, heart valve replacement, liver failure, terminal illnesses
Child cover: automatically included, covers child-specific conditions e.g., cerebral palsy, cystic fibrosis
Aviva also offers a workplace wellbeing app, which works with your chosen benefits. The Aviva DigiCare+ Workplace app includes:
Range of health-related benefits
Access to medical specialists
Health checks
Digital GP
Second medical opinion
Mental health consultations
Nutritional consultations
Canada Life has been operating in the UK since 1903 and is now used by 3.5 million customers. They provide retirement, investment, and protection solutions to individuals, families, and corporate customers.
For their Group Critical Illness offering, every policy includes 13 core illnesses including cancer, Alzheimer's disease, and strokes. They also supply an option of including a further 28 illnesses into your policy, as well as cover for permanent disabilities.
To obtain a Critical Illness Cover quote from Canada Life, you will need to gather the following information:
Employer details
Benefits you want to be included
Age the cover should end
Which illnesses do you want covering
Cover details for individual employees e.g., sex, date of birth, salary, occupation, work location, any business travel
Gather Critical Illness Cover quotes for your business today!
Every provider has much to offer and there is no one right or wrong direction to go in – it all depends on the needs of your business, the budgetary constraints you're working within and the makeup of your workforce.
Here is where we can help! At Hooray Health & Protection, we help businesses understand the health insurance and employee benefits market and provide expert advice on the best options available. Whether you need quotes and advice on Group Critical Illness insurance or any other form of health insurance, we will provide one-to-one support with no fees or contracts attached.
Call us on 01273 222805 or click on the bottom right chatbox.
Further reading:  Group Critical Illness: Frequently asked questions