Which conditions are insured by Group Critical Illness Cover?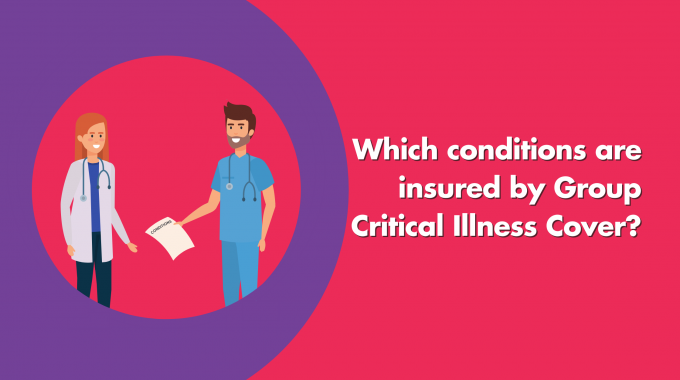 What is group critical illness cover?
Group Critical Illness Cover is one of the most popular forms of employee benefits in the UK. The policies can provide businesses with a great way to offer employees a form of financial security, if they are ever diagnosed with a serious medical condition or long-term illness.
These insurance policies are designed to pay out compensation if an employee is ever affected by a severe medical condition. The lump sum paid to employees is intended to help with making up for any loss of earnings and increased expenses that may be caused due to suffering from such a condition.
As comforting as group critical illness insurance can prove to be for employees, it can occasionally be difficult to decipher what kinds of conditions, or which specific illnesses are covered and which ones are not.
While there is unfortunately no universally applicable answer, this article will provide a general overview of the kinds of conditions that meet the criteria of the insurance policies, as well as a few of the aspects that aren't generally covered.
Which specific conditions are covered?
The specific conditions that are covered by group critical illness insurance can vary greatly, depending on the terms of each specific policy. The most extensive policies cover almost all medical conditions or illnesses that are considered to be severe, or to have long-term effects.
Obviously, we aren't able to list every critical illness policy on the market here, but generally speaking, if it's a serious medical condition, it's likely to be covered by the majority of insurance providers that are available in the UK.
Some of the most commonly covered conditions include:
Cancer
Strokes
Heart attacks
Organ failure
Permanent limb paralysis
Multiple Sclerosis
Alzheimer's Disease
Parkinson's Disease
Cancer, strokes and heart attacks are by far the most commonly insured conditions. However, the highest levels of cover can insure employees against a huge variety of 80 different illnesses and conditions.
A few of the less prevalent, but still extremely serious conditions that are insured against can include comatose, the infliction of blindness or deafness, as well as severe burns or head injuries.
Some group critical illness policies can also include coverage for family members, allowing them access to the same levels of compensation. This family coverage can also provide those who may have family members that are dependent on their income with some peace of mind.
What are the exclusions?
As stated earlier in this article, critical illness insurance exclusively covers conditions or illnesses that are severe or long-term. Minor conditions, injuries or illnesses are not considered to be critical conditions and therefore, will not be insured against under these policies.
There are a few instances in which conditions that are usually covered, may not be insured against, under certain terms. For example, most cancer diagnoses will usually only be insured against if the cancer has already become malignant and begun to spread throughout the body.
Minor strokes can also occasionally be excluded, provided that they don't cause any serious or long term impact to your health.
The definition of a critical illness is also technically subject to change, as advancements in medical knowledge and technologies continue to improve and expand the potential of available treatments.
How insurance brokers can help
Finding the right critical illness policy for your business can often be a difficult undertaking, but if you're looking for some expert industry insight, while also alleviating the stress, then your best bet is to find an insurance broker to help with the process.
With all of the differing levels of cover and competitive pricing available on the health and protection insurance market, hiring a broker is the most reliable method of finding the best cover. Insurance brokers can help to find the policies that are best suited to the needs of your business and can prove instrumental in securing the best available prices.
Hooray Health & Protection can make insurance easy for your business and help to secure the best possible policy for critical illness cover, as well as any other health insurance needs or queries you may be struggling with.
If you have an interest in hiring Hooray to help with critical illness cover, or if you're simply seeking some professional advice on the subject, please visit our website, to see how you can get in touch with our team.