Got a key person you can't afford to lose? There's an insurance for that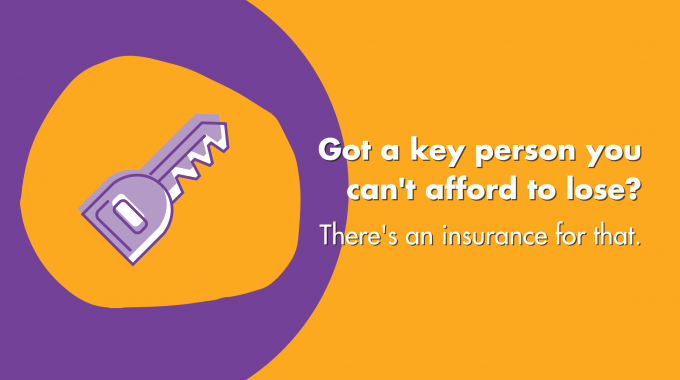 Every member of your team is important. And you'd hate for anything to happen to any one of them. But you may have one person in your team whose absence would have severe repercussions for the business.
This individual could be an employee or owner who has a unique set of skills or special responsibilities that can't be easily fulfilled by anyone else, if at all.
That's where Key Person Insurance (AKA Key Man Insurance) comes in. It covers your business in the event that a specified individual dies or, in many cases (check the policy!), is struck down with a life-limiting illness.
Key Person Insurance: the hard-nosed business case
"You can take my factories, blow up my buildings, but give me my people and I will build my business right up again." Henry Ford
According to research by Legal & General, 52% of business would cease trading in under a year if a key person died or became critically ill. Yet 50% of businesses admit to not having cover in place!
When you consider that talented people (including yourself) form the backbone of any business, it's surprising that Key Person Insurance is such an overlooked form of business protection.
In truth, when many business owners consider insurance, it's usually in regards to protecting physical assets rather than people. And when they do shift their attention to people, it's usually in the context of insurance which protects the employee rather than the business – companies are now increasingly aware that offering perks helps attract and retain the best talent.
Consequently, business owners often forget to consider the impact an individual's ill-health can have on the business itself. Answering these questions will help you understand whether Key Person Insurance should be contemplated for your business:
Have you considered the risk of losing a key individual?
How would their loss affect how the business operates?
How would your suppliers and/or customers view this loss?
How would their loss impact on your team?
Who's your key person?
It's quite common for small companies to have an individual who would warrant key person status. Their importance could be marked out by:
Technical skills and prowess that no-one else in the business possesses.
Responsibility for a particular area of the business which no-one else can cover
Outstanding leadership skills that can't be easily or quickly replaced
The financial support they offer the business (for example, an owner or partner might guarantor loans or mortgages)
The common factor is that this person can't be easily replaced and the business will lose money as a result of their absence.
For example, your key person could include one or more:
Company owners (which can include yourself, business partners or shareholders)
Managers and directors
Members of your sales or marketing team
IT professionals
But remember, it's not seniority or status which defines a key person, it's the impact their loss would have on the business.
How does key person insurance work?
So, you've identified the key person (or persons) you simply can't do without. Now it's time to explore how insurance premiums are calculated.
Key Person Insurance works like other insurance protection: the company pays the cost of cover (the premium) and in return gets access to financial support if and when it's required.
That money can be used for a wide range of reasons:
The cost of recruiting and/or training a replacement
To cover business losses related to the key person's absence
To cover the cost of paying debts and/or winding down the company
Most insurance policies offer the option of Critical Illness Cover. This means that you're not just covered in the event of the person dying, but also if they suffer a critical illness. For example, specific types of cancer, Parkinson's disease and other long-term serious illnesses.
As with any insurance policy, the devil's in the detail. Inclusions and exceptions will vary from policy to policy.
If you'd like one-to-one assistance in finding the right insurance policy then contact one of our helpful team. We are not obliged to direct you towards any particular insurer. Our only goal is to help you get the insurance you need.
How is the insurance cost calculated?
The cost of insurance cover depends on how much financial value your key person brings to the business – and how much it would cost the business if that person passed away or became critically ill (the latter applicable if you Critical Illness Cover is included).
Working out the financial cost of a key person's absence, will require a calculation based on:
The key worker's combined yearly salary/dividend/remuneration package
The business's combined yearly payroll bill
The business's gross yearly profit
The number of months required to recruit, replace, train, recover contracts and get back to growth
Of course, the insurance provider will also need to know the likelihood of the person suffering an untimely demise. The factors they'll take into account, include:
Age of the individual
Previous medical history
Risks associated with the job or workplace
The cover lasts for as long as you need it, with options usually starting at two years but can span the entire duration that they work for the business. Naturally, if the individual leaves the business it becomes void.
Need a quote for your key person? Simply fill in the form on our dedicated key person insurance page.
Your business is built on more than just bricks and mortar
Key person insurance covers people who do more than just a good job. It's the people who are integral to your business and can't be replaced easily, if at all.
All businesses are comprised of more than just bricks and mortar, physical or digital. People are the lifeblood of business and it's wise for any business owner to consider whether their value needs to be financially protected.
If you need any further advice or guidance about Key Person Insurance, leave us a message in the chat box on the left.