Is a flexible benefit plan a thing? Yes it is…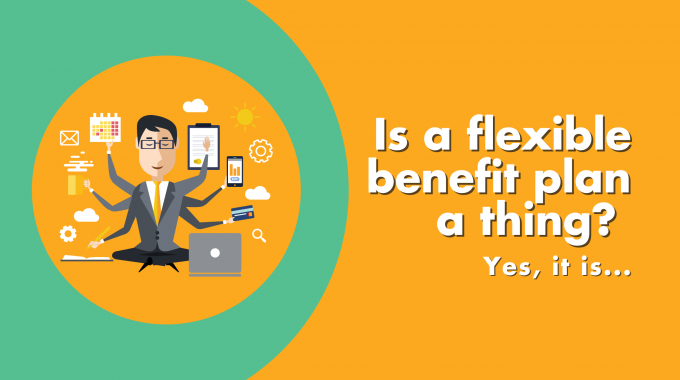 Flexible benefit plans are becoming an increasingly popular choice for businesses who want to provide a pick n' mix of perks to their employees. After all, everyone's needs are different – what's indispensable for one person may be worthless to another.
If you're a small business owner busy evaluating ways to keep your whole team happy (not just Brian in accounts), then a flexible employee benefit scheme will be worth investigating.
"Always treat your employees exactly as you want them to treat your best customers." – Stephen R. Covey – author & businessman
What is a flexible benefits plan?
A flexible benefits plan gives employees the power to choose which benefits they want. As an employer, you can offer your staff a selection of benefits to choose from. For example, the list may include:
Free or discounted rail travel (or free car parking for drivers)
Free or discounted gym membership
Dental cover
Eye care
And much much more. A commuter would no doubt want to opt-in to free or discounted train travel, while car owners may wish to take you up on free parking. But even different types of health insurance can be offered on an opt-in/opt-out basis.
A flexible plan is ideal if you have a diverse workforce with varying needs and desires – which, let's be honest, is most workforces.
However, a flexible benefits plan is rarely limitless. Instead, you offer your team a set menu to choose. Some aspects of the benefits plan might be provided as an automatic opt-in. For example, if you have a Group Life Insurance scheme, then all your employees are likely to be covered and the employee won't be able to opt-out. Don't worry, I'm sure they won't complain!
Typically, a flexible benefits scheme will provide core non-negotiable benefits and then a range of add-ons which employees can choose from.
Need one-to-one advice on setting up an employee benefits scheme? Then arrange a no-obligations call with one of our friendly advisors.
Why offer a flexible benefits plan?
Sixty-four percent of millennials say benefits are extremely or very important to company loyalty, according to a study by Qualtrics and Accel. However, they have to be relevant. That's not just true of millennials but also the older guard in Gen-X and Gen-Y. This is why flexible benefits are so important: they offer variety and choice so that individual employees can piece together the combinations of perk which will work best for them.
Employers also recognise the importance of perks and benefits. A recent study by HR company, Moorepay, reveals that 83% know their employees are looking for more than just a generous pay rate.
The message is simple: if you want to attract and retain the best staff, offer a package of perks which they will love. A flexible scheme makes this goal more attainable by putting the power in their hands.
How does a flexible benefits plan work?
First, get an idea of what your employees are likely to want. A simple survey will suffice for most small businesses. Provide them with a tick-box of different types of benefits and allow them the space to make their own suggestions. This should give you an idea of the range of benefits your team will likely want and benefit from.
Once you've completed the "research phase", you can choose how to offer the benefits. You can choose a benefits platform provider, of which there are many, and then either buy an "off-the-shelf" product that best fits your needs or create a specially tailored one for your business.
After you've chosen or created the package, your staff can pick and choose which ones they want. Digital platforms make this process easy for employer and employee alike. As mentioned earlier, you can choose to set core benefits which every staff member receives automatically alongside optional benefits.
Employees contribute to the cost of the benefit by sacrificing some of their pre-tax pay. The value of this works for two reasons:
They are getting a discounted product/service/benefit at a much lower cost than they would otherwise have to pay.
It lowers the amount they get taxed.
For the business owner, a flexible plan is beneficial because:
It's a cost-effective way of setting up a system of perks (you are only investing in what staff actually need).
Individual employees can manage their perks themselves, rather than have lengthy back-and-forth's with the HR department (or whoever's responsible for managing staff).
Hooray provides objective advice on all the different perk providers and the best ways of setting up a scheme. If you'd like advice tailored to your business, then get in touch.
Flexible benefits examples
A benefits plan can offer whatever range of benefits you wish to provide. Your plan may encompass some or all of the following:
Buying or selling annual leave
Dental and/or optical care
Bicycle loans or cycle to work schemes
Pension contributions
Gym membership (free or discounted)
Childcare vouchers
Free or discounted travel to work
Discounts/vouchers for selected retailers or services
Physiotherapy
Mental wellbeing services
The list can go on.
Flexible benefits platforms
Flexible benefits platforms are growing in number and they cater for just about every business need. Functionality will vary from platform-to-platform but they are all designed to give the employee more control over their benefits (within the boundaries set by the employer).
Some of the current market leaders include:
Are you ready to flex your benefits?
As company perks continue to play a decisive factor in where talented people choose to work, a flexible benefits plan takes away a lot of the guesswork from the business owner. Instead, you can put the control in the employee's hands and allow them to mix and match their dream combination of perks.
End result? Less burden on you the business owner and a workforce which is happier and more productive.
For further advice on employee benefits and how to set up a scheme, contact one of our team today.