A guide to private health insurance in the UK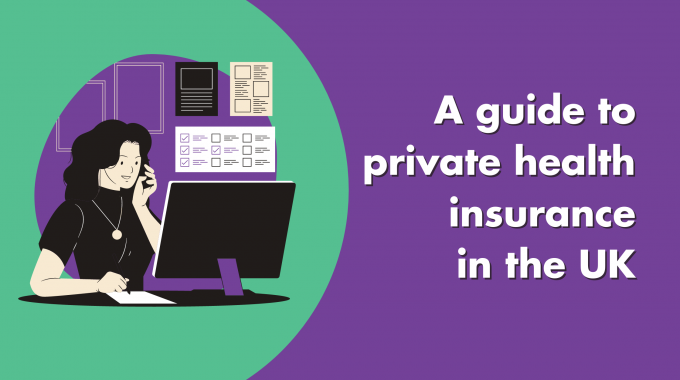 Private health insurance in the UK can help you avoid lengthy waiting lists and receive medical treatment as and when you need it. While the NHS offers a comprehensive range of services free-of-charge, there's often a delay in arranging appointments and receiving treatment.
Meanwhile, private healthcare may grant you access to health treatments and perks which are not available available on the NHS.
There are many companies offering private health insurance packages, such as Bupa and Aviva health insurance. But comparing packages and working out what offers the best value and cover is complicated. Health cover varies greatly, as do the price-points and the all-important Terms & Conditions. This makes a straight-forward cost-comparison almost impossible to come by.
In this guide, we take you through some of the key things you need to consider in order to get the best deal for you and, if required, your family.
Why choose private health insurance?
What's included in a health insurance policy
Tips for finding the best health insurance cover
Why choose private health insurance?
Like all insurances, private health insurance requires you to pay a set amount each month (or year) in order access healthcare treatments as and when you need it. The price you pay is called the premium.
In the event that you fall ill or suffer an injury, your insurance is there to cover the cost of treatment, and ensure you get treated swiftly. Naturally, each medical insurance has its own set of inclusions and exclusions (which we discuss in the next section).
The major benefit of private healthcare is a shorter waiting time that you are likely to have on the NHS. Also, many find that private health clinics and services provide a more comfortable experience. For example, if you need to stay overnight, you may have your own private room and avoid the sometimes noisy and busy experience of a multi-occupant hospital ward.
Faster treatment means you are also likely experience a faster recovery and therefore accelerate your return to work – or play!
You may also get to see your own regular consultant, rather than the mix of health professionals you are likely to encounter in the public health service.
But ultimately, the type of treatment you receive will depend on what's included in your private health insurance package.
What's included in a health insurance policy?
Interesting fact: 13% of people in the UK have private health insurance.
Private health insurance can cover individuals, couples and families. If you're covering your whole family, then some insurers even add children at no extra cost. (A child is usually classed as someone under the age of 16.)
Inclusions
Health insurance policies tend to cover non-routine tests and treatments, including:
Medical tests (for example, blood and urine tests)
Surgery, as an inpatient or day patient (for example, heart surgery)
Outpatient tests, consultations and therapy (for example, post-surgical care and physiotherapy)
Drugs, which may include drugs unavailable on the NHS
Hospital stays and nursing care
Treatment for chronic conditions in the early stages
Exclusions
Here are some of the common exceptions:
Eye care
Dentistry
Pre-existing health conditions (such as asthma, diabetes and arthritis)
Alcohol and substance abuse
Prescription drugs
Kidney dialysis
Pregnancy (though complications arising from childbirth are sometimes covered)
HIV & AIDS
Cosmetic treatment
Fertility treatments
Mobility aids (such as wheelchairs and mobility scooters)
Self-inflicted injuries (including those suffered as a result of dangerous hobbies, such as skiing or sky-diving)
But it's also important to remember that many private health insurers offer specific perks. These can really add value to your insurance cover. For example, you might be offered a discounted free gym membership. While added extras can be great, don't let it distract you from your priority: getting the cover you need the most, at the best possible value.
Need help going through your options? Then contact one of our helpful advisors. We don't have a preferred provider – we exist simply to help you find the best insurance policy.
Tips for finding the best private health insurance cover
Everyone's needs are different. Age, health history, gender, workplace environment, location – there are many different factors which make up an individual's health profile.
You need to match what health cover you're likely to need, with a good value and comprehensive health insurance cover. Of course, insurance providers will also gauge what they can offer – and at what cost – based on your individual or family profile.
Remember: insurers often offer a monthly price and an annual price. The annual price is usually going to offer a cheaper deal. For example, an annual price might be £1,000 but paying for one month separately could be £100 – by renewing the plan month-by-month you'll end up paying £1,200.
But finding the best value deal is more than a price-point. The level of cover each insurer provides varies. So, the first question you need to address is: what am I likely to actually need? And what insurance cover is likely to be most useful?
Of course, we can never know what eventualities lie on the horizon, but we can still estimate what's most likely (after all, this is also what insurers are trying to calculate too!). That's why cheaper deals are not always the best value.
Another added complication, are the add-ons that insurers may choose to provide. For example, they may offer a discounted gym membership, alternative health therapies or international cover.
This means that price comparison sites are limited in how much clarity they can offer: value is determined not just by the cost, but what's on offer, and how that addresses your needs. Furthermore, price comparison sites don't feature every health insurance deal.
It's interesting to note the most popular type of health insurance claim. According to Bupa, in 2017 the most popular claims were for:
Musculoskeletal problems (eg, back or neck pain)
Digestive system conditions (eg, gastroenteritis, Crohn's disease, irritable bowel syndrome)
Eye and ear conditions (eg, labyrinthitis, an inner ear infection)
Cancer
Heart and circulatory diseases (eg, coronary heart disease; arrhythmia, an abnormal heart rhythm)
Gain clarity, get the best cover
As you can see there's plenty to consider. Sometimes people get dazzled by added extras and attractive pricing, and end up buying an insurance policy which fails to adequately fulfil their needs. But the most important place to start is by considering your own needs and how best you can fulfil them within budget.
If you need help gaining clarity and sorting through the sometimes baffling array of options, then contact one of our team. We'll do the hard work so you don't have to.