Considering a Group Life Insurance policy for employees? A few things you should know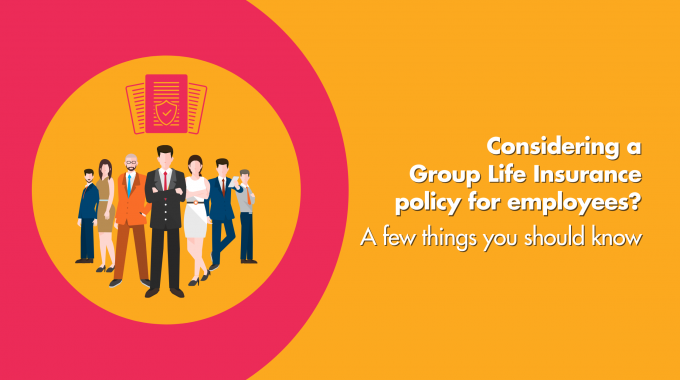 Group Life Insurance came out as the second most popular employee benefit in our survey of start-up employees last year. This is no doubt due to the financial security and peace of mind it offers. Yet for employers, it's also one of the most accessible due to its relatively low cost and the fact that you only need two employees to qualify.
Whilst generally simple to set up, there are still a few things worth knowing before springing into action and investing in a Group Life Insurance policy for employees.
We've listed the top five need-to-knows when buying Group Life Insurance in the UK, stripping it right down to the basics.
Looking for the right employee benefits for your staff? Contact our friendly team at [email protected] or use the chatbox in the bottom right. No fee and no obligation.
How Group Life Insurance works
Group Life Insurance, also known as Employee Life Insurance or Death in Service Insurance, is a policy taken out by businesses to provide a tax-free lump-sum payment to an employee's selected dependants (usually partners or family members) in the sad event of that employee passing away.
The amount paid will be selected by the employer prior to the start of the cover, deciding whether to include all employees or a select group of key workers under a plan. You can either calculate the pay-out as a multiple of the employee's salary or provide it as a set amount (see next section).
Businesses have full flexibility in the way they provide coverage. One popular method is to establish a tier system where staff are given different coverage levels based on their position within the business.
Providing a Group Life Insurance policy for employees is incredibly reassuring – not just for team members, but for their families too.
How much Group Life coverage costs
According to data from Canada Life, the average premium for Group Life Cover was £1,316 for first-time buyers. However, the amount ultimately depends on how much coverage you choose to offer and the profile of your workforce.
Most employers provide coverage for either 2x or 4x an employee's salary, although you can go even higher. Here's an example of how it works:
Employee A earns £40,000 per year. You decide, as a generous employer, to offer life insurance that pays out 3x their salary in the event of their passing. In the event of a successful claim, their dependants would receive a lump-sum payment of £120,000.
Alternatively, you can offer a flat pay-out amount, establishing a specific figure rather than a multiple of a salary.
The profile of your workforce is the other key element affecting cost. The insurer will set the premium based on the following details:
Age
Gender
Work location
Occupation
Salary
Any employees on sickness absence
Any previous/long-term absentees
Any employees who have suffered serious medical conditions (past 12 months)
The important thing to note here is that they are not looking in-depth at any one individual's health profile. I.e. they are not asking for your employees' medical history – only the basic information outlined above.
Looking for Group Life Insurance quotes? Our friendly team of experts will be happy to provide them free of charge. PLUS, we'll answer any other questions you may have regarding other insurance products and employee benefits. Simply call 01273 222805 or use the chatbox on the right.
Benefits of providing a Group Life policy for employees
Group Life is one of those employee benefits that just keeps on giving. We've listed below a few extra ways it boosts your teams, as well as your overall business:
Provides staff with a consistent level of protection – it does not discriminate based on health history
Cost-effective (less expensive than buying individual insurance schemes) – can cost less than 1% of the annual payroll!
Boosts retention and attracts high levels of staff
Can cover pre-existing conditions
Can be classed as a business expense – therefore tax-free
Extremely helpful in covering costs of funeral/other death-related expenses
Simple and easy to manage compared to individual policies – multiple staff members covered under one single plan
Offering clear financial protection to your staff will immediately make you a popular employer, boosting the overall business environment and making your teams feel they are cared for.
The value of financial security today
Providing a Group Life Insurance policy for employees helps relieve some of the stress and worry people might have about their health and wellbeing – and the consequences of a tragic turn of events.
The current climate has arguably brought these concerns to the fore like never before. From the financial uncertainty of rising costs of living to the continued presence and impact of Covid-19, to wars in other parts of the world; it really is a time of uncertainty. While employers can't solve all the world's ills – nor 100% guarantee the health and wellbeing of those who work for them – they can at least provide financial security and make the workplace a supportive and reassuring one.
A Group Life Insurance policy for employees is just one part of the employee benefits mix which can help make an important difference – and as one retailer is always keen to point out: every little helps.
If you'd like FREE advice on how best to support your teams, simply use the chatbox on the right to kickstart the conversation.
Free cover limits and Master Trusts
When planning a Group Life policy for employees, it's worth knowing about Free Cover Limits and Master Trusts.
Free Cover Limit
When setting up a new policy, a limit is applied on how much an employee can be automatically insured for. If you're providing coverage above this amount, the insurer will require a medical background check. Thankfully, the limit is pretty generous. For example, for a business providing a Group Life Insurance policy for 20 employees, there might be a cover limit of £500,000 for each person. Each insurer will provide a different limit, and it goes up or down depending on how many people are included in the scheme.
Free Cover Limit is established as the maximum cost that each staff member under the policy is covered, without needing to complete any health questionnaires or underwriting. It's the best way insurance companies protect themselves against a massive pay-out!
Master Trusts
Master Trusts are arranged by the insurer and nominated trustee, handling all claims on the employer's behalf. Although typically operated by a legal firm (appointed by the insurer), it is possible for you to set up your own trust. However, this can be time-consuming and costly. That's why most just go with the insurer's own Master Trust, which is provided free of charge, requiring very little work to set up.
At Hooray Health & Protection, we recognise the importance of providing the right blend of perks to staff – whether it's via setting up a Group Life Insurance policy for employees, selecting health insurance schemes or implementing an Employee Assistance Programme. Call us on 01273 222805 or click on the bottom right chatbox and we'll deliver straightforward advice and the most competitive quotes.