7 of the best employee discount schemes you'll find today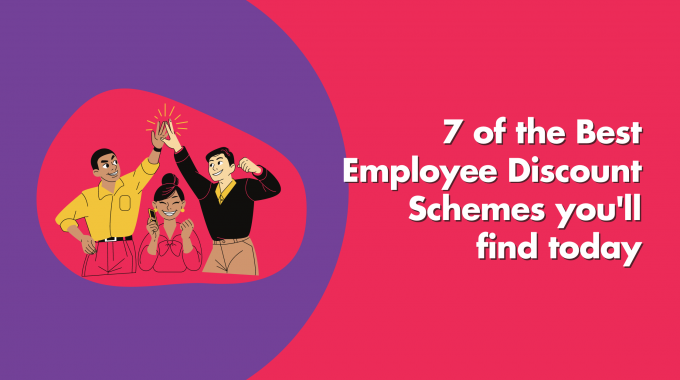 Everyone loves a bargain. And your hardworking employees are no exception. That's why many companies choose to reward their staff via employee discount schemes.
Once upon a time these would be set up manually. The business owner would approach local retailers, eateries or entertainment venues and try to negotiate a preferential deal for your staff. As you can imagine this would take time and plenty of haggling!
But now, thanks to digital technology, there are easy-to-use platforms that specialise in providing employee discount schemes via mobile app and/or desktop computer.  Most of these services also provide access to a wider range of benefit schemes above and beyond discounting. For example, they may offer health insurance, access to GPs, cycle to work schemes and other perks.
In this article we outline 7 of the best employee discount schemes on the market for UK businesses.
Thanks Ben
Thanks Ben have focused all their energies into creating a supremely simple rewards and discount scheme which is accessible via the Thanks Ben mastercard and app.
Why Ben?
Easy to use app
Savings on hundreds of brands
Up to 10% of all major supermarkets and 15% off other retailers, such as Amazon.
Simple pricing structure, no hidden costs or complicated calculations
Physical and virtual Mastercard's
In their words: "Ben is built based on a core principle: Employees can control their benefits budget to choose what matters to them, within the guardrails you set.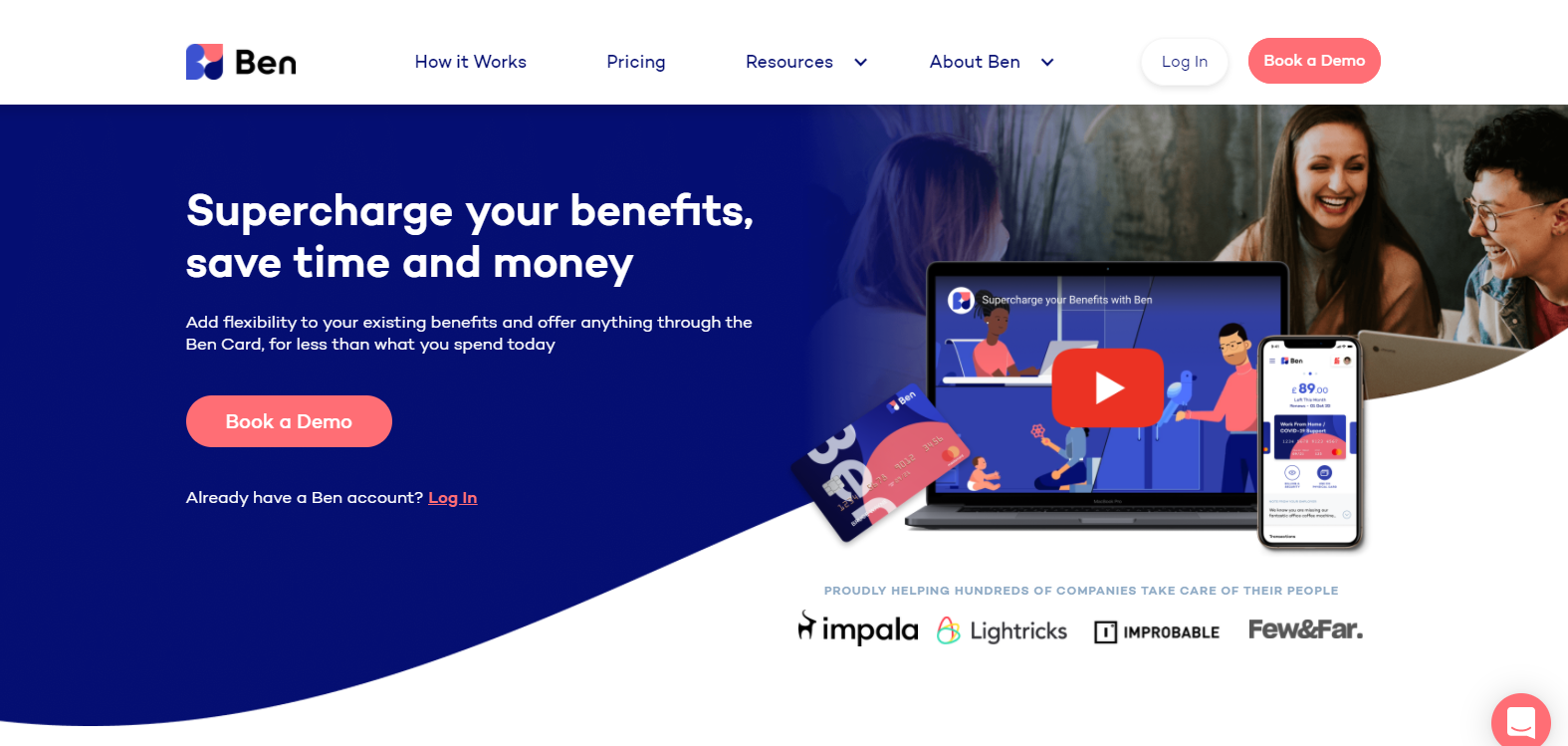 Reward Gateway
RewardGateway is one of the biggest providers in the employee discount industry, offering discounts at over 900 retailers, plus special offers on travel and wellness services.
Why RewardGateway?
Discounts across a wide range of industries – not just retail
Employer-branded mobile app – a nice touch for your business
Vouchers ready-to-use in-store and online
Exclusive offers tailored to your business
Provides a wider selection of employee benefits and HR functions: such as wellbeing programs, reward and recognition tools and much more.
In their own words: "As the largest employee discounts scheme provider in the world, Reward Gateway uses unmatched buying power and unbeatable savings at hundreds of retailers to help extend your employees' income."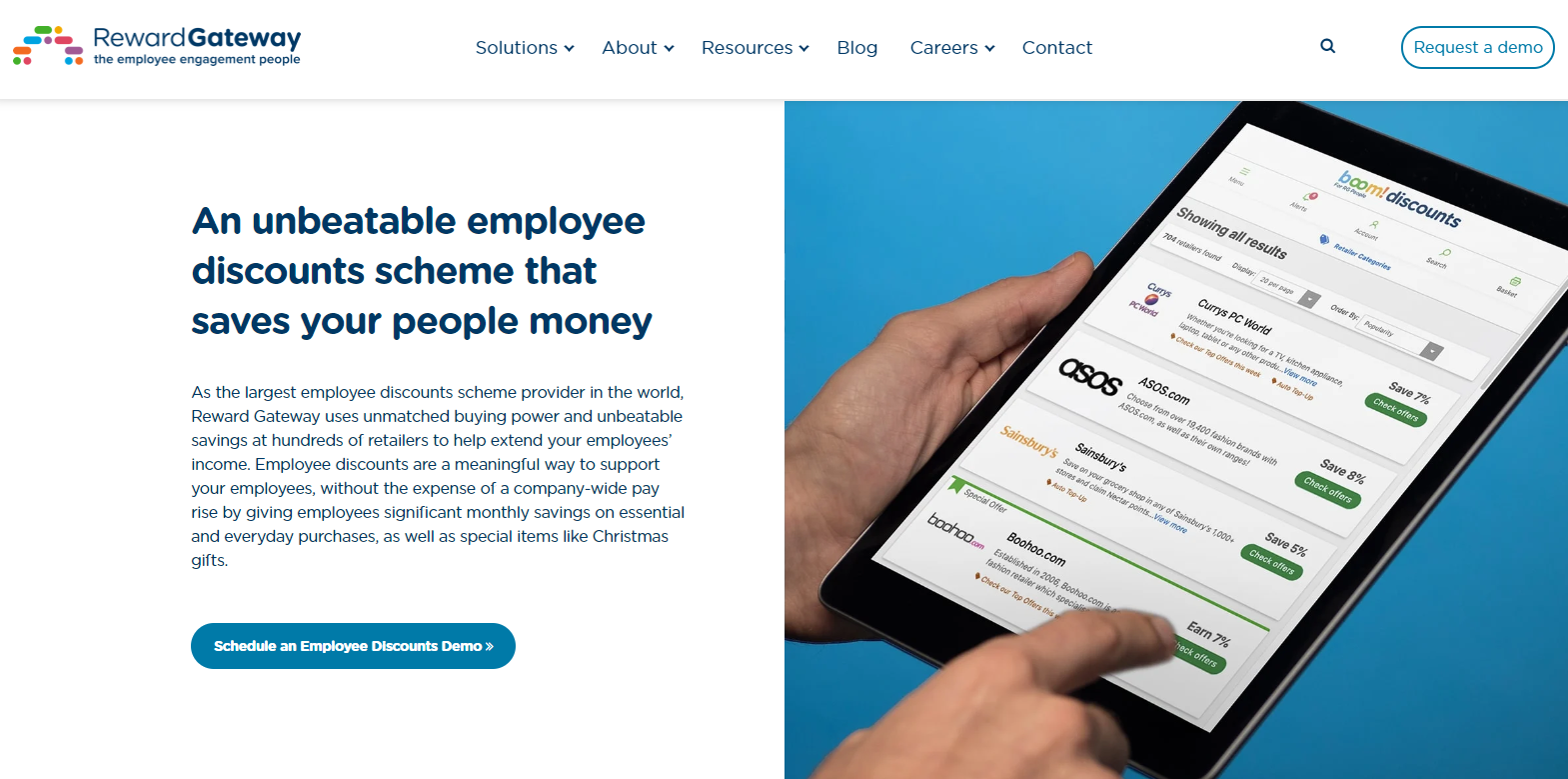 Fair Care Employee Benefits
Fair Care is another leader in the market offering discounts at more than 1,600 shops and retailers, including online discounts, cashback vouchers, monthly lotto draws and competitions
Why Fair Care?
Discounts across different industries, including: gym discounts, retail, "car zone" plus health and wellbeing benefits
Digital platform based on world-class Avantus technology, allowing security and ease-of-use
Helps staff save hundreds of pounds a year
Simplifies the process of delivering staff discounts
Provides a wider set of HR functions, including: pension and insurance management, rewards system and health & wellbeing support.
In their own words: "Fair Care Advantage is a comprehensive employee shopping discount scheme. In fact, it's the most comprehensive scheme on the market, which really does give you and your employers an advantage!"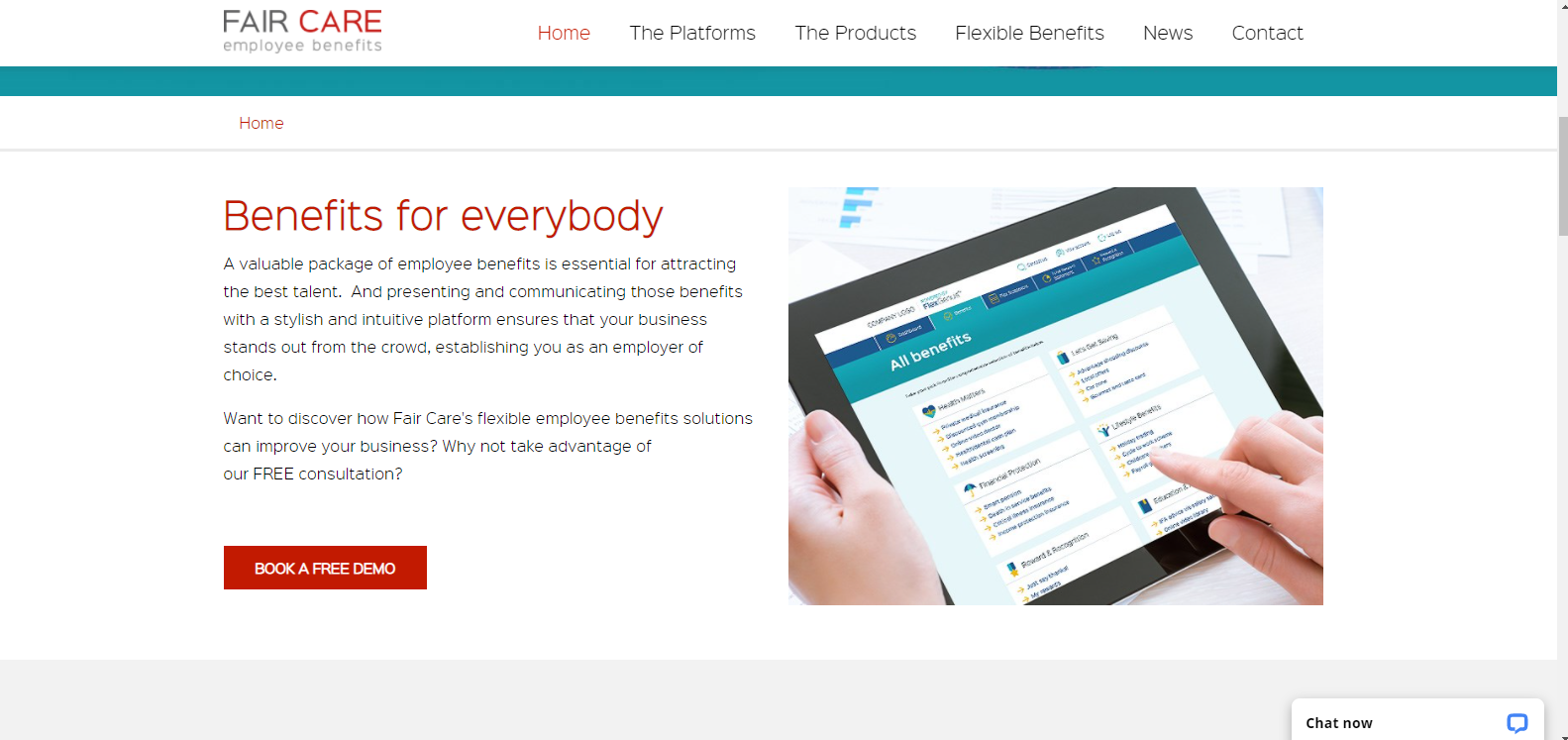 Most employee discount schemes allow you to manage a full range of employee benefits. This can impact the way you manage staff and requires you to make choices which can have a major impact on your business and staff. At Hooray Health & Protection we specialise in helping small businesses understand the employee benefits and insurance marketplace and make the wisest choices.
If you've got any questions you'd like answered, use the chat box on the right and one of our team will be happy to help. 
Edenred Savings
Edenred Savings provides a user-friendly way for your business to offer employee discounts in the UK with hundreds of retailers and a variety of other employee perks.
Why Edenred Savings?
Offers discounted cinema tickets, gift cards with big name retailers and much more
Provides savings on NI and tax
Includes wellbeing perks to keep your team fit and healthy
Updated offers and flash sales
Also provides employee communications, reward programmes and a raft of other benefit management tools
In their own words: "Edenred Savings also allows you to easily launch additional wellbeing perks within the same platform, including cycle to work, eyecare vouchers and salary sacrifice loan schemes."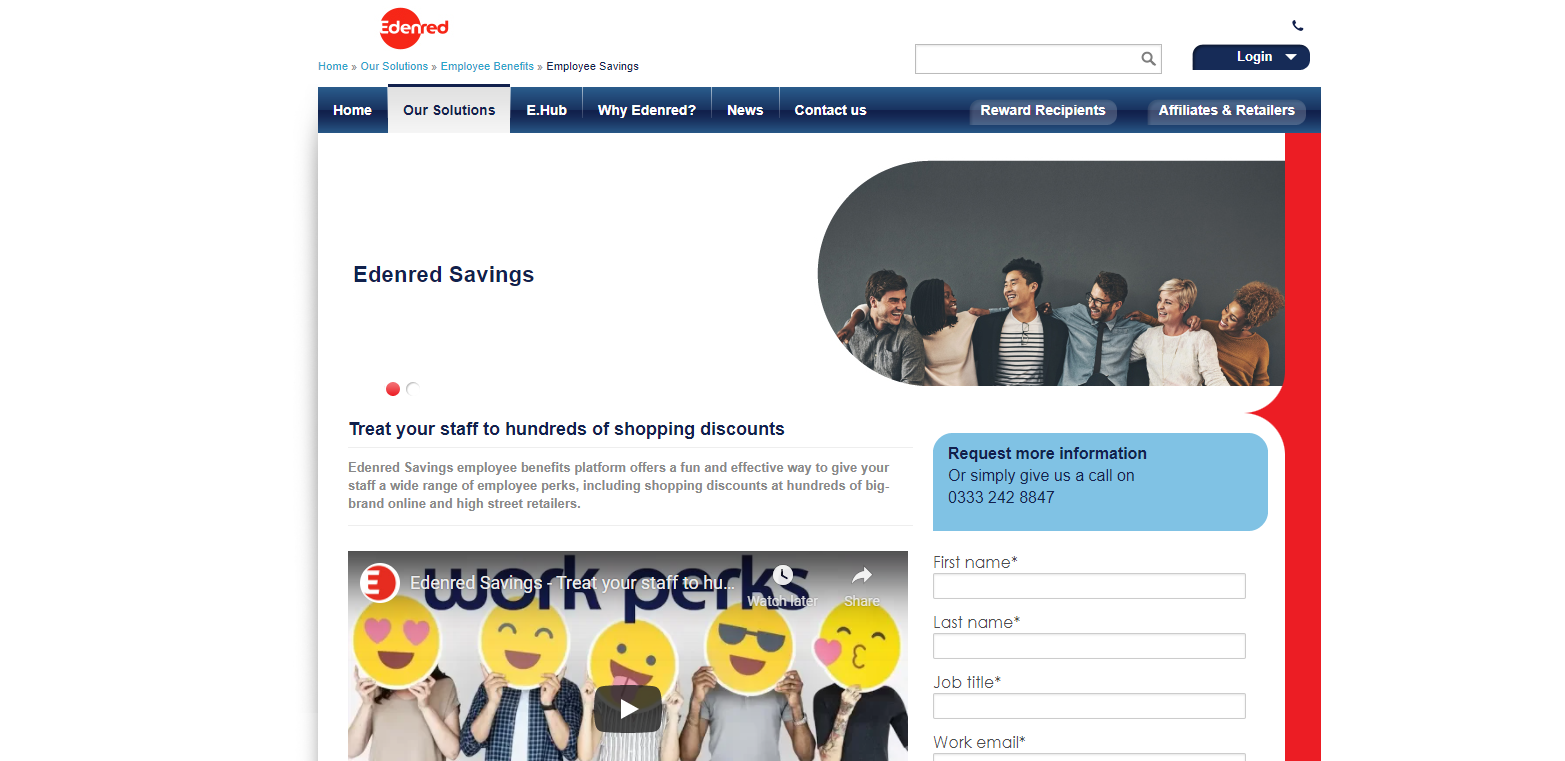 Staff Treats
Staff treats is an employee discount platform which promises more than 3,000 perks from over 900 brands.
Why Staff Treats?
A simple platform dedicated to discounts and rewards
Includes retailers, eateries, cinemas and other entertainment venues or products
Holiday, travel and technology perks are included
Place your brand on the Staff Treats hub, providing a personalised experience
Provides wider employee assistance programme (EAP) and wellbeing services
In their own words: "Our team is on a mission to provide UK SMEs with access to the same employee benefits and perks that large corporates use to engage and treat their staff."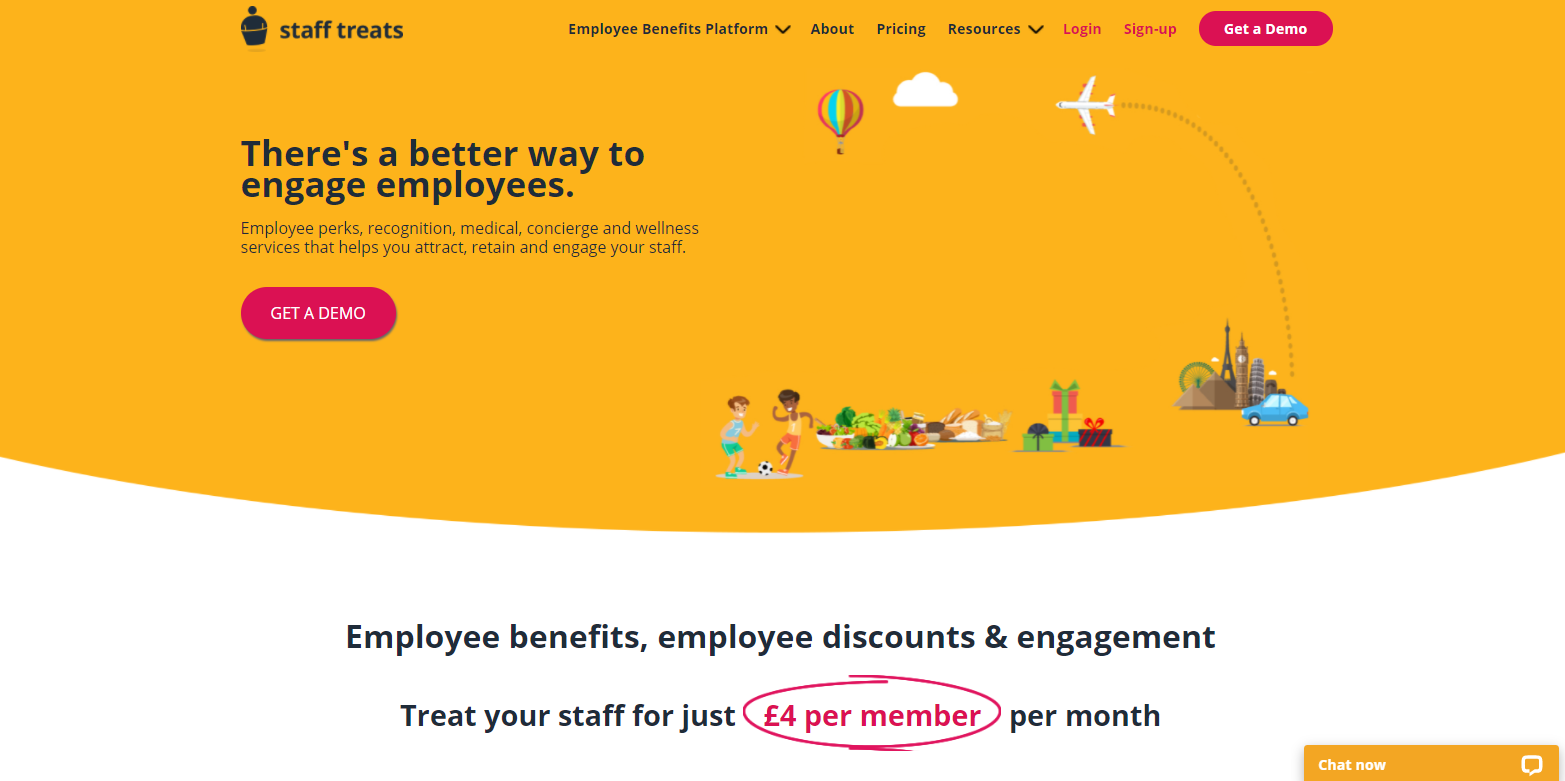 Perkbox
An all-in-one "employee experience platform" which offers all the usual discounts and offers you'd expect from an employee discount scheme plus a wider variety of HR comms and wellbeing services.
Why Perkbox?
Includes retail, hospitality and entertainment discounts
Healthcare and insurance management features
Wellbeing assistance including GP access
Surveys, polls and other ways of interacting with employees
Employee recognition tools and more
In their own words: "The Perkbox platform brings employee benefits, wellbeing, and recognition together, helping you create the ultimate employee experience – at work and in life."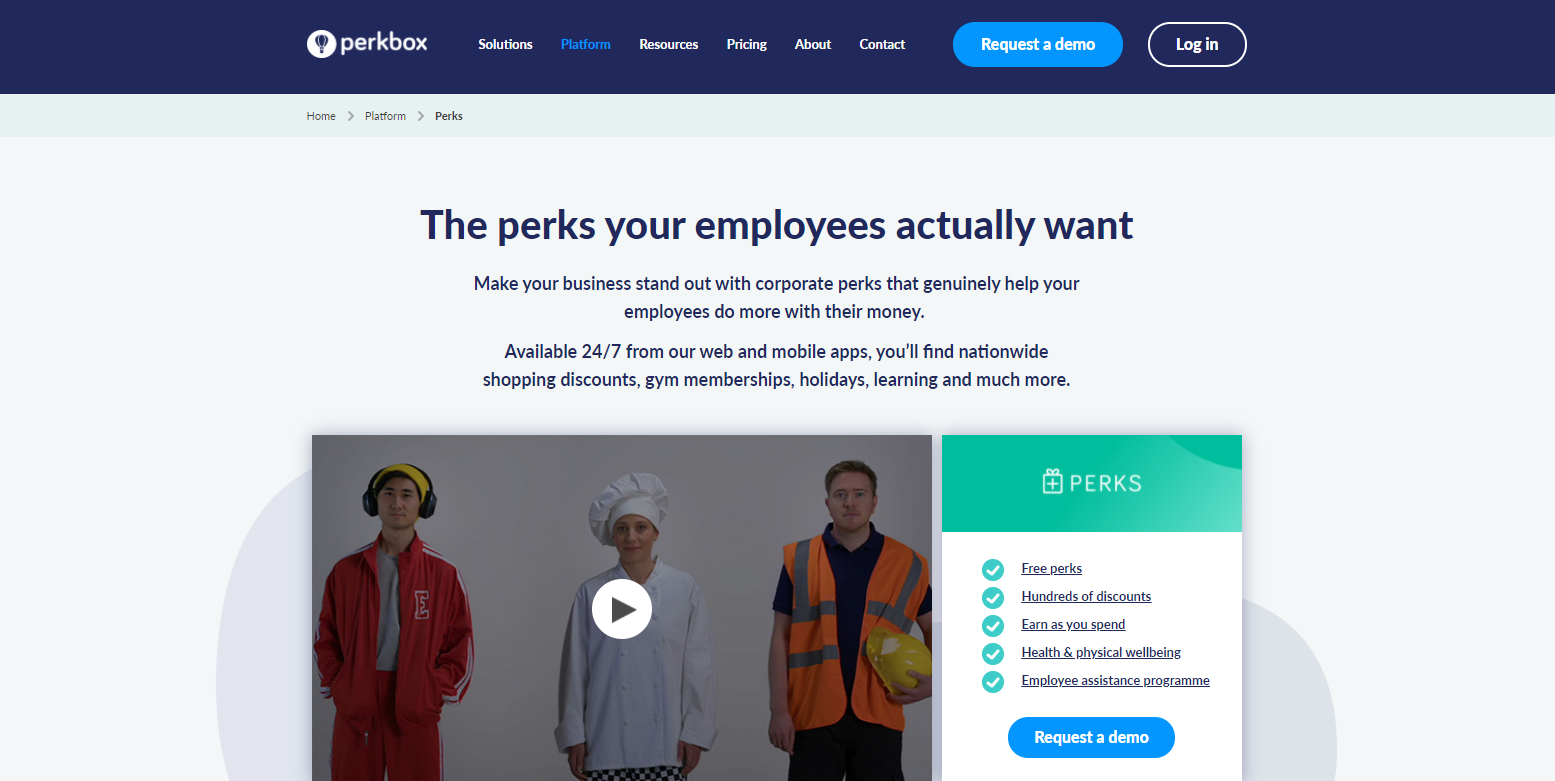 HighStreetVouchers.com
The "gift card and vouchers superstore" provides a dedicated employee discount scheme called Everyday Benefits which can be used across 20,000 high street shops.
Why HighStreetVouchers.com?
Discounts applicable to most retailers plus entertainment venues and dining experiences
Useable online and offline
Salary sacrifice options are available, enabling childcare vouchers or cycle to work schemes
Can be used alongside an existing benefits package
In their own words: "Using our discounted gift card load process and extensive network of retail partners, employers save employees money on shopping and leisure activities that they use week in, week out. If used regularly the savings on offer can add up to hundreds of pounds every year."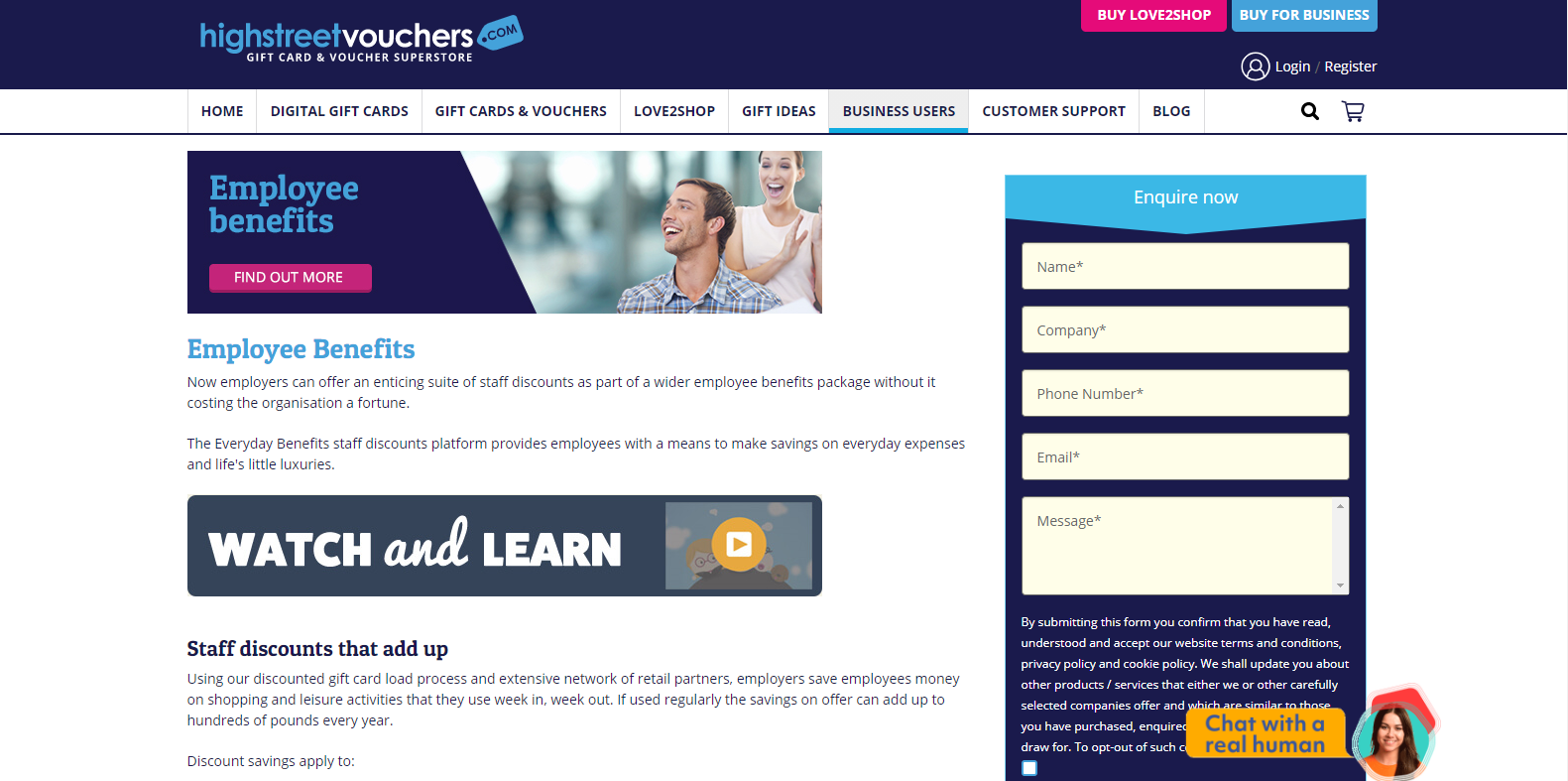 Ask us about employee discount schemes
Looking for a standalone employee discount scheme? Or considering a wider employee benefits package? Then we can help you make the right decision. As a specialist broker we know the marketplace rather well.
Call us free and we'll be happy to have a "no commitments" chat about what you want for your business – and how we can help.