Top business & people risks for small businesses with some tips on solutions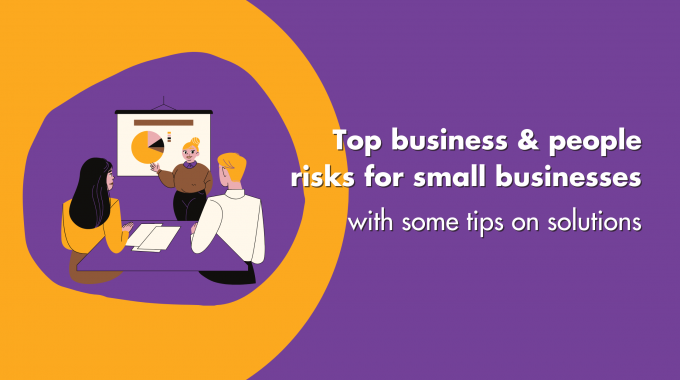 Running a small business isn't easy. At times, it can feel like walking a tight rope whilst spinning plates. There are risks everywhere. But managing risk is a little like eating an elephant, you simply have to do it one small bite at a time.
To help you, we've compiled a list of key pressure areas, to focus your attention on and a few tips on how to deal with them. And don't forget, it's often said where the risks are greater, so are the rewards, so don't shy away from the challenge.
Pricing
Without a shadow of a doubt every small business owner has been kept awake at night worrying about finances. At the end of the day, you need to make money, that's what businesses do.
A lot of small businesses, especially those that provide services or products within a competitive market, feel the pressure on pricing. The key is it to know what your competitors are up to, know your margins and look for ways to differentiate beyond price.
Accessing Credit
Accessing credit is also a concern, especially for businesses with considerable upfront costs. If this is you, then just remember all those start-ups on Dragons' Den who fail to get investment, not because they have bad products, but because they just don't know their figures. Having a strong business plan and knowing your numbers inside out goes a long way.
Overreliance on a few clients
An overreliance on just a few clients can also leave small businesses at risk, should the client go bust or move their business elsewhere. Make sure you've got contracts in place wherever you can, but keep an eye on new business opportunities too. Having your finger in a few pies can actually be quite handy!
Financial Controls
We're pretty sure you want your business to grow. Getting some good financial controls in place from the outset may seem like over-kill when you can manage everything on an excel spreadsheet, but that won't last for long. Have a reliable accountant you can turn to as well and make time to understand those oh-so-important numbers. And remember cash flow is king.
Emerging Technology
No matter what industry you're in, you'll need to invest in some sort of technology. However, it's more than just the initial outlay you need to think about; there's maintenance, upgrades and all the security that goes with the digital age we now live in. So ring fence some of your profits for investment in tech and make sure you do your research before you splash out.
IT infrastructure and digital security
You also need to remember that technology isn't infallible. Make sure you back up absolutely everything and get some decent advice on the level of security you need depending on the sensitivity of the information you hold. There are hefty fines these days for companies that breach data protection, not to mention risks to your own company if key info goes missing.
Compliance and Regulation
And then there's compliance and regulation. We've yet to meet anyone who actually enjoys doing this stuff! But without it you run the risk of getting into some pretty deep water with some rather important people. The key is, if you don't know what the regulations are – never presume, always seek out your industry regulator and ask.
Recruiting talent
The success of any business relies on their staff. Getting the best people on board can seem like an impossible task when you're competing with the big boys. However, it's not all about the money. Your working environment, other employee perks and the buzz of being part of a growing business can be a big pull.
Managing talent
Whilst bigger companies have formal levels of management in place, chances are, you'll be responsible for everything from authorising holiday and training, to sorting out pensions and car parking spaces. However, the breadth and depth of business insight you can give your people coupled with hands on work, will outweigh those of your bigger competitors.
Development and rewards
A nice clear career ladder isn't something you can realistically offer either. What you can offer them is a more tailored development programme that actually takes into account what they want and need. And in terms of rewards, rather than the standard corporate e-mail and company pin badge after a year's service, you can actually give them something that's useful and nice!
Absenteeism
With any small company, having one person off sick can put a whole load of pressure on everyone else. However, there is clear correlation between the way you take care of your team and their performance. So, investing a little in the welfare of your staff will certainly mitigate the risk of absenteeism and help with performance across the board. 
Building ethos and vision
Whilst you're off meeting new clients, sorting our your finances and planning the office refurb, there can be little time to focus on building the culture and organisational structure of your business. With out a big corporate brand behind you, it can seem like a huge task. But what your business does have is you.
As a leader of a small business you have the opportunity to really live the culture you want to instil in your team. Your commitment to them can be direct and personal and you can involve your staff much more directly in the goals and vision of the company.