Why Choose Group Income Protection?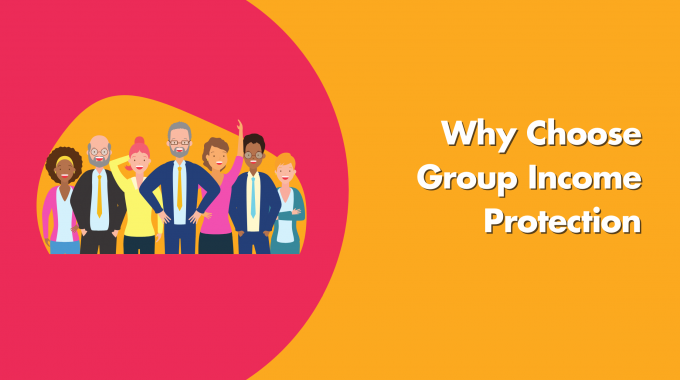 When it comes to employee benefits, there are numerous policies that are focused on covering employees against any loss of earnings caused by suffering from serious illnesses or injuries.
In these circumstances, group income protection can offer employees a long term financial contingency plan, while also providing a wide range of additional perks. These benefits can prove to be lucrative, not only for individual employees, but also for the businesses who decide to purchase the policies.
But why should you choose group income protection over some of the other employee benefits, such as critical illness cover and others?
This article aims to answer some of the most important questions around group income protection and subsequently, explain how it differs from the other insurance policies that cover similar areas.
If you're having trouble deciding which policy to pursue, these answers should help you to determine whether group income protection will be the right fit for your business, or if you're likely to be better off with something else.
What is group income protection?
Group income protection is a type of insurance policy that provides financial support and rehabilitation for employees who are unable to work, due to a prolonged illness or serious injury.
This financial support comes in the form of a series of monthly payments that make up a percentage of an employee's existing salary. Payments begin after a deferral period, which usually ranges from 13 to 52 weeks.
In the UK, the government offers a few different forms of support to those who are unable to work due to medical conditions, such as Employment and Support Allowance (ESA). However, income protection is a much more secure option to ensure that you maintain an income, in the event that you are affected by a serious medical condition.
Statutory Sick Pay (SSE) can also be paid by employers for up to 28 weeks, but these payments are currently limited to only £96.35 per week. It's also left up to the business to decide whether they continue to provide payments after that period, meaning it's unlikely that every employee will remain covered.
Ultimately, there are a couple of existing options in place to insure against loss of earnings, but if you want to retain the most income you possibly can for your employees, then your best bet is to look for a group income protection policy.
What is usually included?
Income protection covers any kind of illness or medical condition that prevents an employee from being able to attend or perform their job.
Payments can cover up to 75% of an employee's existing salary, but the exact percentages will depend on the terms of the policy and are usually flexible. There is also no limit to how many claims you can make on income protection, so you won't have to worry if you are prone to repeated medical issues.
The most common policies will only continue to pay until the employee has returned to work, or until the duration of the agreement is complete, which is usually 5 years. The more extensive plans will pay all the way until retirement or death, but shorter term deals of 1 or 2 years cover can also be purchased.
Vocational rehabilitation is also included, in order to help employees with returning to work.
This can include treatments and physiotherapy for physical injuries, as well as mental support to help with adjusting back to working life after experiencing a serious medical issue.
The price can also be affected by various factors such as age, health, lifestyle & occupational hazards. The cost will also increase with the percentage of the salary that you choose to cover, as well as any extra options you may decide to include.
Redundancy and unemployment are not covered in any way, as the insurance policies only pertain to loss of earnings that are suffered as a result of medical issues.
What are the most significant benefits?
For businesses, income protection is one of the most reliable ways to ensure that key employees can return to work as quickly as possible, to minimize the impact that their absence may have on the business. If a key employee was diagnosed with a serious illness, you may end up paying out a percentage of their salary for years, without them ever returning to work.
With group income protection, you can ensure that as soon as the deferral period of the policy has passed, the costs of employee sick pay are covered entirely by the insurance provider. This will ensure that your employees are still paid, while also saving money for the business.
Income protection policies are usually designed to cover all employees, but the terms are flexible if you only want to cover specific staff members who are key to maintaining the successful operation of the business.
For employees, there are a number of extra benefits to make use of. The cost of any additional premiums are entirely tax deductible in the UK and the policies can also cover liability for pensions & NI charges.
Some providers also offer the option to include an employee's family members on income protection plans, offering them the same level of cover and benefits as those who are covered by their employer.
Long-term financial security is arguably the most significant benefit of income protection. Suffering medical issues can be stressful enough without having to rely solely on SSP or ESA for income, but if you are insured, this scenario can be avoided completely.
How does it differ from other insurance policies?
As mentioned previously, there are a few other insurance policies that cover a similar area, but the two that are the most comparable are personal income protection and critical illness cover.
The parameters for choosing the right policy will depend on the specific needs of your business, as well as your own preferences on which terms and additional benefits you think will be the most useful for employees.
Group income protection is exactly the same as personal income protection in practise, but instead of covering an individual, it covers multiple or all employees of a business under a single plan, making it cheaper overall and much easier to manage.
Critical illness cover is also similar to income protection, but the key difference is that the compensation is paid in a single lump sum, whereas income protection is paid out monthly. Having such a large pay-out in one go can seem more viable on the surface, but spreading the payments out offers a more stable and regular income.
Finding the right group income protection policy
If you're interested in purchasing a group income protection policy for your business, Hooray Health & Protection has already created a comprehensive guide that details everything you'll need to know here.
Our team is working with SMEs all over the UK and helping to make insurance easy, by providing the highest level of support that we can for our customers.
If you want to hire a broker to find the perfect policy to fit your business, please visit our website to find out how you can contact us. We're more than happy to assist with any health insurance needs or queries that  you may have.