Has the way staff view employee benefits changed for good?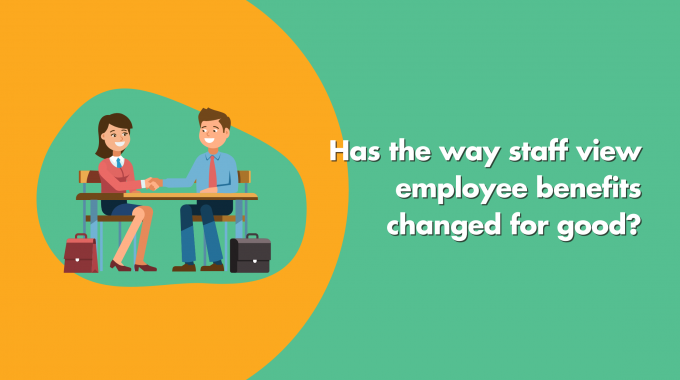 It seems pretty clear that the economic and political impact of Covid-19 will be felt for decades to come. But, what of the relationship between employers and staff, and the levels of support which will be expected or desired?
The issue of physical and mental wellbeing was already rising pre-pandemic. The conversation around mental health was getting louder and people were becoming more conscious of issues surrounding diet, nutrition and exercise (that Joe Wicks guy was pretty popular pre-pandemic too you know!).
But now, like many trends, it has accelerated to new heights.
In this blog post, we consider how staff needs and wants have changed, and whether it will remain the case for the foreseeable future. Plus, we touch on how small businesses can help employees during the new normal.
Cultural shift 1: Increased homeworking
Gradually people are starting to tiptoe back into the company headquarters. But hesitancy remains, and for obvious reasons.
This new shift is deeper than a short-term health concern. Many employees will have benefited from working from home. It's enabled them to strike a better work-life balance and avoid a time-draining – and sometimes stressful – daily commute.
A survey by Wildgoose found that three-quarters of UK employees want to keep working from home after the lockdown is over. And yet they also demand "more social contact with workmates". In truth, they want the best of both worlds: to feel part of a community yet have a bit more "me" time.
And why not? Businesses and their employees don't have to choose one over the other. Pre-pandemic the new trend for hybrid working had already begun. It was already a popular employee benefit. The pandemic has simply increased demand and accelerated the trend by showing that remote working can… well… work.
But remote working isn't for everyone. Some have felt isolated and have struggled to divide work-life from home-life. Others have found it difficult to create a comfortable workspace and replicate the levels of productivity they would have in the office
Business owners should consider whether hybrid working – where employees can choose to divide their working week between the company and home office – can be implemented. If so, it could be a real team pleaser.
Employee expectations have changed. Businesses may well find it harder to attract and retain the best talent if there is no form of flexi-working arrangement in place.
Cultural shift #2: Rising personal health concerns
It's inevitable that people are more concerned about their health and wellbeing post-pandemic. Older folk and those with compromised immune systems are likely to be most worried about the specific dangers posed by Covid-19. But there's also a general rise in anxiety levels – another factor which was growing pre-pandemic but has been exacerbated by it.
The challenge for small business employers is to provide health and wellbeing support without breaking the bank – and provide financial reassurance if the worst happens too. Because sadly, these concerns are not going away anytime soon.
There are number of ways that small businesses and start-ups can provide health and wellbeing support. For example:
Investing in wellbeing apps which provide health and fitness guidance, including mental wellbeing prompts.
Free access to health professionals and services, such as: physiotherapists, counsellors, GPs etc
Flexi-working arrangements which help employees strike a better work-life balance
Extra holiday entitlement
Free or discounted gym membership
Some of these employee benefits are provided within small business health insurance plans. If you're looking to help your team with their health and wellbeing needs, then you might want to consider one of the following insurance plans on the market:
Group income protection insurance: provides financial support to employees if they are unable to work due to ill health or disability. Read more about group income protection insurance.
Business health insurance (AKA Group Health Insurance): offers private health insurance to a team of employees, covering things like rapid access to GP appointments, scans and tests, medical consultations and some types of surgery. Read more about business health insurance.
Group life insurance: gives the employee reassurance that their family will be taken care of if the very worst happens. Read about group life insurance.
Group critical illness: provides financial support to the employee and their family should they suddenly become critically ill. Read more about group critical illness cover.
Business health cash plan (AKA Group cash plan): provides cover for routine health assessments and treatments, ranging from GP access to dentistry – a neat alternative to group health insurance. Read more about business health cash plan.
Terms and conditions can vary wildly, so always check the finer detail before investing in an insurance plan.
If you'd like one-to-one advice for finding affordable health benefits for start-ups and small businesses, get in touch with one of our team. We specialise in helping businesses like yours negotiate the complicated world of employee benefits.
Cultural shift #3: Rising family health concerns
Even if employees are not worried about themselves, they're probably worried about their families. Again, this is likely to be a longer-term trend for all the reasons mentioned above.
But what can business owners do about it?
Flexible working arrangements can help. For example, if an employee lives with someone who is clinically vulnerable, then it would be sensible to offer the choice of remote working.
But there are also small business health insurance packages which can support both the employee and their loved-ones.
All the health packages outlined in the above section can be expanded to cover the recipient's family too. Naturally, this will make the insurance scheme more expensive, but it will also increase its value to your employees.
Choose the right employee benefits for a changing world
The pandemic has precipitated a medium-to-long term shift in how employees view employee benefits. What they want and, in some cases, expect from an employer has changed.
Fortunately, there are a wide range of employee benefits for start-ups and small businesses which can help address the worries that people have today. For further inspiration: check out our A-Z guide to employee benefits. Whether it's highly valued insurance policies or apps which offer health and wellbeing guidance, there are many ways that you can support your staff now and in the future.
If you'd like to invest in an employee benefits package for your small business, then give us a call on  01273 222805. We're happy to have a no-obligations chat about your business and what you're looking for. Alternatively, drop us an email at [email protected]