Is profit sharing right for your business? Here's what you need to know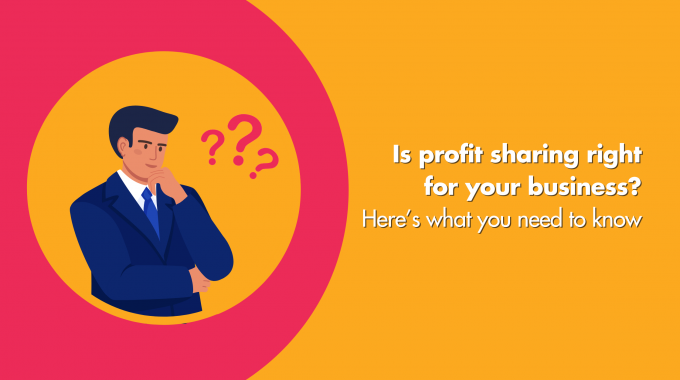 Every business owner strives towards the success of their company, seeking out motivated and talented employees to make this happen. Each of these motivated members of staff needs to feel valued in what they do, and it is your role as the employer to see this through!
Are you looking for a way to attract new talent, increase your workplace productivity, whilst helping your employees protect their wellbeing? Investing in financial incentives is a great way to show you care.
In this article, we are going to take a look at one particular employee benefit – profit sharing plans. We'll be giving you an essential guide on the ins and outs of profit sharing: what it is, how it works in practice and breaking down if it is a good solution for your business needs.
Need help finding the right employee benefits for your staff? Contact our friendly team at [email protected] or use the chatbox in the bottom right.
What is profit sharing?
Profit sharing plans are incentivised compensation schemes that give employees a certain share or percentage of the company's profits. How much or how little your staff members will receive depends completely on the success of the business, going up or down each year based on the profits being generated.
Essentially, these plans are retirement payments that give employees a share in the company's earnings set on a quarterly or annual basis, entirely based at your own discretion.
Profit sharing can be arranged by any business of any size and within all industries and sectors. If your business already offers a retirement plan for employees, you can still take full advantage of the benefits that come with profit sharing.
How to guide of setting up profit sharing
To set up an effective profit sharing plan, the first step is to determine how much to give each employee, whether that's a specific percentage or through a standard profit allocation.
But how do employers decide how much to give to their teams?
There are three main ways that employers can determine how to best distribute money to employees in a profit sharing plan:
Paying out a bonus based on a percentage of each employee's salary
The comp-to-comp method – distributing shares as a percentage of each employee's salary.
Contribution of shares – dividing the pool into shares, bonus then paid to employees based on the number of shares they are given
There are no fixed costs associated with profit sharing. Expenses that will be given out will rise and fall alongside the company's annual revenue and profits. If your organisation has a less profitable year, the contributions to each employee will also be lower, and visa-versa.
Although these methods may look slightly complicated, profit sharing is easy to implement in your business. It depends on three aspects:
The company's profitability
An employee's regular wages/bonuses
The amount you want to set
Simply put, you as the employer are in complete control of where and how the company profits are distributed and received by your employees.
Whether you are looking for particular cost-effective employee benefits, or simply have a query regarding workplace incentives, our team at Hooray are here to help. Contact us at 01273 222805 for advice and support.
Benefits of profit sharing
As a compensation incentive, profit sharing is directly linked to performance-related bonuses and rewards. This will mean a huge boost in productivity, healthy competition amongst staff, and motivating employees to perform to the very best of their abilities.
Investing in a profit sharing scheme can produce many benefits for your business, both for overall company performance and protecting the wellbeing of your staff to keep them motivated and engaged.
Below, we have listed a handful of these benefits, showing how the time and effort put into setting up profit sharing can be worthwhile.
Great way for employees to have a sense of ownership in the company:
Improving employee commitment to your business
Increases company loyalty
Boosts morale and productivity
Improves team relations as all are working towards improving company profits
Flexible way to incentivise staff:
Contributions come from the employer, meaning there is flexibility in how much you contribute each year
If profits are low, so are the contributions
Great way to reward high performing staff – different employees can receive different levels of profit percentage
Employees expect their share/bonus to be variable – they won't feel undervalued if they receive less than they did the time before
Available for any size of business, and in any industry:
For smaller businesses, the motivation incentive will be even higher, as individual employees will have a greater impact on profit than in large businesses with hundreds or even thousands of employees.
Helps attract and retain top talent:
Makes your company desirable as you demonstrate the value you place in each individual's contribution.
Extra financial reward beyond salary is always welcome!
Directly links employee pay into the overall success of the company:
Making staff more invested in overall business performance
Improving productivity levels
Flipside to profit sharing
Before instigating any employee benefit, it's important to be aware of the potential downsides. However, when it comes to profit sharing, there are only a couple of things that need to be flagged up.
For the plan to work effectively, it is important that employers fully understand the details of how profit sharing is implemented. The initial setup can be time-consuming and requires careful consideration.
Not all employees have access to seeing how and where their contributions affect the company's bottom line – making lower-level employees less motivated to work if they don't feel their efforts are making a significant difference.
A poorly planned scheme may create envy. If one employee feels they are contributing more to the overall success of the business than their colleagues, they may feel undervalued.
Further reading: What perks should I offer staff? Maybe you should let them choose…
Boosting your employee wellbeing
Profit sharing can be an effective way to assist with the financial wellbeing of your employees, but these plans must be fully understood and assessed before introducing it to your teams. It is important for all employees to understand how profit sharing plans work, ensuring everyone is on the same page – and that the system is fair.
Choosing the right incentives and employee benefits for your business is a vitally important part of being a highly valued employer, helping your business to thrive now and in the future.
At Hooray, we can help you achieve your goals by ensuring the employee benefits you implement are the best for your team. Our friendly team of experts are here to find out more about your business, making sure your employee benefits match the wider business goals.
We help start-ups and SMEs negotiate the often confusing employee benefits marketplace. Contact us today and we'll be happy to answer any queries. Call 01273 222805 of click on the bottom right chatbox.