What perks should I offer staff? Maybe you should let them choose…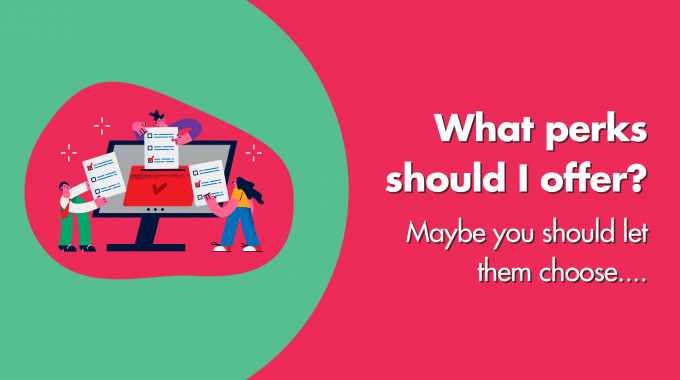 The idea of choice has become a big deal in the world of employee benefits. Once upon a time, staff had to accept whatever benefits they were given, even if it was of little use to them. All that has changed. Digital technology means that employers can now allow their workers to pick and choose what benefits they want.
We recently sought out the opinions of Moynul Hoque who's responsible for Business Development & Partnerships at Thanks Ben. He knows a little bit about this subject: Thanks Ben is a flexible benefits platform which helps businesses deliver flexible schemes to their hard-working teams.
Moynul's insightful opinions were recently included in our 'What Workers Want 2021' report which quizzed 641 start-up employees about their needs, wants and experiences. Read the full employee benefits survey here.
Does choice really matter?
The business case for offering choice is powerful. You're far more likely to please all members of your team if each has a say over their perks. It also looks rather attractive on a job advert.
And yet, most companies are missing out on the competitive advantage a flexible benefits scheme can offer, according to Moynul:
"The one-size-fits-all approach to benefits is unfortunately the standard at the moment and this can lead to an uneven experience for employees. Some may be delighted with their perks, others left disappointed – or, worse, neglected.
"One employee may be a fitness fanatic who would love the opportunity of getting a discounted gym membership, another may hate the idea of going to the gym but jump at the chance of discounted cinema tickets.
"Workplaces are also increasingly diverse – in terms of age, gender and cultural background. This is a great thing for company performance, but it does further complicate the challenge of providing benefits that everybody wants. The more diverse the team, the more likely it is that they'll want different things."
Perhaps it's the fear of adding another layer of administrative pain which continues to make businesses offer a rigid blanket scheme to their employees. Yet, it doesn't have to be that way.
How flexible benefit schemes work
Digital technology has simplified the process of offering a benefits scheme. There now exists a range of desktop and mobile-based employee benefits platforms through which companies can provide a selection of benefits to their employees.
Such platforms are designed to give the employee more control. But let's be clear: the company sets the budget and parameters of the scheme. It's not a free-for-all!
"Offering choice is the only way of guaranteeing that every team member receives the perks they want," said Moynul. "Digital platforms can now allow employees to essentially provide a menu of benefits to their workers from which they can opt-in to whatever perk they value most.
"The world of employee benefits has evolved. There are increasing numbers of perks being made available by innovative providers. The potential for choice is huge. In the last five years we've seen new players enter the market, from mental wellbeing support to fitness apps."
While the platforms are designed to be user-friendly, any responsible provider will help set up the scheme and guide you through how the system works.
The technology has certainly widened the pool of businesses which can offer choice to their employees. It's no longer the sole domain of big businesses with hefty HR budgets.
"The flexible benefits marketplace is becoming ever more affordable and easier to implement. With competition for talent at an all-time high, now's the time to start thinking about offering your team the benefits they want."
Valued by HR and employees alike
Company perks can play a vital role in enticing talented people to your company – and retaining the ones you already have. The most important thing is to ensure they are relevant, and it's a flexible benefits platform which makes it possible to be all things to all people.
Benefits platforms are also designed to simplify how perks are managed, which is helpful for anyone in charge of HR.
As an independent insurance broker, Hooray Health & Protection is aware of the value benefits platforms can offer to SMEs and start-ups. If you'd like one-to-one advice on how flexible benefits schemes can work for your business, then contact our friendly team via chat box on the right or via email [email protected] We'll also be happy to take all your other employee benefits and health insurance questions.