Do employee insurances cover pre-existing medical conditions?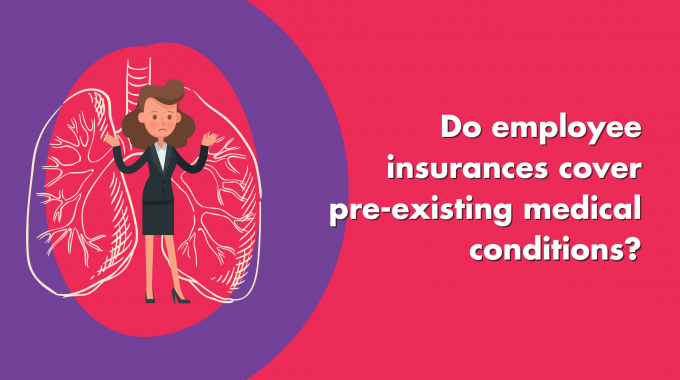 As many people are aware, when taking individual protection policies such as life cover or income protection, pre-existing medical conditions can be refused (or come with a hefty premium).
But, if you or any of your employees have a pre-existing condition, do not panic. Our helpful brokers here at Hooray Health and Protection are experts at getting your business the perfect policy for the best price. 
To give you a guideline, here is our review of the top three employee insurances, and their perspectives on covering pre-existing health conditions.
Employee Life Insurance
Employee Life Insurance provides your employees' family members and loved ones with a lump sum payment in the event of their passing.
Pre-existing health conditions will often be covered by Employee Life Insurance policies, but it depends on the number of employees as to what additional requirements there are.
Common examples of questions that smaller businesses are asked are whether any employees have suffered from a stroke, heart attack or cancer in the last twelve months. Larger workforces, on the other hand, will often only have to disclose if there are currently any employees off work over three months.
Companies usually just have to ensure that all employees are actively at work. In this case, and if they are under the 'non-medical underwriting limit / free cover limit' provided by the insurer, they will automatically be covered.
There is never a one size fits all approach for businesses when taking out Employee Life Insurance and each insurer will have different requirements and conditions depending on the size of the business and industry.
We find that 90% of our clients can proceed with a new Employee Life Insurance policy that covers all pre-existing conditions without any health questionnaires required.
Group Income Protection
Group Income Protection pays your employees a percentage of their monthly salary for a set time if they suffer an accident or sickness that renders them unable to work.
It will usually cover pre-existing conditions, but certain criteria will need to be met for any new joiners to be covered under the policy. New entrants to the policy must meet the actively at work (AAW) criteria and join from day one of the eligibility criteria.
Every insurer will apply an AAW along the lines of 'employees must be actively performing their normal occupation and not off work sick or advised against working by a medical professional'.
If an employee meets that criteria and is under the 'non-medical underwriting limit' they will be covered for any pre-existing conditions.
Most policies we place do cover all employees' pre-existing medical conditions, but insurers always ask about any current employee's absences as this will be where most insurers add the restrictions that can cause declines.
Business Health Insurance
Business Health Insurance allows your staff to bypass the lengthy NHS waiting lists by providing them with access to private healthcare.
When reviewing your new or existing Business Health Insurance policy, the underwriting option you choose will decide if pre-existing medical conditions are covered, or how long they will be excluded for.
There are three underwriting options, and each means something different for your policy. These are:
Moratorium: This is the most common form of underwriting for businesses that are providing cover for less than 100 employees. Moratorium excludes any pre-existing health conditions that employees have suffered in the last five years for at least the first two years. If the insured member goes two years with no symptoms or treatment, it can then be covered.
Fully Medical Underwritten: In this option, all staff disclose their pre-existing conditions upfront and the insurance underwriters will decide what is covered from day one of the policy. The benefit of this option is you know what cover is in place from day one, but it can negatively impact you or your staff if certain conditions are excluded.
Medical History Disregarded: MHD is the most sought-after form of underwriting, as it disregards all employee's medical history, allowing all existing conditions to be covered. Medical History Disregarded is only available for larger companies that have over 100 employees.
Any business must receive the right advice before investing in any employee benefit insurance policies. The benefit of using an insurance broker is that they can explore the options of multiple insurance companies, rather than limiting you to the requirements of just one.
Hooray Health & Protection charge no fee, whether you are a new or existing customer, and will search the whole market to make sure you receive the right level of cover for you and your employees.
Book a free review of a new or current policy by calling 01273 222805 or using the chat function below!