10 start-ups leading the way with employee benefits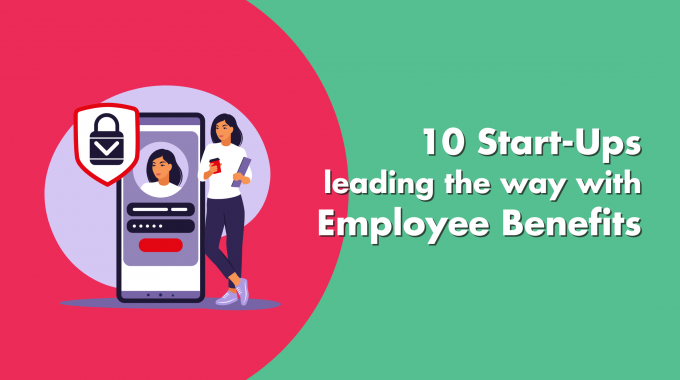 From £500 wellness bonuses to free dinners from Deliveroo, and healthcare cash plans to free gym membership… these ambitious UK start-ups are providing a wonderful and varied package of employee benefits to their growing teams.
If you're in the process of setting up your own company benefits scheme – or looking to improve the one you already have – you're sure to find inspiration from these forward-thinking companies.
Read on and take notes!
accuRx
accuRx is a software developer which offers various products and communication solutions in the healthcare industry. The majority of their most popular products are centred around support and solutions for GPs, as well as secondary health care workers.
Some of the most enticing employee benefits offered by this start-up include:
Monthly team dinners
Spill – Access to confidential therapy sessions.
Tyve – The option to donate to a charity of your choosing from salary (before tax).
Annual summer retreat week.
£500 annual wellness bonus meant for mental & physical health expenses.
Bark
Bark is a leading services marketplace with over 5 million customers internationally. Bark works with businesses of many varying sizes, in order to help expand their existing customer bases, as well as offer advice and strategies on how they can manage them more efficiently.
A few of their most interesting benefits include:
Access to a free off-site employee gym.
Monthly social events & parties.
Flexible work policies.
Option to access company shares.
Weekly team lunches.
Like these ideas, but need help packaging them together? Get in touch with the friendly team of experts at Hooray Health & Protection. We make employee benefits simple.
Cazoo
Cazoo are a motor dealership based in London, who sell and finance a variety of high quality used vehicles throughout both the UK and Europe. Their other services and products include delivery, as well as the option to pay for cars through a negotiable monthly subscription fee, rather than a bulk payment.
Some of their most attractive employee benefits include:
Annual subscription to calm app for mental health support.
Matched charity fundraising, among many other charitable events.
Generous maternity, paternity & adoption leave.
£100 a year to use towards your personal wellbeing.
Season ticket loans.
Curve
Curve is a payment card company that consolidates all of your debit and credit accounts into a single card, in order to simplify the management of your finances. Their app helps customers to modernise their existing bank accounts, with the option to integrate them with contactless payments from your phone, as well as with other services, such as Apple Pay.
Five of Curve's most striking benefits include:
Health care cash plan.
Access to a nutritionist.
Annual subscriptions to the FIIT app, to help with gym exercises.
Unlimited book policy.
Generous annual learning and development budget.
Elvie
Elvie is a London based manufacturer and retailer of medical technologies, who specialise in developing innovative, ergonomic products for women. Their designs are primarily intended to improve the lives of women all around the world, by integrating smarter technology with products that improve general health and wellbeing.
Among the employee benefits provided by this UK start-up include:
Medical, optical and dental cash plans.
Generous employee referral bonuses.
Annual personal development allowance
Unlimited access to learning and development platforms.
Employee assistance program that can include family.
Marshmallow
Marshmallow is a UK car insurance provider, who offer much more inclusive and eco-friendly policies than most others in the industry. With a diverse range of customers, Marshmallow is setting a great example by actively encouraging environmentally sustainable solutions, such as carbon neutral driving.
Some of Marshmallow's most impressive employee benefits include:
Partnership with Self Space to offer mental health workshops and personal therapy.
Budgets for books and training courses related to your job.
Free equipment provided for employees who are working from home.
2 extra days of annual leave intended for self development.
Cycle to work scheme.
Moneybox
Moneybox is an award winning finance app that allows customers to easily establish and manage a savings or investment account, from a number of different mobile devices. Existing bank accounts can also be integrated with the app, to make managing finances simpler for their customers.
Some of their most prominent staff benefits include:
Perkbox – Access to a variety of rewards and bonuses of your choosing.
Free birthday lunches for all employees.
Monthly outings for various events and activities.
Free access to industry conferences.
Weekly drinks with the team.
If want to deliver a great value employee benefits package to your team, then contact our super-friendly and outstandingly-knowledgeable team of advisors. We offer independent advice to the UK start-up community.
Privitar
Privitar is a software company that specialises in data privacy enterprise programs, with offices operating all over the world. Privitar deals with a wide range of international clients to provide the latest and most secure privacy solutions in the industry to a multitude of different organisations.
A handful of their most useful benefits include:
Matched pension contributions up to 5%.
20 weeks of full paid maternity or paternity leave.
Company funded mac and mobile phone.
Bi-weekly virtual lunch with a £20 allowance per employee.
Regular virtual social meetings to keep up with your colleagues.
Revolut
Revolut is a renowned banking app that facilitates international money transfer and exchanges. The app is designed to help users to budget, spend, save and invest their finances, all from a unified platform that is simple to manage and easy to keep track of.
Some of their more unique benefits include:
Biannual performance bonuses.
Free dinners with Deliveroo.
Option to work from home once a week.
Free fruit and cereals.
Free Revolut Metal subscription.
Unmind
Unmind is a UK based mental health service that offers a number of digital tools to help employees with improving their mental wellbeing. Many different programmes are provided for a variety of different areas, including managing anxiety, reducing stress and improving relationships.
A few of Unmind's most noteworthy employee benefits include:
Regular company wellbeing initiatives.
Free monthly ClassPass credits to spend on a variety of wellness offerings.
Employee birthdays are given as a free day off.
Generous learning budget.
Regular company-wide social events to help colleagues to connect.
How will you launch your employee benefits scheme?
Choosing the right employee benefits can be a difficult task, especially for smaller companies. But these examples show that it's possible. Hopefully, you're now feeling inspired!
The tough part is piecing it all together and dealing with the complexities involved. Hooray Health & Protection can help; our team possesses a wide range of knowledge and professional experience of securing employee benefits for small businesses across the UK.
Whether you're interested in hiring an insurance broker to help with the process, or simply looking for professional advice, Hooray are happy to help.