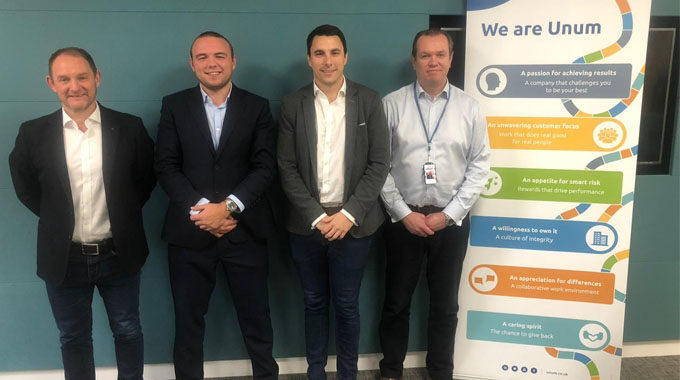 We've been having one of those weeks in the office where you're flat out manic-busy, which is brilliant for making the day move quickly and serving our wonderful clients, but also means we spend the day chained to our desk staring at a computer screen.
Therefore, it was a huge relief when Unum accepted our 'When Hooray met…' invitation as we could finally get out of the office for the day and meet with one of our industry's leading insurers.
When we keyed Unum's Head Office into our sat nav, it directed us out into the countryside, which is not what we expected for the corporate offices of the largest Group Income Protection insurer in the UK and the US.
Pulling up to the address we were certain that we'd come to the wrong place as this did not appear like a typical insurance company setting…..it was more like something out of Downton Abbey.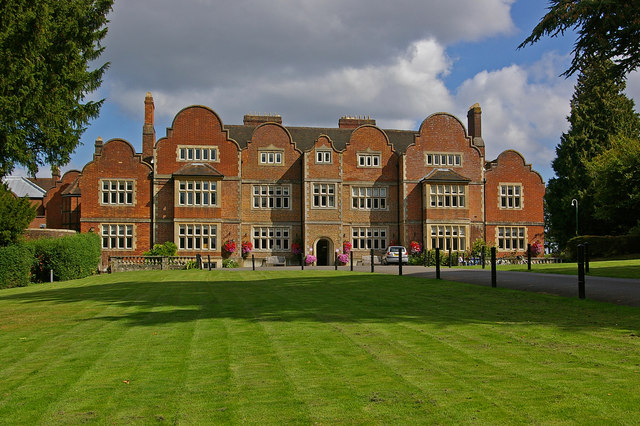 After having a wander around the grounds, we were greeted by Mike Pozzoni, our Relationship Manager, and Bill Mansfield, Head of Marketing Analytics and Insight.  Bill also doubled-up as the unofficial tour guide for Milton Court.
Bill provided a tour of the offices and the grounds which we can honestly say was by far the most interesting office tour we've ever experienced.…not words I ever expected to utter.
Learning about the air raid shelters within the grounds, the history dating back to 1608 and the legendary Lady in Black ghost who haunts the office wasn't what we expected (hopefully, she wasn't haunting due to frustration over a claim) but was a brilliant start to the day.
Who is Unum
If you've ever had an employee benefits insurance policy, it's highly likely that you'd have been insured with Unum. This is because Unum is the largest Group Income Protection insurer in the United Kingdom and the United States.
As Unum has operated in the UK group protection market since 1990 and at one stage held approximately 50% of all group income protection schemes, it gives them a significant advantage in understanding how businesses will be impacted by staff absences.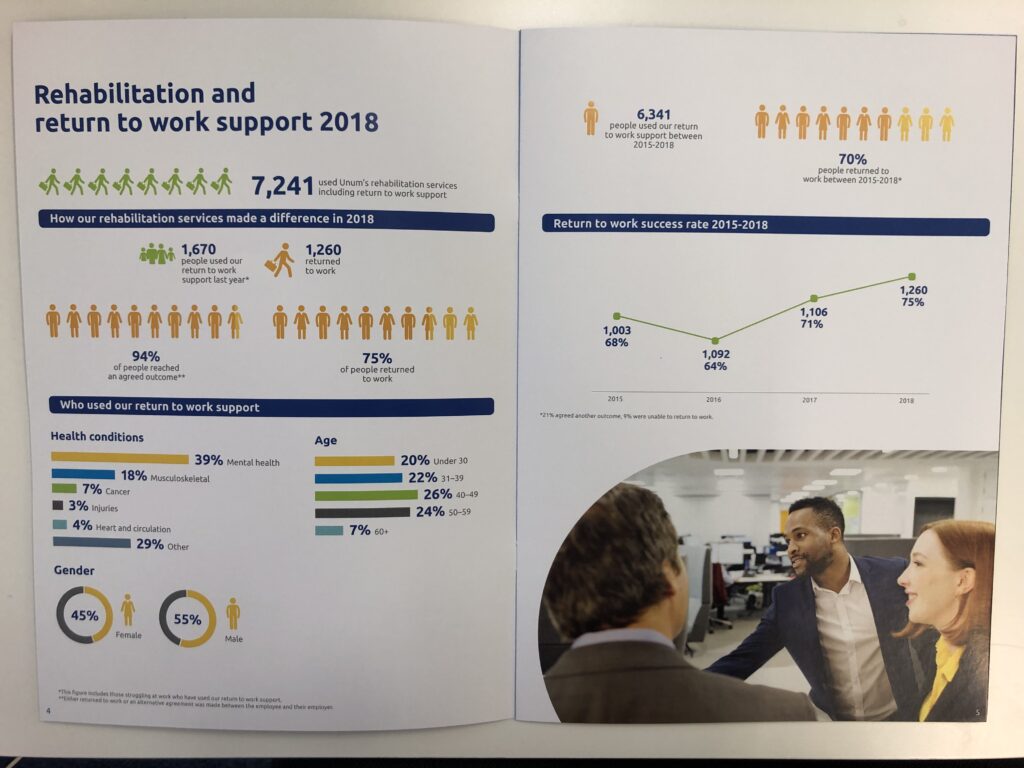 Unum has established itself as one of the market leaders in early intervention and return to work support services for their clients, and it is keen to continue to grow the market.  Understanding the pain points around staff absence for businesses and the employees themselves, and how they can alleviate this pain, is a significant driver for Unum.  
At Hooray Health & Protection, we refer to Unum as a 'safe pair of hands' due to their credibility, history and service, which is exactly what you need when looking for an insurance provider.
What are they doing?
Mike arranged for us to meet with Unum's Customer Solutions Director, Glenn Thompson, and Brand Strategy Manager, Neil Smith, to gain insight into Unum's plans for 2020 and beyond.
Our visit to Unum was perfectly timed as it coincided with the launch of Unum's new initiative, [email protected], which has already received rave reviews in the industry press.
[email protected] is a new to market app that provides medical support to Unum's Group Income Protection clients and includes four key support services offered in partnership with Square Health.
Glenn, Mike and Neil were keen to talk us through the services provided by Unum's [email protected] and how the medical support services it provides can help both employees and employers.
Remote GP
Unlimited access to UK based GP's in a virtual format, via any smart device.  Appointments can be secured within two hours of requesting, and each session lasts up to 20 minutes. Remote GP services are available to staff, their partners or children 24/7, 365 days a year.
Mental Health Support
All employees are entitled to eight counselling/CBT sessions per year for themselves and their partner. Based on clinical need following a video consultation assessment, the service is delivered either face-to-face or through computerised cognitive behavioural therapy with an assigned therapist.
Physiotherapy
Support plans provided by a UK network with up to eight consultations for each employee per year, which includes an initial assessment. Employees can meet a therapist face-to-face, or digitally via a video consultation if they prefer.
Second Medical Opinion
If employees, their partners or children require a second opinion following diagnosis of a medical condition, they have access to two consultations (per family) either by face-to-face or virtually with a specialist in that field, in order to gain reassurance around their proposed treatment plan.
What we loved
When we returned to the office and had the chance to reflect on the day, it was clear that the team was very impressed by the topics covered, and that Unum are seriously improving its proposition for existing, and new to market clients.
The remote GP service provided by [email protected] was a key talking point and one that we'll be actively speaking to our clients about, especially as it can be provided to the entire workforce covered under a GIP policy.  Employees benefit from being able to speak to a doctor almost straight away and employers can benefit from reduced absenteeism, as staff will be able to make GP appointments when convenient for them. 
Unum is providing a large investment to their clients and showing they are more than just an insurance company.  It's clear that they wish to be seen as actively supporting the wellbeing of employees, and not just there to pay claims.
One of the key statements from the day was from Glenn Thompson who said:
'We of course want to look at growing the market, but it's so important for us to cherish what we have and ensure we are providing the best support available to the clients we already have'.
At Hooray Health & Protection that statement really sums up what Unum is like to work with as one of our valued insurer partners.
Massive thanks to Unum for hosting us and providing us with a tour of their offices, and good luck on the continued success with the launch of [email protected]
We are shaking things up for our next interview and meeting an individual protection insurer, who is making lots of noise with their new proposition, so make sure to follow us on Facebook, LinkedIn and Twitter so you don't miss it.
If you would like to learn more about any of the services we've covered today, please don't hesitate to call us on 01273 222805.