When Hooray met… Legal & General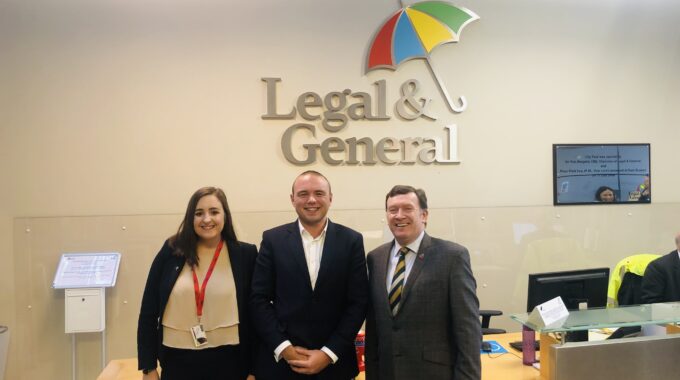 When it came to picking the next insurer that we wanted to interview for our 'When Hooray met' series, Legal & General was at the top of the list.
They've always been known as an insurer who are very competitive in the large corporate space, but this year have moved their focus to the SME market.
This newfound focus on SME and the fact they are only a five-minute walk from us meant we were delighted when they accepted our interview request.
Unfortunately for the team at Hooray, that five-minute walk didn't work out, as even though Charlie has lived in the area all his life, he took us to the wrong entrance.
So, that brisk walk turned into a 5k sprint, resulting in us arriving very flustered, out of breath and coupled with the sad realisation that we needed to cut down on the weekend beers and burgers.
Upon arrival, we were greeted by our host for the day Hollie Nairn. Hollie is very well respected in the industry for her commitment to her clients in her role as one of Legal & General's Business Development Managers.
Hollie had kindly agreed to host us after our Account Manager was struck down with a severe case of man flu. Fortunately, Sam is on the road to recovery and Legal & General were still ready to teach us about their Employee Benefits journey.
Who is Legal & General
Legal & General are a household name in the UK due to their wide range of products which include pensions, individual or group life insurance and general insurance.
In the group protection market, Legal & General have one of the biggest group life insurance portfolios which includes some of the largest schemes in the UK. This involvement has allowed L&G to become one of market leaders in the industry due to their understanding of complex schemes.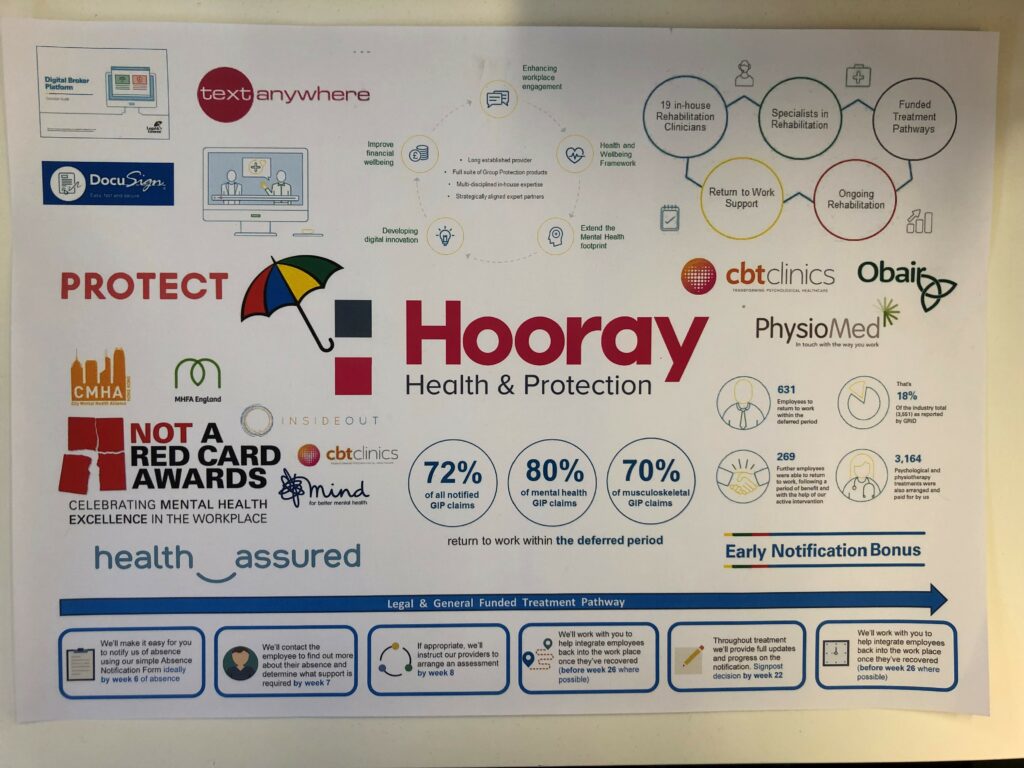 Recently L&G have a focus on re-establishing they are a thought leader in the industry with their 'Not A Red Card' campaign, which celebrates businesses and individuals in the UK who are championing mental health at work.
At Hooray Health & Protection, we know Legal & General as a consistently reliable partner in the market. Having this level of trust in a provider is a necessity due to the sensitive nature of our services.
What are they doing?
It was a real eye opener for us to sit down with Hollie and learn the full extent of the services that Legal & General are offering to their clients.
Legal & General have embraced the importance of early notification of absences for group income protection and have started to incentivise their clients who follow best practice.
Where a company has a policy covering 250 or more staff, they are providing up to 5% cashback of a client's yearly premium if they notify absences within set time frames. They have set no limit on the amount they pay and since introducing the initiative have already paid out an impressive £7 million pounds.
It's a fantastic start to see employers being rewarded for working closely with their insurance companies, and we feel this should be the case for all clients. We are hoping this is the start of something special and that the initiative will be rolled out for the under 250 employees' market soon.
Legal & General were also keen to show us their focus isn't purely on securing and assisting large clients, but moreover, what they can do to help any size client at the time they need them the most- claim stage.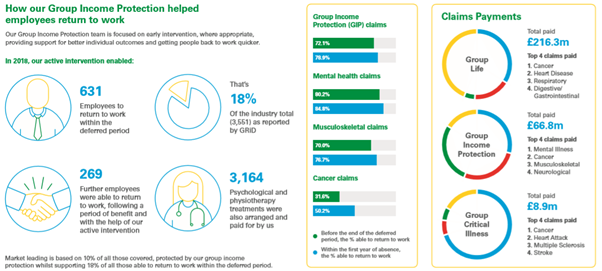 Supporting 631 employees back to work during the deferred period in 2018 is a fantastic as beneficial for the employee, employer and insurer but an outstanding achievement to see it's 18% of the whole industry total return to works.
When implementing a policy, price is usually the key driver, as of course all businesses have budget requirements to meet etc. but we need to stop and think about the bigger picture and how we can support our staff when they need help the most.
What we loved
After a tour of the offices and a chance to meet with some of the operations teams, we sat down with Sales Director Colin Fitzgerald and Head of Employer Services Chris Ford to discuss L&G's plans for 2020.
During our talks it was obvious how passionate the team at Legal & General are about not only protecting their current clients but also helping to grow the industry and reducing the protection gap we face in the UK.
Investment has been made to improve their online system which we find one of the easiest in the market to use with no hassle, which is a necessity for us, as allows us to provide our services to our clients for no fee.
The key takeaway, that we loved, which was a common theme throughout the day was their focus on supporting employees back to work.
From partnering with Mental Health First Aid, Mind, City Mental Health Alliance plus many more shows a real commitment to provide the best service to their clients.
We would like to thank Legal & General for hosting us and a massive congratulations on the work we've seen this year.
If you would like to learn more about the services Legal & General can offer, please call Charlie on 01273 222805.
We are back in three weeks' time for our next meeting so make sure to follow us on Facebook, LinkedIn and Twitter so you don't miss out.