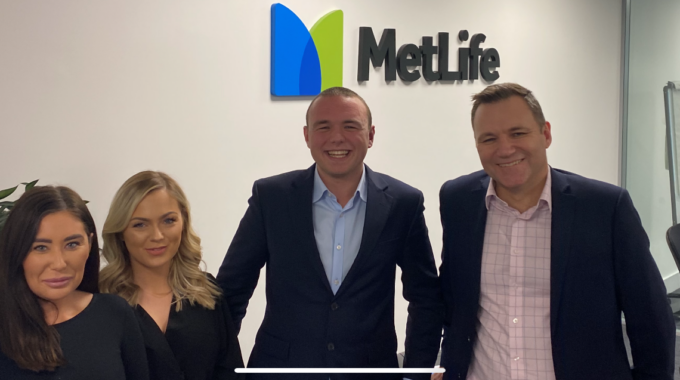 Hooray, what has felt like the longest January is finally over. It's time to celebrate dry January coming to an end, the gym memberships we foolishly signed up to as a new year's resolution not charging a cancellation fee and, best of all, a new month means another chapter for the 'When Hooray met…' series. Today, we share our visit to Group Risk insurer, MetLife.
MetLife's UK Employee Benefits Director, Adrian Matthews, kindly hosted us for the day at their Brighton office and discussed MetLife's continued growth in the Employee Benefits insurance market. Adrian is one of the most well-recognised faces at MetLife UK, joining in 2011 as Chief Finance Officer, and progressing to EB Director in 2017. He's experienced much of what has helped MetLife UK build the reputation they hold today.
Who is MetLife?
MetLife is one of the largest insurers in the world with 145 years of experience; helping over 90 million customers across 50 countries is an impressive feat by any means. MetLife UK opened its doors in 2007 and has since provided a range of innovative individual and group products and services to people across the UK.
MetLife specialises in Group Life Insurance and Group Income Protection for the Employee Benefits market, and their innovative individual protection product 'MultiProtect' has helped MetLife to achieve a strong segment of the UK insurance market.
What are they doing?
Adrian confirms that MetLife's hard work has been paying off, and they had a fantastic 2019 with a huge number of highlights, including their record number of group life sales, record number of small and medium sized employers 'SME' sales, launching their free Excepted Master Trust, enhancing their Registered Master Trust and a full website redesign (to name a few!).
MetLife are focused on providing even greater support to the SME market, as Adrian states "We know SME's are the most under-penetrated segment of the market and that's why we are pushing to help meet the needs of more SME's in 2020 and beyond. We want to provide solutions to help protect these clients and provide options that will help grow the market. We have launched our Group Life product with an Employee Assistance Programme 'EAP' completely free for any businesses with up to 300 employees to show our commitment to growth in the SME segment."
MetLife are also heavily focused on communication, by reaching out to businesses to understand why Group Income Protection (GIP) growth has been slower than usual, and as a result established that many businesses found the process too complex and would like more straightforward options.
In response to this, MetLife have released three simple options for GIP to be presented to clients, covering 100 employees or fewer in the form of 'Essential', 'Premium', and 'Premium Plus' products. These products also include indicative pricing guidelines to assist with making the process more straightforward and user friendly. This also creates a smooth and more informative journey for advisers, enabling them to educate more clients on the importance of GIP and the role it can play.

What Hooray loved
We love MetLife's continued focus on the SME market, as well as the new and innovative ideas to help grow the market.
One of the key messages we took away from the day was something Adrian mentioned when discussing their Group Income Protection product; 'On smaller schemes, we rarely see claims in comparison to large corporates, but when we do it is absolutely catastrophic to that business as with many smaller businesses everyone knows each other and they become kind of a family. It's during these times that we, along with our claims team, provide support and empathy, and understand their needs – it should never be a one size fits all approach."
That statement applies to the Group Life insurance and Income Protection market, as we know that for small businesses, a serious illness or death can have a devastating impact on the workforce. For us, it's refreshing to see insurers start to focus on this segment of the market, and it's great to see MetLife committing to this in full force.
We would like to thank MetLife for hosting us, and thanks to Adrian Matthews in particular for the extremely insightful interview.
If you're from an insurer or any other business that provides support services you think our clients would benefit from, please get in touch to appear in next month's 'When Hooray met…' series at [email protected]