Top tips for establishing successful employee benefits schemes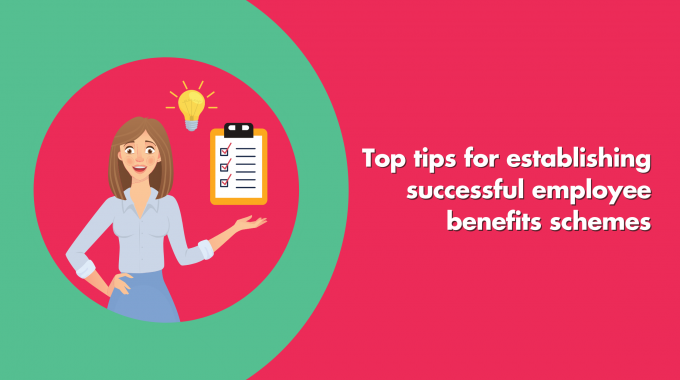 Providing the right employee benefits for your staff is essential for making any business a successful one. Whilst it is one of the most important elements of being an employer, it can also be tricky to navigate and settle on the right package to offer your teams.
Do you want to create an affordable and attractive employee benefits scheme but don't know where to start? Look no further! We've made things even more simple, providing a checklist of top tips when setting up the perfect employee benefits scheme.
If you're looking to set up a successful employee benefits scheme to protect your staff, contact our friendly team of experts at [email protected] or use the chatbox in the bottom right.
Which employee benefits are leading the way?
Employee benefits are incredibly important, but it is a tricky balancing act between providing essential health benefits targeting wellbeing, listening to the needs and wants of your staff, whilst staying within budget.
There are so many to choose from; making the right choice can often become overwhelming. Below we've listed the top employee benefits that are currently leading the way in popularity amongst employees, from our recent survey What Workers Want.
Business Health Insurance: 57% chose this as their top benefit
Life Insurance: 45%
Extra Holiday Entitlement: 41%
Generous Pension Scheme: 35%
Retail and Leisure Discounts: 28%
Wellbeing Perks: 24%
Free/Discounted Gym Membership: 22%
Just from these stats, it is immediately evident that everyone is driven by different needs and priorities. A one-size-fits-all approach just isn't going to cut it when comes to providing the best support for your staff's wellbeing!
Successful employee benefits schemes must cover every basis and include a range of options for each employee.
Other examples of popular employee benefits:
Dental Insurance
Optical Insurance
Long-term Disability Insurance
Flexible/Remote Working Opportunities
Parental/Care Leave
Travel Expenses Covered
Free Snacks/Beverages
Free Day-Care Services
Team Bonding Events
Pet-Friendly Workspace
Furthering Education/Career Progression Opportunities
We could go on and on listing the many employee benefits you can choose from, but before you can even start considering which best suits your company there are steps that must be taken.
Looking for FREE advice on how to best support your teams? Hooray's experts will be happy to answer any questions you have regarding employee benefits and the health insurance market. Call 01273 222805 or use the chatbox in the bottom right.
Top steps to take when setting up
What works best for your business depends entirely on your employee demographic, the nature of your company, your budgetary constraints, and how your business operates day-to-day.
Before diving into the world of employee benefits head first, think to yourself:
What do my employees want or need?
How do I measure the success of my scheme?
How do I identify areas that need improvement or aren't working?
Check out our top tips below to get you started on these questions!
Budget
Establishing a budget is vital to making your employee benefits scheme affordable yet capable of providing the best support. To find this budget, reflect on three main aspects: what your company can afford, which benefits your staff want the most, and which benefits are going to be the most cost-effective.
Take your time – there's no rush when it comes to employee benefits! Once you have taken the plunge and distributed your scheme, there's no going back. These early stages are the most important.
Surveys and consulting your staff
The next step is to just ask what your employees want – get some solid feedback! Although it is beneficial to take a look around at your competitors for inspiration, this is your business you need to look after. Ensure the benefits you offer support the specific needs of your staff.
There are many ways to do this depending on how your business functions. Below we've listed a few suggestions:
Arrange a meeting for everyone to speak freely
Set up 1-2-1s
Send out an employee survey with an opportunity for staff to voice any stress, anxiety, health issues
Allow staff to send emails with suggestions/concerns
Assess HR data for number/frequency of absences, quantity rates of work, staff retention
Track trends of demographics on age, gender, cultures – recognising any themes/trends in how employees are feeling
By consulting your teams directly, you can offer diverse and personalised benefits that make your staff feel that the scheme is designed specifically for them.
Ask the important questions
Why do you need these benefits? What do you want these benefits to say about the type of business you are?
Personalised employee benefits schemes are key to a top employee experience and business success. Understanding your work culture and what it stands for is another vital step in finding the perfect benefits for your company.
Asking questions like:
Why do I want these benefits?
Do I need them to attract more staff?
Do I want to match my competitors?
Do I want to improve workplace wellbeing?
What employee problems do we have? Absenteeism? Stress?
By reflecting on what your business goals are you can tailor your employee benefits to help with these priorities and not waste budget or staff time.
Create a space for communication
Communicating your employee benefits scheme seems like an obvious step to take, but is often overlooked! There's no point in taking the time to set up an amazing scheme if no one knows about it.
Send out emails, arrange meetings, organise an online Q&A session, arrange 1-2-1s – getting your people talking about employee benefits sets you on the path to becoming a business where staff feel they are listened to, and their concerns are recognised.
Make yourself available and open to discussion after the initial launch of the scheme. Although you want to get it right the first time around, employee priorities are always changing. It's better to acknowledge anything that isn't working before too much money is invested.
Get yourself some help!
It's no secret that the world of employee benefits and health insurance can be a confusing one, but this is where an insurance broker can help.
At Hooray Health & Protection we are guided by you and your business needs, working with you to find the best deals and achieve the perfect mix of employee benefits to fit with your organisation. Everything is run by you; we just help make the process that whole bit simpler.
We understand how important this process is and how tricky it can be to make final decisions or where even to start. That's why we offer 100% support and patience when establishing employee benefits schemes, breaking away from the usual confusing jargon of this industry.
Check out one of our Success Stories for SME Unmind to see how getting a little bit of help when finding the right employee benefits can make all the difference.
Bottom line
There are many ways to approach setting up an employee benefits scheme that your staff will love and feel supported by. But the overall goal always remains the same – creating your own sustainable and affordable scheme that speaks to your employee base and makes you the employer they value working for.
Call us on 01273 222805 or click on the bottom right chatbox and we'll deliver straightforward advice and the most competitive quotes for FREE.