How can you bolster your team's mental health?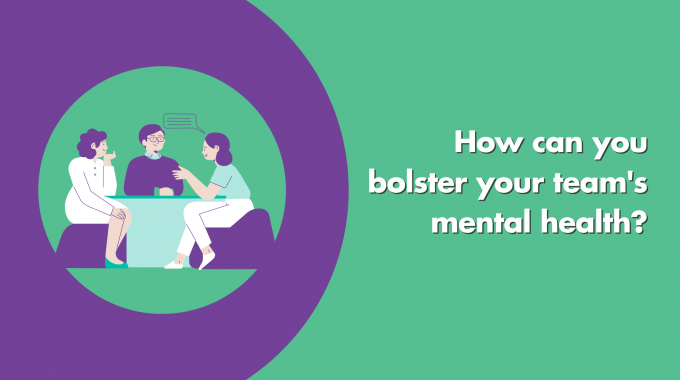 In case you hadn't noticed, mental health is a big issue right now. In today's climate multiple issues are converging to creating a perfect storm which is battering at the psychological wellbeing of so many.
Financial uncertainty, pandemic worries, digital overwhelm and less 'people time' are just a few of the factors which are having a cumulative effect.
Can businesses solve these problems? Not all of them, but they can certainly help. After all, a big chunk of a person's week is spent working. Creating the ideal environment and offering the right support can go a long way to bolstering an employee's mental wellbeing.
And as most of us know: if your employees are happy and healthy, your business is likely to be happy and healthy too!
We recently quizzed 641 start-up employees on the issue of mental wellbeing. Here's what we discovered…
Read the full report here: ' What Workers Want 2021: Employee Benefits Survey'
Employees want professional help to aid their mental wellbeing
Our survey revealed which three employee benefits start-up employees felt would most help with mental wellbeing. Here's what they chose: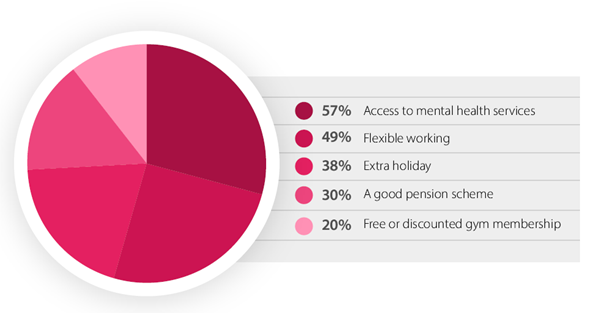 Stating the obvious? Perhaps not…
At first glance it may seem glaringly obvious that access to mental health services is considered the most sought after means of addressing mental wellbeing. In fact, this finding is more revealing than it first appears. It suggests that above and beyond more holiday time and flexible working arrangements, employees would most benefit from the formal assistance of mental health professionals.
There is a wide range of mental health support you can offer:
One-to-one counselling sessions – for example, Starbucks offers many of its employees 20 free counselling sessions.
Mediations apps and online mental health resources – such as Unmind, a digital platform which assists with all areas of mental wellness.
Flexible working arrangements – consider allowing remote or flexible working hours to help people keep on top of their care responsibilities.
Safeguarding downtime – companies like Server Central Turing Group are telling people to turn off all their work-related communication tools when they've finished their working day.
These are just a few ideas you might consider. Mental health, like physical health, often requires a holistic approach.
The rise of mental health issues has been much covered in the media and its prevalence is reflected by a Public Health England survey in January which found that almost half (49%) felt that the pandemic had impacted negatively on their mental health and wellbeing.
When you put all the clues together, it's clear that mental health – a problem already rising pre-pandemic – has exploded further. And employees are increasingly in need of support.
Need help managing employee benefits for your company? Arrange a free one-to-one chat with one of our friendly team of experts. Use the chat-box in the bottom right or contact [email protected] to kickstart the conversation.
The dangers of prescriptive homeworking
Most studies have shown that increased homeworking has been a double-edged sword. In our 2020 survey, nearly 75% said homeworking would have some impact on their morale as lockdown restrictions relaxed. A recent survey by the Royal Society for PublicHealth (RSPH) found that 67% of people felt less connected to colleagues and 56% finding it harder to switch off as a result of remote working.
Yet, many people will also find the homeworking option more convenient. This is particularly true if they have a long commute or a busy family life to attend to. In which case, homeworking would appeal.
It illustrates that start-ups should consult their teams before instigating any new homeworking policies. Offering choice and flexibility is likely the best way to keep employees happy and safeguard their wellbeing.
This is why hybrid working has become such a powerful trend. Rather than be presented with a binary choice between homeworking or in-office working, workers can perform their duties from the office some of the time and from home at others. The employer should always set the guardrails according to the needs of the business.
For example, one American company, Asana, has adopted an office-centric hybrid approach in which employees will be co-located in an office most of the time but are able to work from home on Wednesdays.
Clearly, not all workplaces can instigate such policies – but if it fits your industry and business model, then it's worth considering.
The importance of choice and how to offer it
The good news is that most start-up employees (88%) feel their benefits aid their sense of wellbeing. Clearly, start-ups are working hard to address the issue.

But the solution is not simple. Our survey results show an even spread in what start-up employees believe would most help with their mental wellbeing. As is so often the case in the world of employee benefits, there is no silver bullet solution.
To address the needs of workers, it's best – wherever possible – to offer choice. Business owners need to survey their employees and seriously consider implementing a flexible benefits scheme where employees can opt-in to the services which will best provide for their mental health needs.
Businesses today have a simple solution for implementing a flexible benefits scheme. There are a variety of employee benefits platforms on the market, such as Thanks Ben, which allow you to pre-select benefits which your employees can then choose from.
Achieve good health for all
Life can bring all manner of stresses and strains. While the workday will inevitably involve some stress, it should always be manageable. If it isn't, the employee suffers, their work deteriorates and the business is impacted too. However, by instigating a company culture which bolsters the mental wellbeing of your team, everyone benefits.
At Hooray Health & Protection, we help SMEs and start-ups understand the employee benefits market and find the best deals for their business and its employees. Contact us today and we'll be happy to answer all your questions. Use the chatbox in the bottom right or call 01273 222805.