10 UK fintech businesses with outstanding employee benefits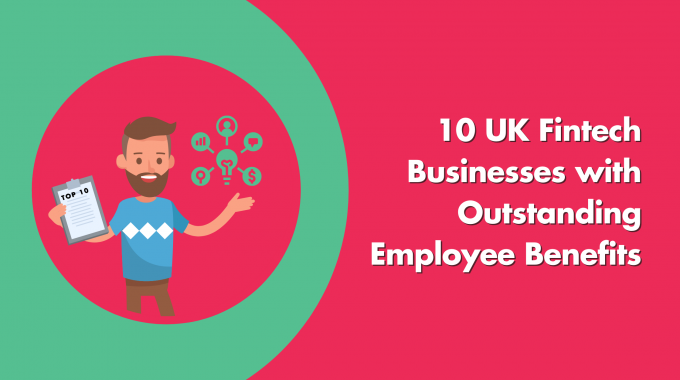 The type of employee benefits offered by businesses can differ wildly across the various industries throughout the UK. Which is why it's useful to observe the different niches in the business world.
What kind of benefits do they offer? And what can we learn?
This article showcases 10 UK fintech businesses which are offering a variety of the most imaginative, useful and attractive perks. Most of these businesses are already offering the benefits you would expect, such as group life insurance. But here, we mainly focus on those additional perks which add extra 'wow factor' to the benefits roster.
Get ready to take notes!
Monzo
Monzo is an online bank with over 4 million customers. Since it was founded in 2015, Monzo has created one of the most downloaded financial service apps in the UK and grown their business from a financial app developer, into one of the most widely used online banks in the country.
Some of Monzo's most enticing employee benefits include:
Proactive pay rises & bi-annual salary reviews
Learning budget of £1,000 a year
Season ticket loans from Commuter Club
52 weeks of primary caregiver leave
Discounts on subscriptions to the Headspace meditation app
Zego
Zego is an 'insurtech' startup business based in the UK. After starting out providing motorbike insurance policies for drivers in the gig economy, Zego has expanded its customer base by integrating with Deliveroo and Uber Eats, offering vehicle insurance for all its drivers.
A few of Zego's more interesting benefits include:
Competitive salary packages & stock options
Home working equipment
Career coaching
Therapeutic coaching sessions with Blackwood Consultants
24 weeks of fully paid leave for maternity or primary carers
Soldo
Soldo is a software company that develops digital tools to help businesses manage their expenses. From its beginnings as a relatively small business, Soldo has grown significantly, helping over 26,000 businesses throughout Europe to improve their financial efficiency via its software.
Soldo offers some extremely useful perks for their employees, including:
£500 development allowance
Regular salary reviews
Soldo card for business expenses
Cycle to work scheme
Frequent team building events
Onfido
Onfido is a tech company that provides a verification service to determine the legitimacy of government issued IDs using AI algorithms. The tool can be accessed from a computer, or a mobile device and is commonly used to help businesses prove the identity of a user in a quick and efficient manner.
Onfido offers an impressive array of employee benefits, including:
Onfido Balance, a benefits platform with numerous health perks
Exercise & wellbeing subsidies
Equity offerings for all employees
Library of books & software for employee development
Team learning initiatives
Wise
Wise, formerly known as TransferWise, is a fintech company that provides currency exchange services. Wise have won several awards and recognitions for its employee benefits, such as Instar Attractive Employer 2019.
Some of those award-winning benefits include:
After 4 years of service, employees are granted a bonus of £1,000
Annual company-wide trip to Estonia
Enhanced pension contributions of up to 5%
Funding for sporting events and cultural clubs
26 weeks of full paid maternity leave & 13 weeks partially paid
Thought Machine
Thought Machine is a tech company that develops core banking software in the UK. The company's most popular product is a service named Vault, which uses cloud-based technology to help banks with running their online infrastructure, while also providing an extra layer of IT security.
Thought Machine's most attractive benefits include:
Health cash plan with dental & optical inclusions
On-site gym with membership paid for
Memberships for sports or hobby clubs
Monthly social events with arcade games
Free snacks, drinks, fruit & cereal
Freetrade
Freetrade is an award-winning investment app with over 800,000 users. The app provides a commission-free stock trading service, which is designed to be as simple and efficient as possible, in order to make the stock market more accessible for the average user.
There are several enticing employee benefits offered by Freetrade, including:
Annual bonus scheme
Travel insurance with family inclusions
Free Macbook & headphones
Access to a Plus account on the Freetrade app
Regular team lunches in London
Azimo
Founded in 2012, Azimo is a currency transfer service with over half a million users worldwide. Azimo's app for IOS and Android enables users to exchange finances from over 200 different countries, with more than 80 individual currencies.
Azimo provides its employees with some unique benefits, including:
Employee Assistance Programmes
Free language classes
Generous referral bonuses
Days off work for charity volunteering
Donations to charities chosen by employees
iwoca
iwoca is a London based fintech company that has provided over £1 billion to more than 30,000 businesses in the UK. The company offers flexible loans for small businesses, using its innovative lending software to provide customers with simple applications and fast responses.
Some of iwoca's most impressive employee perks include:
One week working in holiday locations such as Sicily
Access to mental health support services with Spill
Workplace nursery tax benefit scheme
Company-wide talks & seminars
Unlimited unpaid leave
Sonovate
Sonovate is a software developer in the UK which specialises in providing invoice finance tools and services, primarily for recruitment agencies. Its software can help with managing the recruitment of the many employees that these agencies oversee, among many other uses.
A few of their most interesting benefits include:
Fully remote working options
Techscheme with Apple & Currys PC World for remote work equipment
50% discounts on gym memberships
50% off a variety of paid apps including Audible, Calm & Duolingo
Eye care vouchers from Specsavers
How to find the best employee benefits
Hooray Health & Protection are a skilled and dependable team of insurance experts, with a wide array of experience working with all kinds of different businesses to procure attractive and affordable employee benefits packages.
Whether you're looking for help piecing together an enticing and cost-efficient employee benefits scheme, or just have a few queries, please don't hesitate to reach out to our team.