Helping your employees check for cancer: Our guide to the employee benefits you need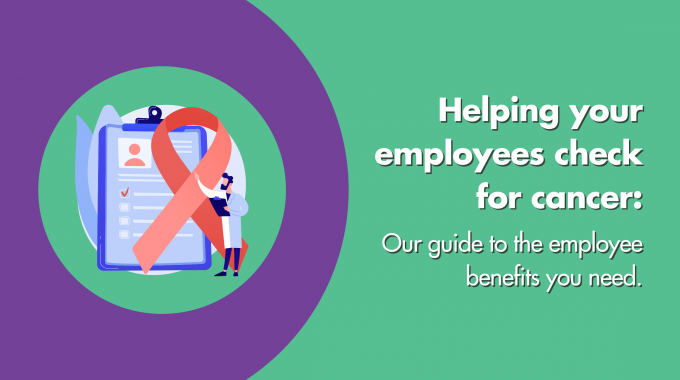 The continued presence of the pandemic has meant we are all more aware of our own vulnerabilities, both physically and mentally. This is still a hot topic in the employee benefits world! More than 40% of all cancers diagnosed in the UK are attributed to lifestyle and environmental factors. It is no surprise we as a nation are turning inwards and reassessing our health and wellbeing choices.
Education, awareness, and prevention is key to reducing the risk of cancer.
At Hooray Health & Protection, we follow this rule of thumb. We take the same stance when advising employers on their employee benefits schemes. Businesses must be taking preventive action rather than reacting too late to protect their staff and providing the right employee benefits will help their workforces to progress with a healthier lifestyle.
We have outlined the influences your employees might be facing from the current climate, easy employee benefits that can be incorporated into your work to reduce cancer risk, and just how important cancer awareness is to the general wellbeing of any organisation.
Need help finding the right employee benefits for your staff? Contact our friendly team at [email protected]e.co.uk or use the chatbox in the bottom right.
2022's influence on lifestyle choices
The pandemic has impacted our lives in so many ways, but one devastating effect has been on cancer care with more than 3 million people in England missing their screening appointments.
The year so far has also brought about many trends and resolutions to change lifestyle habits – diets, quitting smoking, Dry January, Fitness February, Veganuary or meat-free Mondays.
There has never been a better time to review your employee benefits schemes and incorporate a stronger focus on cancer strategies and lifestyle. Workplace Duty of Care means that employers are responsible for the health and wellbeing of staff, providing employees with the right levels of access to ensure they are cared for.
Small ways to shift employee lifestyle choices
We are by no means saying we are experts on the ins and outs of cancer care! Our expertise lies in the employee benefits arena.
Before we get into some insurance products, below are a few easy tips you can be recommending to staff. These are cheap and simple ways to start integrating healthy living into your workforce to lower cancer risk!
Vegetarian food options at work, avoiding red/processed meats (applies if food is supplied in your company)
Lowering alcohol intake – suggest out of work, group activities that aren't centred around the pub!
Access to quit-smoking materials e.g., NHS/GP programmes or posters/pamphlets
1-2-1's taking place outside on walks
Standing up desks to promote movement in the office
Introduce more 1-2-1's with staff to establish a safe space for employees to discuss any worries regarding cancer risk
Whether you are looking to find the best employee benefits package that compliments who you are as a business, or simply have a query regarding how to best support your staff, our Hooray team are here to help. Call 01273 222805 for advice and support.
The employee benefits for your staff
The workplace can be more than financial security and healthcare benefits – it is a support system providing comfort to employees when they need it most. It is a great place for difficult discussions, offering education on cancer risk factors, and pushing employees towards a healthy lifestyle.
Organisations can help ease the pressure of cancer by providing cancer screening tests for their employees, enabling them to take control of their health. This proactive approach to managing cancer helps early detection, leading to better treatment options.
Ensuring more of your staff members are going through employee health checks at work, places employees in a worry-free environment and diverts strain away from the already huge cancer screening backlog.
So, without further ado, we provide you with examples of insurance products/employee benefits that can be used in relation to cancer risk and lifestyle in your company.
Health screenings
Digital apps
Mindfulness apps
Access to different mental wellbeing providers (reducing stress which in turn reduces the need for unhealthy coping mechanisms e.g., smoking, unhealthy eating, excessive regular drinking)
Cancer screening tests
Employee health checks:
Blood pressure
Cervical cancer screening
Chest X-ray
Prostate cancer screening
Full biochemistry profile
Lung function test
Testicular examination
Bowel cancer screening
Screening mammograms to detect early breast cancer
Employees have direct access to treatment & specialist consultations
Consultations with specialists
Diagnostic tests
Operations & surgical procedures
Cancer treatment (radio/chemotherapy)
Cancer drugs
Mental health & psychiatric treatment
Popular & affordable alternative to Company private medical insurance!
Help staff cover the costs of everyday healthcare
Mental health services (CBT, counselling, EAPs, support lines): very meaningful to staff when offered access to this during such a stressful and overwhelming situation that cancer brings
Primary care: virtual GP & nurse services, online health risk assessments, specialist consultant
Homoeopathic and wellbeing: reducing stress and prioritising wellbeing support to combat the effects of first/second-hand cancer
Health screening
Diagnostic scans
ECGs
Lung function tests
Biopsy fees
NHS car parking costs
Cashback for stays in hospital
These employee benefits are an easy way for organisations to show they care for their staff, targeting both the physical and mental fallout experienced by cancer.
Employee Benefits and Wellbeing at work
The earlier an employee can receive treatment, the greater the chance of successful recovery, leading to less time off work (from a business perspective!).
Supporting staff through cancer and providing access to reduce the risks of cancer is more than a presenteeism issue – it comes down to workplace culture. Wellbeing strategies are integral parts of any successful business, and ensuring staff are happy and cared for needs to be a top priority for employers.
Especially during the current climate of stress, anxiety, and uncertainty, employers need to be promoting policies that support the cancer care ecosystem, taking away strain on our healthcare services, as well as providing for the individual needs of their staff.
At Hooray, we can help you achieve your business goals by ensuring the employee benefits you choose are the best for your staff. Our friendly team of experts are here to find out more about you and your business, making sure your chosen employee benefits reflect what your organisation stands for.
We help start-ups and SMEs negotiate the often-confusing employee benefits and health insurance market. Contact us today and we'll be happy to answer any queries. Call 01273 222805 or click on the bottom right chatbox.