Health cash plan versus private health insurance: who wins!?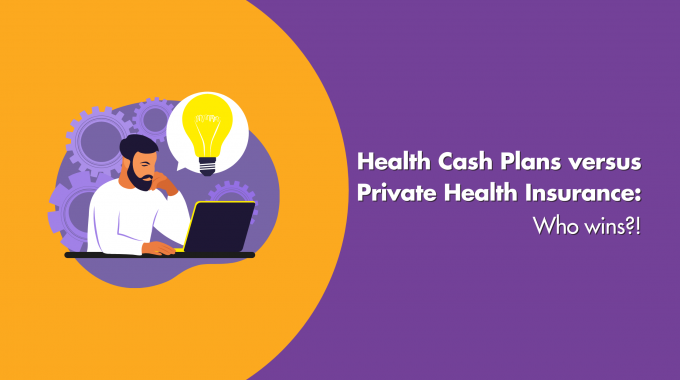 There's more than one way of looking after the wellbeing of your team. While many small business owners are aware of group health insurance, they are oblivious to the potential benefits of a business health cash plan.
In this article we'll explain the benefits of each and give you an idea of what might work best for your business when it comes to reviewing a health cash plan versus private health insurance.
If you want an immediate answer to your question, contact our friendly team by using the chat box to the right or call 01273 222805.
What is the difference between a health cash plan and private medical insurance? 
Let's start at the beginning. Private medical insurance and health cash plans can be purchased to insure a single person or a group of people. For the purposes of this article, we'll be looking at insurance schemes for small businesses (although some of the key points will relate to individual schemes too).
The most obvious difference is that group health insurance can offer a much wider range of medical coverage while health cash plans are limited to routine health treatments. The other key difference is ease of set-up. While group health requires background medical checks to calculate the cost (AKA premium), a health cash plan does not.
Let's consider what each scheme includes.
Inclusions and exclusions: Group health insurance vs health cash plan
Group health insurance: This is where you take out an insurance scheme to cover a pre-determined number of people in your business. The scope of the insurance will vary greatly depending on how much you're able to invest and the deal offered by the insurance company.
Coverage can include:
GP appointments
Medical scans and tests
Surgery, as a day patient or inpatient
Drugs, including some unavailable on the NHS
Hospital stays and nursing care
Consultations with specialists
Therapies, such as mental health or physiotherapy
Cancer treatments
The usual rule is that pre-existing conditions are excluded in the policy as are self-inflicted injuries. But it's important to stress that coverage varies greatly and therefore keeping an eye on the detail is very important. For example, some insurance policies may include dentistry or eye care as an added extra.
Health cash plan: While group health offers a veritable feast of coverage, a cash plan is somewhat limited in what it can offer. And yet, it can still be an incredibly useful product for your people and business.
A health cash plan only covers routine health treatments. It includes things such as:
medical consultations
dentistry
eye care
physiotherapy
It does not include operations, hospital stays and treatments for serious conditions such as heart problems or cancer.
Which is best: health cash plan or private health insurance?
As you can probably tell, each scheme has its inherent strengths and weaknesses. But it's worth summarising them here.
Simplicity: Here the health cash plan is the clear winner. No lengthy background medical checks make it much easier to launch compared to a group health plan. The fact that even members of your team with a complex medical history can access it is an added bonus – everyone stands to benefit and nobody is left out.
Level of coverage: Group health insurance comes out on top here. The scope of your insurance policy is as wide as you want it to be. You can tweak the package to what your employees and your business needs. In theory you could include access to GPs and routine scans in your policy thereby covering the routine needs which are covered by cash plans .
Desirability: This is a little trickier to calculate. It all depends on your workforce. Some staff will love to have the routine stuff taken care of, such as dentistry, because they are virtually guaranteed it will come in handy. Alternatively, group health can provide more specialist support and a wider safety net that will also be highly valued.
Which works best will depend on your staff and the specific needs of your business. Also, it will depend on the scope of the group health insurance: the wider the scope the more attractive it will be.
Need help deciding? Hooray Health & Protection specialise in helping start-ups and small business owners negotiate the confusing world of health insurance. No question is too silly, so get in touch and throw all your questions our way!
How do I buy a health cash plan or group health insurance?
You're probably already aware but health insurance can be a difficult terrain to navigate. As a specialist small business health insurance broker, we help businesses understand how insurance works then help them get the best deal.
While all health insurance companies offer group health and cash plan insurance, including the likes of Bupa, AXA and Aviva, they are not always accessible to small businesses and start-ups.
Group insurance products are typically designed for bigger businesses with bigger teams. This means that some small businesses even struggle to get a quote. Yet, at Hooray we can find group health and cash plans suitable for smaller businesses – even if they are not advertised on the market.
How is that possible?
It's because we have existing relationships with all the major insurance companies (and a few smaller ones), which means we can negotiate across the market and bring you the best health cash plans or group health insurance deals.
In the event that you can get a quote direct from the insurer, it may not be the best available on the market. Recognising a good deal requires an understanding of the inclusions/exclusions plus the various T&C's related to the policy. And this gets rather confusing – unless you're insurance geeks like we are!
Protect your employees with cash plan or group health cover
"Promoting wellbeing can help prevent stress and create positive working environments where individuals and organisations can thrive." – Chartered Institute of Professional Development
Whether you opt for a business cash plan or group health cover, there's a wide selection of packages on the market catering for almost every need. But the general rule is this: if you want to cover your people for routine health care then a cash plan is the best option, but if you'd like to offer a wider range of cover, then group health is recommended.
Who wins?
Those who choose wisely!
For more information and one-to-one assistance contact one of our friendly advisors.