Unmind talk technology, mental health & hybrid working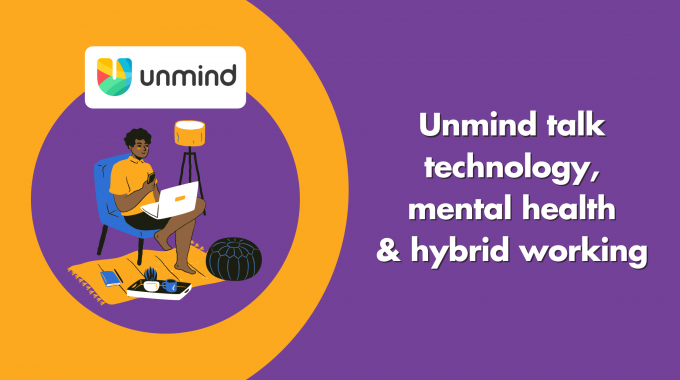 As remote working is once more strongly encouraged by the UK government, company bosses are tasked with ensuring the mental wellbeing of their workforce is catered for. Not easy at a time when uncertainty is the norm, anxiety is commonplace and employees are scattered in different locations.
Our recent survey of 641 start-up employees explored the mental health challenge. We were delighted to get an informed contribution from Oliver Matejka, Brand & Communications Lead at mental health platform Unmind. He gave us his thoughts on how to handle some of the unique challenges facing us today.
This is what he had to say…
Mental health in a post-pandemic world
The last 18 months have been tough, to say the least. Not for a generation has our psychological, mental, social and physical wellbeing been challenged so much for so long.
On top of that, we've been busy.
Hours fly by as we field instant messenger notifications, video calls and check-ins – only then can we start to tackle our ever-growing personal and professional to-do lists. Add to the mix a bunch of restrictions around how we live our lives – the result? Increased stress, burnout and fatigue across the country.
But there's a silver lining.
Practically overnight, mental health was realised for what it really is: something we all have, all the time. And just like physical health, it's something that needs to be understood, nurtured and celebrated. And start-ups are taking note.
Using tech to nurture mental health at work
Even before the pandemic, 1 in 6 employees experienced a mental health condition in any given week. And most employers catered for that person – with EAPs and occupational health. But these reactive solutions don't get to the root of the problem.
While these resources are critical to the few, we should use our wellbeing programmes to help the entire workforce to thrive. In other words, HR and business leaders need to step back and proactively support the 6 in 6.
One-to-one therapy and coaching sessions generally aren't practical for whole companies. Not just because they're expensive, but also because they don't appeal to everyone.
Technology on the other hand can enable employers to offer scalable and affordable, clinically validated and engaging support for each employee.
Mental health apps and platforms – available on smart devices and computers – can provide a huge variety of resources to respond to the unique needs of diverse workforces in work and life. From sleep-nourishing soundscapes to expert L&D courses for becoming a better parent, communicator, or ally, the right tech can cater to every employee – no matter what stage of life they're in or where they sit on mental health spectrums.
The accessibility of mental health technology is also vital for our next big transition: hybrid working.
Rolling out a happy hybrid working strategy
More than a short-lived sticking plaster, a hybrid system – that blends in-office and remote work – is popular with employers and staff alike. More than a third (37%) of companies say they'll adopt a hybrid approach for good (up from 18%, pre-pandemic), with threequarters of employees in favour.
Yet that's not to say shredding decades of workplace rules is easy or straightforward. Making hybrid work – in a way that empowers staff and builds a happy and healthy culture, while also improving business performance – requires a whole lot of thought, planning and, well, work.
Here are some quick tips for getting started.
Before you do anything, ask: does hybrid work for us?
Remote work's not for everyone. What might be lost, or gained, if colleagues spend half the week (or more) sharing ideas on Slack and Zoom, not in an in-person meeting room?
Engage your employees
Don't tell your staff what comes next, with zero consultation. Have meetings (one-to-one, departmental, company-wide), request feedback, and send out anonymous surveys.
Make a clear, informed plan
Assemble a team (ideally, one that crosses departments and seniority) to pore over what you've learned from staff, and – together – embark on the
complex task that is the hybrid middle-ground.
Trust your staff
In case it's not obvious, a company culture built on surveillance doesn't breed trust. Or job satisfaction. There's a hefty line between accountability and outright snooping.
Learn and adapt as you go
Don't forget, this is year zero of the hybrid experiment. Never stop talking to staff.
If you need advice on launching an employee benefits scheme which addresses the full spectrum of health needs, contact Hooray today. We offer friendly expert advice for small businesses and start-ups. Use the chat box or call us on 01273 222805.