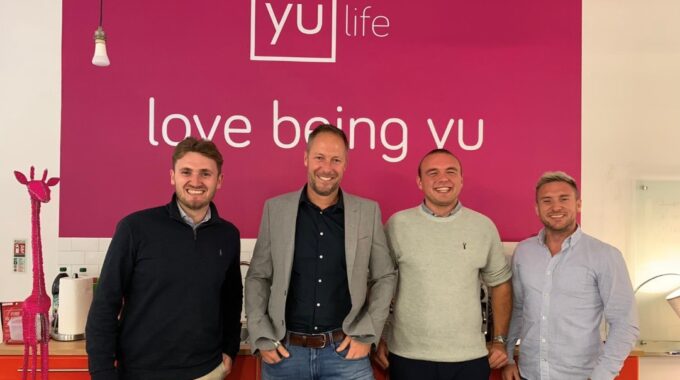 A wise client said to us recently that all of the content they've read online from employee benefit brokers, is just brokers talking about themselves and why they are so much more fantastic and wonderful than their competitors (sounds a lot like someone we know), but if they wanted information in relation to the insurance companies that they are actually insured with, the information was a lot harder to find. 
Here at Hooray we agreed, and so have taken it upon ourselves to put together a knowledge hub that identifies the key insurers within the Health and Protection market, and helps our clients really get under the skin of the insurers, whilst learning a little ourselves as well. 
The team here at Hooray will be making their way around the UK, meeting the leading Health and Protection providers and learning and sharing what the industry has to offer. The series will then be made available on our Knowledge Hub.
Today we embark on the first of our 'When Hooray met….' Series.  
As it's a new venture for us we knew we had to start with a new company and decided to set off on our journey to our first group life insurer 'yulife' .
After researching the company on the internet, we could see that they would be slightly different to the mainstream providers in the group risk market, and when we saw that our invitation was to 'the yuniverse', we knew we wouldn't be disappointed.
Fortunately for us, the yuniverse wasn't based in a galaxy far far away as we first thought, but actually a two-minute walk from Old Street tube station (which was perfect to be honest, as with the English summer being well and truly over, we were obviously well and truly soaked).
We were greeted at Yulife by our hosts for the day 'Callum Ross' and 'Barry Waring' who are both well known to us from previous roles and both very respected in the Employee Benefits industry.
Callum Ross has worked with Charlie in a previous life and has over five years' experience in the Group Risk market, whereas Barry Waring is the current Chairman for the industry body (GRiD) and part of their "Raising the Profile" committee. 
According to Callum they are 'The Dream Team Duo' of Employee Life Insurance but as they are friends of ours, we didn't ask which duo.  Knowing Callum, we're guessing it's Batman & Robin…or even more likely, Posh & Becks.
Next up we were introduced to 'Sam Fromson' one of the co-founders of yulife and possibly one of the most passionate people we've met in the industry.  It was a refreshing change to meet someone at board level talking about making changes to their client's wellbeing and not focusing purely on price.
Sam, Callum and Barry gave us a tour of the office which was as weird and wonderful as we expected (yes, the rumours are true; they do have a tree-house in the office), but soon it was time for us to sit down and learn about yulife.
Who is yulife?
'We aren't an insurance company; we are a technology firm'
yulife don't see themselves as your typical employee life insurance company and they feel that life insurance doesn't have to just be about covering an employee passing away.
They do, of course, still provide employee life insurance as well as income protection and critical illness cover, but they also provide employees with an interactive app that rewards employees for making positive changes to their lifestyle. yulife want to harness behavioural economics so that employers can impact the health and wellbeing of their employees in a positive way.
We haven't seen this before in the employee life insurance space, where an insurer is using 'gamification' to reward employees for living a healthier lifestyle, and what's more it is so easy to sync with Apple, google as well as your well known wearables. 
To us, the answer to 'Who is yulife' is – they are a refreshing change which we expect to kick start a change in the industry which we personally feel hasn't seen any significant technology innovation in a long time. 
Our answer was backed up when Barry disclosed yulife had earned highly commended for the best new product the night before at the Cover Awards.
The App
'Love your people'
Of course when it comes to a choice of running 10k followed by two hours of hot yoga on a Friday night, or going to the pub for ten pints and stumbling home with a kebab, the team at Hooray choose the healthy option every time 😃, but for a lot of people that motivation to reward you for the right choice goes a long way.
Employees don't need to log-on to the app to earn yucoin, they can leave their phones in their pocket and the app will count their steps and give coin as you go along
That being said, if you load up the app, there are daily challenges where they can earn even more yucoin by completing quests that will help towards improving their mental and physical wellbeing.
Examples of the types of challenge's employees can complete are a short 5 minutes walk, a brisk 10 minute walk or meditating for upto 10 minutes. 
yulife have had the great idea of adding 'streaks' into the app (now don't worry, they aren't encouraging your colleagues to run around the office starkers for extra yucoin) No, what they are doing is providing employees additional yucoin for completing challenges for five consecutive days, as well as even more yucoin if you get to open a chest.
It's a great addition to the app as it keeps employees engaged and spurs on competition for the more competitive members of your company, who can track their progress on the company leader board, which is also built into the app at no additional cost.
When your employees have earnt enough yucoin, they can be redeemed for vouchers at Amazon, Apple, Asos, Now TV and many more, but there are also several discounted services provided for free to start employees on their wellness journey with yulife.
What Hooray loved
'We want the companies that want to give something back to their staff'
One of the key takeaways for us from the yulife meeting was they didn't mention price once throughout the meeting and were more interested in presenting what their proposition can do for our clients. 
The average insurance company typically only has two touch points with their client, just before the renewal date, and if a claim is made. A proposition like yulife's aims to engage with customers every day, with constant value being extracted.  
Due to the yulife app, a designated Account Manager and implementation meetings, yulife averages 120 touch points with the client per year, which is going to be a real wake up call to the rest of the industry.  We are excited to see what new innovative ways insurers come up with to challenge this.
We want to thank the team at yulife for welcoming us in to discuss their proposition and wish them all the best of luck with their launch. 
In two weeks we will be meeting our next insurer whom is also from the group risk industry. We will be discussing some exciting changes so make sure to follow us on LinkedIn, Twitter and Facebook so you don't miss out.
If there are any insurers you want us to review or you are from an insurance company please reach out to us at [email protected] and we will get something in the diary.