Success story #2: Teamwork Commerce navigates UK employee benefits market!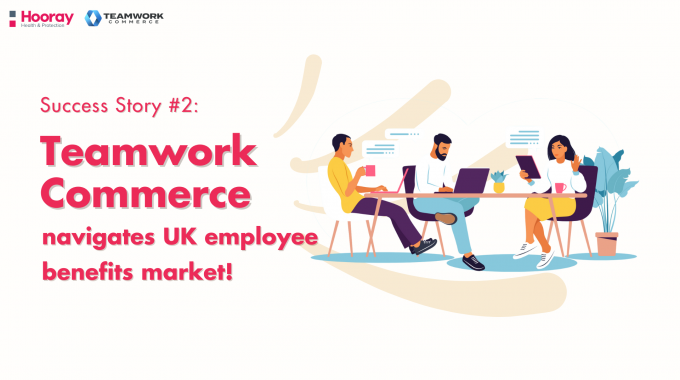 Discover how Hooray helped a US company set up an employee benefits scheme in its new UK office.
It's hard enough for UK-born businesses to understand the employee benefits and health insurance marketplace. So, spare a thought for Teamwork Commerce, a US company opening offices in the UK.
They came to Hooray Health & Protection looking for help in navigating an industry which works rather differently over here.
This case study tells the story of what happened…
Teamwork Commerce: A fast-growing tech company
Teamwork Commerce helps retailers succeed through its cloud-based omnichannel retail management system. In simple terms, it helps retailers sell more, sell better and provide a personalised experience to every customer.
A retailer's dream!
It's no wonder the company's growing fast with big name clients, including fashion retailer The Row, Major League Baseball team Washington Nationals, and high-end toy brand FAO Schwarz.
The company has almost 300 employees worldwide, with offices in three continents.
Encounters with a confusing insurance industry
As the company expanded into the UK, it needed an employee benefits package suitable for a small (but growing) business.
"We didn't have any experience in working within the UK benefits market, -" said Rachael Dark, Human Resources Office Manager at Teamwork Commerce. "We wanted to ensure we were offering a fair level of benefits across all locations."
One of their priorities was health coverage. In the US, it's common practice for companies to provide healthcare benefits for their employees. As such, providing health and wellbeing support to their employees was already embedded into their company culture. They wanted to continue that proud tradition in the UK.
Like any business – big or small – they wanted a good level of coverage to ensure Teamwork Commerce would be a desirable place to work for UK talent and that they would be adequately covered in the UK healthcare system.
Do you need one-to-one assistance sorting out an employee benefits scheme for your small business? Use the chat box on the right or give us a call today!
Talking it through and working it out
In conversations with Hooray, it became clear they needed:
Gaining access to these policies is easy enough for big businesses with large teams, but rather more difficult for a small business with less than ten employees.
Most insurers only provide group schemes to companies with more than ten employees. Luckily, Hooray specialises in helping start-ups and small businesses get the kind of deals that are rarely available on the market.
Hooray gets to work
When Teamwork Commerce first contacted us, we started by listening. We asked them about their business and the kind of employee benefits they were looking for. While it may have been a multi-national company, its UK operation would be considered a small business for the purposes of insurance.
We then guided them through the employee benefits market for small businesses. How it worked, the kind of benefits they could access, what's included and excluded in different policies, and estimated costings.
Teamwork Commerce benefited from having one point of contact for all their insurance needs. That saved them from having to contact different insurers, comparing and contrasting different deals, being baffled by technical lingo.
Instead Hooray were able to do all this for them. As an independent health insurance broker, we have existing relationships with all the different insurers, which means we are able to work across the market – at speed – to bring clients the best deals.
The result: a great package at a great price
Hooray were able to negotiate a great package of employee benefits for Teamwork Commerce' UK start-up division.
We used our small scheme deals with Canada Life to provide the best price on Group Life and Group Income Protection with added value services. We also used our strong relationship with AXA to deliver Business Health Protection.
But our service didn't end there. Once we'd negotiated the package of employee benefits we helped Teamwork Commerce understand the new benefits and how to claim for them.
"It was an easy process with one point of contact to assist with the many ins and outs of insurance," said Rachael. "It's very reassuring to have the help of experts guiding you through it all."
"They are a great company who are always happy to help. There's always an upbeat and helpful person on the phone to help and answer our questions."
Are you a start-up or small business? Do you want to get a great package of employee benefits with minimal fuss? Contact Hooray Health & Protection today and we'll kickstart the process.