Life insurance for business owners: what are your options?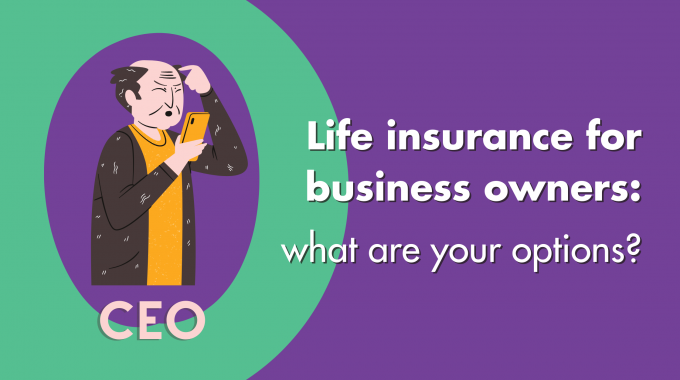 It's time to lift the gloom and bust the jargon that surrounds the subject of life insurance for business owners. Let's be honest, nobody wants to spend too much time considering their own mortality. Or that of their business partners and employees. But, a little thought now will give you peace of mind for the future.
In this guide, we explain the different options available to you and provide clues as to what business life insurance cover is likely to best suit your needs.
Without further delay, here are your options:
Business Protection Insurance
If the worst happens and a business owner, director or partner dies – lenders may have the right to demand that any outstanding loans are paid back. But what if you don't have the funds available? That's where Business Loan Insurance comes in as it can come to the rescue and pay a lump sum to cover the loan.
Business Loan Insurance covers a wide variety of debts, including: commercial loans and mortgages, director's loans, venture capital loans, credit cards, overdrafts and personal guarantees.
Is this right for me? Well it depends. If you're in a situation where your business is reliant on loans which, in the event of a sudden health issue, may be demanded to be repaid then it's certainly worth consideration.
Business Loan Insurance is different from other forms of life insurance for business owners as it can be paid to a business instead of a family member.
This type of life insurance for business owners is designed to protect ownership of the business in the event of a serious health issue. Shareholder Protection Insurance is designed to ensure the business ends up in the right hands should the worst occur.
For example, if you, or a business partner, winds up with a critical illness, you'll want to know that your share of the business goes to your family (or alternative significant other).
Alternatively, if your business partner dies (or becomes critically ill), you can take out an insurance policy which provides a lump sum so you can buy the deceased's share of the business from their family. This ensures the shares of a business are going to be used wisely.
This policy is known as Shareholder and Partnership Protection. If you have a business partner with significant shares in the business, you may wish to take out this form of cover. After all, the future of your business may depend on it.
Key Person Insurance
Do you have a key member in your organization who you can't afford to lose? If so, you will need to consider Key Person Insurance. This policy will ensure that if that indispensable team member has an unfortunate turn of events (death or incapacitating illness) you receive a sum to cover the cost to the business.
Premiums are worked out based on how much profit that person brings to the business. The basic idea behind the insurance is that it covers the cost required for you to invest in whatever the business needs to rectify the situation. For example, you may need to invest in recruiting new staff, providing staff training or easing cash flow disruption.
If you've got a star performer whose loss will affect the bottom line, then Key Person Insurance is a form of business life insurance worth serious consideration.
Group Life Insurance
You might consider taking out a life cover policy for your employees. It's a useful way of making your employees feel valued and can be part of a package of employee benefits which help attract and retain the best talent.
This type of cover is best known as Group Life Insurance, but you might also see it referred to as Employee Life Insurance, Corporate Life Insurance – sometimes even Death in Service Insurance.
For companies operating a Group Life Policy, claim payments go via a trust (can be owned by the company or the insurers master trust). In the result of an untimely death, this money is then accessible to the family – and they get to choose how it is spent.
If, like us, you believe your employees are your most important asset, it is worth considering providing life cover for your employees.
Learn more about Group Life Insurance in our in-depth guide.
Relevant Life Insurance
Relevant Life Insurance is similar to Group Life Insurance in the way that it is owned and paid for by the company. The main difference is that Relevant Life Insurance tends to offer greater cover and is a more tax efficient option for high earners.
Employers usually offer a lump sum which is a multiple of the employee's salary. For example, if the individual earns £20,000 a year, you may decide to offer cover for twice the salary. In the event of that person's death, their family receives £40,000.
Businesses usually cover anywhere between two and 12 times the employee's salary. If the employee stops working for you, then the benefit ends (unless otherwise agreed).
Relevant Life Insurance is an attractive option for businesses but there is medical underwriting and they can end up being more expensive then group schemes depending on health declarations.
Business life insurance: get covered and move on
As you can see, there is life insurance for business owners which cover every worst-case scenario. Whether you need to cover debts, business partners, key personnel or other members of your workforce; you can create a package to cover all your business concerns.
The next step is to get one-to-one professional advice – without being led down the preferred path of a self-interested insurance provider. The good news is: Hooray is here to offer honest, straight-forward advice so that you get the business life insurance that you want.
Simply use the chat function to the right to set up a consultation or look for quotes at the top of the screen.
We'll help you move your business forward with confidence.