Group Private Medical Insurance: The Good, The Bad & The Pricing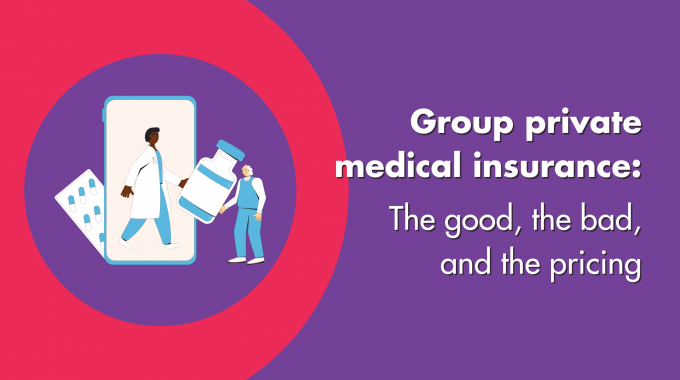 Group Private Medical Insurance is its most popular name, but it also goes by Business Health Insurance, Employee Medical Cover, Company Health Insurance or Company Healthcare Insurance.
Group Private Medical Insurance is one of the most desirable employee benefits, according to employees. So, here is the good, the bad and the pricing to help you figure out if it's right for your company!
The Good
Business Health Insurance provides your employees with access to private healthcare, which ensures they receive the best treatment available in the quickest time possible. This is beneficial to both your employee and your company, as it will help them return to work sooner.
Employees will have their medical bills covered if they receive private treatment for acute conditions or anything else covered in their policy.
As wonderful as our NHS is, it is unfortunately underfunded, which frequently causes delays in receiving treatment. Employees that are covered by Group Private Medical will benefit from skipping lengthy waiting lists to receive the best care available.
If you choose a level of cover that states 'medical history disregarded', your employees will have their pre-existing medical conditions ignored, meaning there are no exclusions based on their current health status.
Premiums are treated as an allowable business expense so, as an employer, you will benefit from tax relief against the premiums.
The Bad
Employees may be hoping that Business Medical Insurance will be the next on the list for their employee benefit plan, but they are sometimes unaware of the negatives of the product. Obviously, the negatives aren't usually promoted by employee benefits brokers, but they should not be overlooked when arranging a new policy.
Perhaps the most important negative for Business Health Insurance is a positive of the NHS! In the case of certain priorities given by the NHS, they can sometimes actually provide better care than private insurers.
The three biggest killers in the UK are Cancer, Heart disease and stroke, and these are also the three main illnesses that will get you priority NHS care. Due to their experience dealing with such cases, NHS hospital can be better than private hospitals – and they're free!
It is always worth considering the type of treatment that your employees are likely to need. At the other end of the spectrum, some specialist treatments are not covered by most insurers.
Chronic conditions such as Alzheimer's, dementia, asthma, diabetes and mood disorders, for example, may not be covered under the policy.
We understand that insurers can't cover every illness or disease – otherwise, the policies wouldn't be sustainable – but we have a duty of care to ensure that you are aware of this when choosing which benefit is most desirable to you.
The Pricing
Fortunately, our business specialises in the healthcare industry and have picked up a few helpful hints to consider when planning your budget for Group Private Medical Insurance:
How many employees: We see several companies just insuring the directors or senior staff. We understand budgets are tight and you may only want to reward the most long-term and loyal staff, but this might not always be the best option.
If you look to open the benefit up to the entire workforce, it might decrease the average age of the group and the weighted premiums (high benefits for high earners) which can reduce the premiums for your company policy.
Underwriting requirements: Certain requirements for underwriting will, of course, impact the price. If we take 'medical history disregarded' for example, this will waive all of your staff's prior health history.
This level of cover will impact the premium as the insurer is aware that they could be taking on the risk of covering people with serious existing health conditions.
Which industry you're in: If we look at the UK workforce as a whole, we have lots of weird and wonderful companies and industries. It is unsurprising, therefore, that certain industries are going to be more of a worry for insurers than others.
We can break this down by looking at an example of an office worker and a construction worker who are both in identical road traffic accidents that cause them to require long term physiotherapy:
It would be very likely the office worker would be able to return to work before the construction worker, as they do not have a physical aspect to their role. Their shorter recovery time will usually mean the insurance company will pay out less benefit.
The employer of the construction worker, therefore, is likely to have been paying a higher premium, which is the insurer's way of covering their predicted higher costs.
Our main tip would be to sit down with an employee benefits broker and discuss the finer details of your company's needs. As always, it's not one size fits all!
Our friendly advisors here at Hooray Health & Protection will never charge you for a review of a new or existing policy! We will also always give you the best price, which will match what you would pay going directly to an insurer.
If your employees are asking about Business Health Insurance, give us a call on 01273 222805 or visit our Group Private Medical Insurance page for more helpful hints.