Group Life Insurance: The Good, The Bad & The Pricing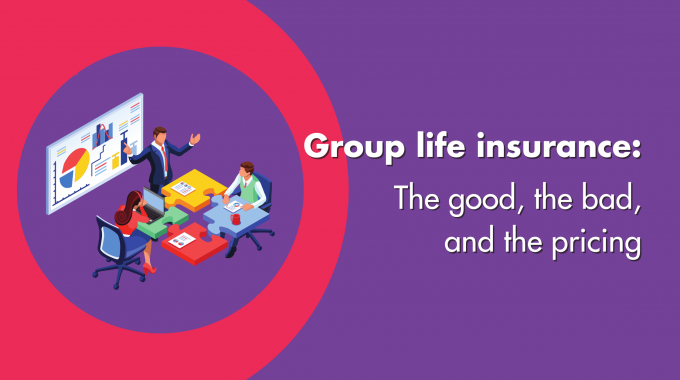 Group Life Insurance and Death in Service Insurance are the most common industry terms, but you're more likely to know this product as Employee's Life cover, Corporate Life Cover, Business Death in Service or Group Life Assurance.
Here at Hooray, we have put together this guide to give you an overview of the good, the bad and the pricing, so you will know what to expect when it comes to arranging Group Life cover.
The Good
First, let's look at what Group Life Insurance actually offers, and why it is one of the most popular employee benefits.
Financial security: In the event of an employee's death, Group Life Insurance provides a tax-free lump sum to their chosen next of kin – usually their family.
Tax relief: Employers can assist their staff whilst at the same time benefiting from corporation tax relief. Employees are also relieved of tax; because Group Life Insurance is not a benefit in kind, it is not taxed as part of their income.
Available to everyone: Group Life Insurance provides a set amount of cover, completely free of medical underwriting. That means employees can be covered up to a set limit without completing medical history declarations. This is a massive benefit for employees who have been declined or restricted individual Life Insurance in the past.
Holistic support: Most Death in Service schemes have some form of counselling for employees included in the price. Cover varies between insurers, but this is most commonly in the form of bereavement counselling for family and employees. The counselling provides all-round protection by also helping employees come to terms with the diagnosis of a terminal illness.
Group Life Insurance plays a vital part in protecting the UK workforce, with the market currently covering a massive 9.6 million employees.
Providing employees and prospective employees with the reassurance that everybody in the business is looked after is a great way to attract and retain the best talent in your industry.
The Bad
Group Life Insurance doesn't get the bad press that we sometimes see in the Individual Life Insurance market for the simple reason that it is a straightforward and easy to deal with product.
The UK's biggest Group Life Insurer, Canada Life, confirmed that they pay out 99.8% of all claims. We love sharing this statistic with you and your employees, as we know that the insurance industry can sometimes be perceived as unfair.
Feel free to communicate this with your employees, to give them peace of mind that their family will be covered in the worst-case scenario.
Here at Hooray, we have only ever come across one negative point with Group Life Insurance, which is when an employee has been provided with a certain level of cover, but it does not meet their full protection requirements.
This results in the level of cover being below what the employee needs, and their partner or spouse being left without adequate cover.
Luckily, clients of Hooray do not have to worry about this happening to them, because, to all employees covered by our schemes, we offer free reviews for their partners, families and loved ones!
The Pricing
Now we come to the question we get asked at least once a day… what is the price of a Death in Service policy?
Because every business is so different, each policy will be priced differently too. The cost of each policy depends on factors such as the average age, location, occupations and current absences.
We understand that it can be frustrating to not know exactly how much a policy will cost you, but here at Hooray, we want to save you money and get you the best cover. That's why all our reviews are 100% free!
Our team of employee benefits experts will always negotiate the best price with insurers for you and will never compromise your cover for it.
Considering reviewing your Group Life Benefit? You can read more at our Group Life page, or give us a call for free on 01273 222805.