Fitness February: Introducing our step-count competition!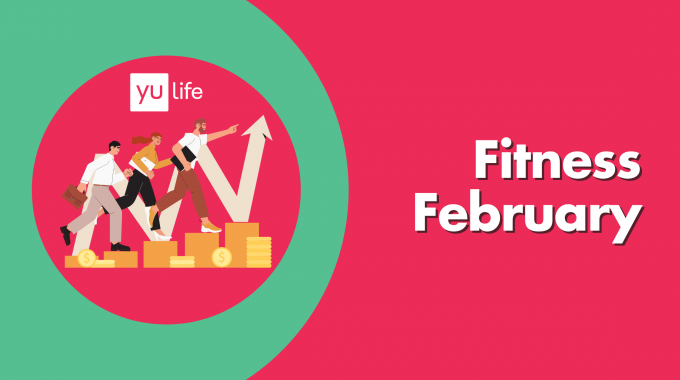 Around a month ago, I was just setting out at the beginning of Dry January – something I've tried many times before but actually felt confident this time around! However, just as it does for many others, it proved a lot more difficult. So many factors of January can lead you to want a drink at the end of the day – being completely back-to-back at work is the main one for me!
Although having slipped up a few times this month, I am still up for trying something new. So, this time around I'm getting the whole of the Hooray and Engage Health Group office involved to share in my suffering with a new challenge!
We'll be joining the Fitness February challenges, splitting the office up into 3 teams all competing for the greatest number of average step-counts – teaming up with the guys at YuLife.
We are big advocates of healthy competition and anything to get everyone moving to break up the sluggish end of January is always welcome. Attempting to keep energies high, the competition will be recorded on the YuLife App spanning over February.
I have no doubt that my Hooray team are going to smash it – I mean, we do only hire winners!
But, in all seriousness, keeping active and moving is something we did really want to try to incorporate more into our everyday lives, seeing if it will benefit our overall performance and happiness in life.
To further influence our competitors, the Directors at Hooray and Engage have agreed to dig into their own pockets to supply a few prizes for the winning teams… further incentive to really be putting in those miles!
Who are YuLife and what's this app all about?
YuLife is a life insurance company that focuses on inspiring everyone to live their best lives and to the fullest. YuLife transform the traditional insurance and employee benefits scene into something that employees can really get something out of. They are well-known in the tech space, increasing every day in popularity with their relaxed approach to keeping healthy and prioritising your wellbeing.
We have recently introduced the YuLife App to our teams here in the office, and already the appealing aesthetic and easy-to-use layout has made it easy to transition to. The app focuses on rewarding and measuring simple steps towards a healthier life, using YuCoin as a form of motivation to exchange for vouchers, discounts, gifted experiences and so on.
The simplicity of rewarding small behavioural changes meant the often-daunting commitment of these 'new year, new me' challenges has been stripped away! This was definitely a challenge I could get on board with.
What we are aiming for
So, where has this idea come from? And why are we doing this? Are we even going to be able to find the time?!
The main reason for me is purely the satisfaction of winning! But, so I've heard, doing these types of team-building exercises with a fun spin is apparently meant to boost productivity and morale at work – who knew!
A bit of healthy competition never hurt anybody – especially at work. I have decided for my team that participation is mandatory even going as far as debating amending contracts – we're having no slackers!
We are aiming to make slight changes to our everyday work schedules such as 1-2-1s taking place outside, whilst setting ourselves day-by-day averages to see whether we can actually do it.
Introducing our Hooray walking team (aka the winning team!)
So, one factor that I need to address is the teams – who's who, and what each team member is going to be bringing to the competition. Yes, we do only have 3 team members for Hooray, meaning we have one less than both Engage UK and Engage International. But I can confidently say that is all we need to win this!
Our little team of 3 are committed and raring to go. We are eager to try out different ways to incorporate walking into our working days and be able to direct our competitive energies towards a 'friendly' challenge.
On the Hooray team, we have Esme, Alfie, and me… the dream team!
Esme and I have already begun our pre-Feb training, attempting to shape ourselves into active walkers. Walking to and from work at least a few days a week is something which started kind of tiring; we've surprised ourselves by coming to actually enjoy it! Feeling fresh and ready for work in the morning with the sense of achievement of having already done something before 9 o'clock is a much better feeling than the sleepy lull of sitting in an uber twice a day.
Getting out and about at the weekend is also helping to keep us active, instead of simply staying in bed over 2 days! (Disclaimer: I am in no way saying that it is bad to rest!!!! Rest is an important part of not becoming burnt out from work and general life!)
For Alfie, whether he wants to or not, there is no way out of it! However, he does already take measures in the office to ensure he is moving about. We have invested in a stand-up desk, and he regularly goes for walks at lunchtime; moving around the office is definitely not an issue for him.
But enough about us, what are our opponents looking like? Any competition there?
On the Engage UK team, we have Nick, Molly, Eleanor, and Boxy. Although all putting in a lot of hours in the office, staying active and busy is something this lot value highly.
Then we have Engage International. Bringing this team together, there's newcomer Dave, Ian, Judy, and Jo – all again offering different levels of step-counts and fitness.
Each team from our office will be taking specific approaches to the competition and bringing something a little different. However, we all share the same aim – wanting to cash in those big prizes! From focusing on winning, to wellbeing and team building, to taking a more see-what-happens approach, we are all participating and bringing a go-get-it attitude!
Our step-count strategy
It may seem like we're talking a big game right now, but I can assure you, we are taking this seriously! And we are already making plans to incorporate more steps into the day. Below are a few of our ideas:
1-2-1 meetings held on walks outside
Walking to and from the office
Moving around/pacing when taking calls (this one won't be too difficult as stress levels can already be high!)
Going out for coffee breaks whilst in the office: walking to the local coffee shop, or eating lunch outside
Stand-up and walk about the office for at least 5 minutes a few times a day
This list may seem simple and obvious, but if you really think about whether you do these things every day most of you will be shocked to say you don't! It's all about getting into the right headspace, enabling yourself to be able to fit more into your day.
What are we predicting?
Just as all healthy fitness trends start off, we are feeling positive and optimistic that this is going to stick! And we are going to be the team that comes out on top.
However, as I've mentioned above with my failed attempt at Dry January, these types of challenges are a lot easier said than done and a month can sometimes feel like a very long time! Therefore, we need to be putting into place some firm practices, like outside 1-2-1s, which will motivate us to do a little bit every day. Although this might be a tricky task seeing as my team do like to think they are always in charge and calling the shots!
I'm not alone with my competitive nature – shared with both Esme and Alfie, making me feel certain that we can maintain a good practice and easily beat the Engage teams. I mean, that is the beauty of the YuLife App – it's easily accessible to anyone no matter your current fitness levels where even a little bit of effort can feel like it's going a long way with motivation and reward.
What to look out for 
Keep an eye out for the latest updates on our competition – we're happy to be taking bets on who you think is going to come out on top! And we're curious to see if we inspire any other office teams to also take up the YuLife step-count challenge.