Are UK start-ups meeting the needs of their workforce?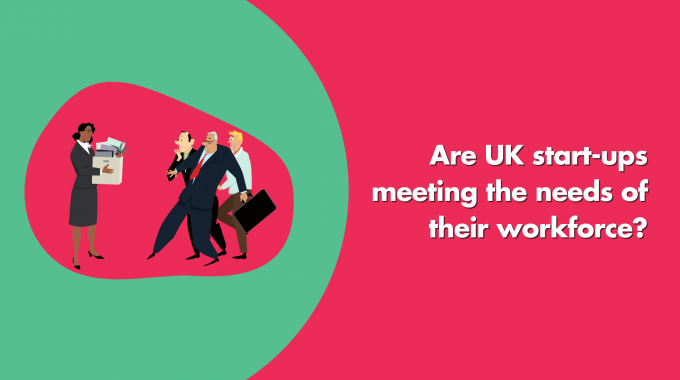 Our new survey of 641 start-up employees reveals how they feel about their workplace benefit. Are start-ups employers doing a good job? Or is there room for improvement?
We were pleasantly surprised to learn that 93% of start-up workers reported receiving employee benefits. This certainly challenges the perception that workplace perks are predominantly the domain of large or more established businesses.
In this blog post, we reveal other eye-catching findings from the report and consider the reasons behind the results.
If you'd like to read the full 'What Workers Want 2021' report, access it for free on this link (no download required).
Start-ups are (mostly) meeting the needs of their workforce
It's one thing offering employee benefits, it's another giving workers what they want. We decided to find out if they were satisfied with what they were receiving. Once again, the results were positive with more than three quarters (77%) of start-up employees reporting being happy with their benefits.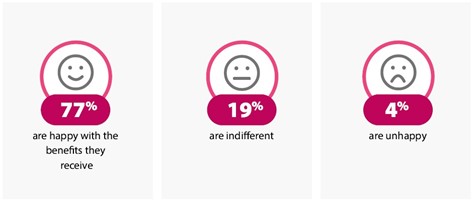 Interestingly, this contrasts with our survey of 1150 small business employees last year where only 31% were happy with their perks.
The positive narrative of our start-up survey is reinforced by the fact that more than half (55%) of respondents believe their benefits package is better than the average persons.

How is it that start-ups are doing such a good job? It seems like they're actively listening to their workers. According to our survey, 78% of workers say their employer has sought their feedback.
And well they should. In our survey, almost two-thirds (63%) of start-up employees said that benefits were a very important factor in their choice of workplace.

Hooray Health & Protection has helped countless start-ups get the employee insurance packages they need most. In working with this ambitious forward-thinking community, we've learnt a lot about what makes them tick. We believe there are four key driving factors behind their surprising success in providing for their employees.
5 reasons why start-ups are confounding expectations
 Competitive pressures
Start-ups often face the challenge of having to attract and retain talented employees in the absence of large salaries or long-established reputation. They are acutely aware of this challenge and are likely striving to compensate by providing an attractive selection of affordable perks to their employees.
Do you want an attractive and affordable benefits scheme for your business? Hooray Health & Protection specialises in helping small businesses negotiate the world of employee benefits and find the best perks for their people. Simply use the chatbox on the right to kickstart the conversation.
People power
Ambitious start-ups can only grow if they have the right people in place to drive it. Every department must help drive business performance.
This means that start-ups have a more tangible understanding of people's worth. An attractive range of employee perks goes some way to addressing the challenge of enticing the best people and keeping them in the business.
The positive narrative is reinforced by the fact that more than half (55%) of respondents believed their benefits package was better than the average persons.
Pandemic pressures
The pandemic has forced companies of all sizes to become more mindful of their employees' physical and mental wellbeing. However, there's also an element of cold-hard pragmatism…
Home-working arrangements have been forced upon most businesses – a benefit already in high demand pre-pandemic. In a 2019 survey by Wild Goose, nearly 8 out of 10 said that the ability to work flexibly would be very significant for them.
Yet, reduced face-to-face contact makes it harder to gauge employee wellbeing and provide the informal one-to-one support which is available in a shared office. Therefore, it's likely more formal support arrangements have had to be considered.
Employee demand
Employees are attracted by a good benefits scheme. Today's workers have a strong desire for support beyond the pay packet– and this may be a decisive consideration for their workplace choices.
This is reflected by our survey result above which showed almost two-thirds of employees identifying benefits as "very important" in their choice of workplace.
According to a Gallup poll, the UK and western Europe have the lowest levels of employee engagement. Clearly, one way to address this issue is through implementing a helpful benefits scheme – and our results suggest start-ups are leading the way.
Start-ups come in all shapes and sizes
Our survey quizzed workers across 51 industries, ranging from accountancy to farming. They also came in a variety of sizes, from bootstrap start-ups to venture capital backed businesses.
It's important to consider that the UK has a particularly vibrant start-up culture and many grow at a rapid pace. To expand their teams and drive their businesses forward many will be quick to explore how employee benefits can make their workplace more attractive to bring in the best talent and drive growth.
UK start-ups are leading the way
It's been fascinating to get the perspective of start-up employees. Our survey certainly paints a rosy picture of their experiences. It seems new-sprung businesses are striving to fulfil the needs of their workers, and rightly so. Business success is built upon a happy, healthy and productive workforce.
The founder of Wendy's, Dave Thomas, once said that you need three simple things to start a business: "…Know your product better than anyone, know your customer, and have a burning desire to succeed." But he might want to add: know your employees' needs. It certainly seems that UK start-ups are grasping its importance.
Click here to read the full 'Employee Benefits Survey 2021: Start-up Edition'.
If you'd like one-to-one assistance in accessing employee benefits for your business, then contact us [email protected] or 01273 222805.