Success story #1: Brill benefits for Brill Power!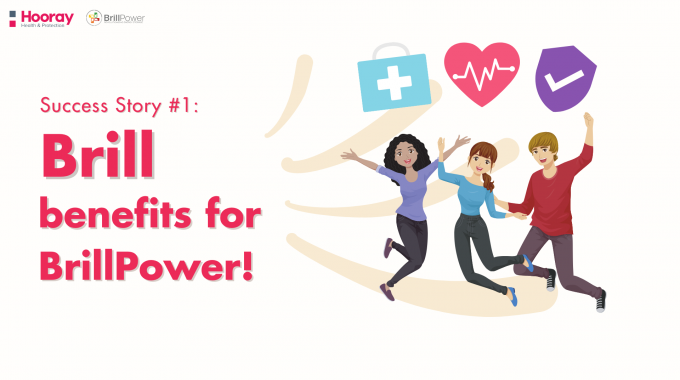 Discover how co-founder of Brill Power, Carolyn Hicks, found the perfect blend of employee benefits to super-charge the company's rapidly growing team, with the help of Hooray Health & Protection.
A growing company with talented people to support
Carolyn co-founded Brill Power while studying at the University of Oxford. They are a team of genuine innovators who specialise in making batteries last longer, particularly for energy storage and electric vehicles.
With their talent and technologies so highly sought after – and awards rolling in – the start-up venture grew fast.
However, they lacked an employee benefits programme to serve their burgeoning workforce. So, they started searching for a benefits package which would genuinely help their people and attract the best talent in a highly competitive industry.
The confusing world of employee benefits insurance
As many businesses discover, the world of employee benefits and insurance is a confusing one. There are seemingly endless options to consider and infinite small print to place under the magnifying glass.
So, Brill Power contacted Charlie Cousins at Hooray for guidance.
"When I first met Charlie I wasn't sure exactly which benefits I wanted at Brill Power," said Carolyn, Co-founder and Head of Finance & Operations at Brill Power. "I was interested in life insurance and private medical insurance because some of the people we were recruiting were asking if we provided these benefits.
"Brill Power is always competing with the best employers for talent and we wanted to make sure we could offer the most possible for our current and future staff."
Breaking the jargon, making the deal
Once Hooray had established Brill Power's needs, we were able to recommend a package of benefits which would best serve their team – while staying within budget. As an insurance broker, we have existing relationships with a wide range of insurers and benefit providers, which enables us to create a tailor-made package for businesses like Brill Power.
We pride ourselves on breaking everything down into the simplest terms and making people aware of the options available in the marketplace. This ultimately saves them long hours of website trawling and information gathering which, too often, only leads to even greater confusion.
Unlike most insurance brokers, we don't have a preferred insurance partner, instead we work across the insurance industry in order to get the best deal for our clients.
In the end, we negotiated a wide range of attractive employee benefits for Brill Power, including:
"Great rates" and "amazing feedback"
The team at Brill Power have already realised the benefits of the health insurance package.
"Our team was immediately pleased to see the benefits in place," said Carolyn. "They provided some additional comfort for an unexpected event. This was certainly the case when the unexpected arose later that year.
"Although our team is generally in very good health, we had one member of our team who unexpectedly needed to make use of our health insurance. In what was overall a very difficult and stressful time, having benefits in place made it all a bit easier and provided some much-needed support."
As part of Brill Power's Group Life Insurance policy, MetLife waived the need for a rate review for new starters who've joined the company in the last 12 months, despite the company's rapid growth, which means greater certainty for the insured company.
Aviva Health is already reporting "amazing feedback" from the company. Meanwhile, YuLife have reported a high uptake of its health and wellbeing app which gives rewards in return for hitting physical activity targets:
80% of employees have downloaded the app
94% use it monthly
75% use it daily
"I would recommend Hooray without hesitation," added Carolyn. "Charlie helped guide me though the process of finding the right set of benefits and features for my company and found a great rate too!"
If you're on a similar path of discovery, why not follow the same route to success and contact one of our friendly team today? We'll help you find the best health insurance policies and benefits packages for your business.